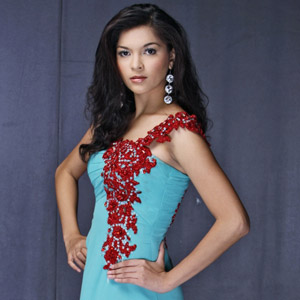 ---
The singing celebrities once again croon, groove, andperform their way into the hearts of Filipino viewers through the third season of Celebrity Duets. The first elimination night took place last Saturday,September 12, which culminated in former beauty titlist and YouTube sensationJanina San Miguel's exit from the musical stage.
For two weeks prior to eliminations, the nine celebrity contenders—actor and concert producer Jomari Yllana,former beauty queen Janina San Miguel,topnotch fashion photographer NiccoloCosme, award-winning actress and director Gina Alajar, celebrity fashion designer Maxie Cinco, cosmetic surgeon MikaelaBilbao, successful entrepreneur JoelCruz, Brazilian-Japanese model AkihiroSato, and 2009's WBA Superflyweight champion Nonito Donaire, Jr.—have been getting a feel of the stage andlearning from the judges' comments.
This time, however, all nine contenders were put under pressure, asthey not only had to impress judges Direk Freddy Santos, Maestro Danny Tan, andSea Princess Tessa Prieto-Valdez, they also had to put their best performingfoot forward to win the votes of Filipinos nationwide.
The show kicked off ala Pussycat Doll-style, with lady dancers adorned inbrightly colored clothes grooving to a "Hush Hush" / "I Will Survive" dancemedley. After the opening act, the timewas ripe for the first batch of performances.
First to take the stage was veteran actress and director Gina Alajar, who was paired up withsinging bombshell Evette Pabalan. Sheand Evette grooved to the novelty hit song "Spaghetti Pababa" popularized byher partner's female group, the Sexbomb Dancers.
Gina, who collected praises from the judges for the past weeks, seemedto still up the ante with her Lady Gaga-inspired look, and chose to channel thefemme fatale aura, complete with an exclamatory "Aw!"
Musical director Danny Tan was awestruck. "Gina, you're just ajoy to watch perform," he complimented. "Palagay ko ikaw na ang bagong memberng Sexbomb Dancers," he told the actress. "Pwedeng-pwede," he continued. "Energy, performance level, grabe.Super super performer. Great performance."
ADVERTISEMENT - CONTINUE READING BELOW
Next was actor and now concert producer Jomari Yllan and his duetpartner Radha, who both went after the R&B-hiphop vibe with Black Eyed Peas' "IGot A Feeling." Radha profusely praised her partner Jomari and admitted thatshe didn't expect this kind of talent from the actor.
After the performance, Celebrity Duets Season 1 grand winner andpresent judge Tessa Prieto-Valdez called out, "What a duet! Oh my gosh, yourock, man! You so rock! I can see you in the finals!" She continued, "Anggaling mo. I think [in] this one, you blended so well. I can hear your voice,and you're opening your mouth already."
After Jomari's performance, cosmetic surgeon Mikaela Bilbao followed suit and took the stage with Viva Hot Babe Sheree.Singer Sheree seemed to think that their chosen song, Cher's "Believe," fit Mikaelato a tee, owing to the latter's sexy and strong personality. Both girls enteredthe stage in striking silver dresses, glitter and all.
"Wow, nabulagan ako do'n," admitted Direk Freddie Santos after theperformance. "Parang dancing Christmas tree," he said jokingly. "Pero alam mo,"he told Mikaela, "sa totoo lang talaga, nagulat ako kasi maganda 'yung blendingninyong dalawa. Medyo nasapawan mo lang talaga yung ka-duet mo sa tindi ngiyong kinang. Pero sabihin na lang natin na nanggaling 'yun sa iyong personalidad,"he observed.
After the commercial break, three more contenders showed off what theygot.
Fashion photographer NiccoloCosme was first, with the Korean megahit, "Nobody," as popularized by theWonder Girls. He sang the novelty song with partner Jolina Magdangal, whoopenly shared her initial nervousness about the performance due to Niccolo'sperfectionist nature.
They pulled it off quite nicely, and Danny Tan seemed to agree.
"You are one of the better singers in this competition," he told thesinging photographer. "You're also one of the more comfortable [contenders]on-stage when performing. Constructive criticism lang," he countered, "Sasobrang taas ng energy mo, sometimes you tend to shout, so control lang. Butthe performance is great," he said.
ADVERTISEMENT - CONTINUE READING BELOW
Up next was Aficionado businessman Joel Cruz, who along with singerGeneva Cruz, performed Tina Turner's "Private Dancer." True to Geneva'sstatement of wanting to ace the performance, both came up with two giantbirdcages as props, which Geneva and Joel each entered separately during theperformance.
Tessa found their display of talent "dramatic" and "wonderful' butsaid, "I couldn't see the sexiness! Parang kulang pa yung pagka-sexy mo!"she told the entrepreneur.
Last for this set was fashion designer Maxie Cinco. The designer performed his act with rap legend AndrewE., who recalled how mesmerized he wasby Maxie's talent. He even noticed the designer's attemptto alter the lyrics of his very own "Humanap Ka Ng Pangit."
Maxie threw in some gay lingo for their performance and came up withthe lines, "Kung betcha mong lumigaya ang iyong buhay, humanap ka nga chaka atibigin mong tunay. Isang chaka talaga di mo kinekeri..." The innovative songcontinued with gay lingo all throughout and to complete their look, Andrew and Maxie wore bling-bling paraphernalia.
"Hanep! Hanep!" exclaimed Direk Freddy, who seemed to be clearlyimpressed. "Yun yun! Very good!"
The last three contenders were: model Akihiro Sato, former beauty queenJanina San Miguel, and boxing champ Nonito Donaire, Jr.
Brazilian-Japanese Akihiro Satoperformed Gary Valenciano's "Di Bale Na Lang Kaya" with R&B singer DuncanRamos. Since it was Akihiro's birthday, the model was presented with a cake, andgreeted by Celebrity Duets 3 hosts Regine Velasquez and Ogie Alcasid.
Garbed in a bonnet that seemed to channel the R&B vibe set by Duncan, Akihiroreceived a mix of praise and constructive criticism from Danny Tan.
"Malaking in-improve," he started. "Ang laki-laki ngimprovement. Sa pagkanta, nag-improve. Sa performance, mas relaxed siya."
However, Danny found Akihiro's performance a bit lacking in impact."Kulang pa... Dapat yung charm niya, ilabas pa. Yun yung kanyang strength 'e.Kaya dapat ayusin pa niya ng husto and communicate more. Pero ang laki-laki ngimprovement." Then he hastily added, "Saka nasatiyempo ang galaw niya ngayon."
ADVERTISEMENT - CONTINUE READING BELOW
Former beauty title holder JaninaSan Miguel sanga duet with Paolo Ballesteros's alter-ego Miss Bebot. Dressed in evening gowns,wigs and headdresses, they sang Gloria Gaynor's "I Am What I Am."
"Janina, you're exactly like me," said Tessa Prieto-Valdez of thebeauty queen. "Except the height siyempre, pero you make daan na lang in theperformance," she noticed. "Okay lang 'yan, you look so wonderful... Parangtalagang nag-e-enjoy ka. In the end, that's the only thing that matters," said the Sea Princess about the former beauty queen.
Last for the night was world boxing champion Nonito Donaire, Jr with his duet partner, R&B Prince Jay-R. Priorto the performance, Jay-R gave the boxer a piece of advice with regard to hissinging, "Don't get nervous [at] dapat confident lagi. That's what's gonna messyou up. Makakalimutan mo yung lyrics mo."
Nonito seemed to take Jay-R's advice to heart and put together anoteworthy performance, despite his recent bout with dengue fever. Theysang Usher's "Nice and Slow," which they pulled off amid a backdrop of sports lockersand costumes made up of boxing robes, bruise make-up, and eyebrow plasters.
After their song, judge Freddie Santos asked Nonito, "Sa lagay na'to, kakagaling mo lang sa dengue?" The director was obviously surprised. "Wow!That was terrific! Plain and simple. Tsaka ang ganda nung chemistry niyo niJay-R," he added.
Now that all nine contenders have performed, the eliminations finallycommenced.
Host Ogie Alcasid separated the celebrity contenders into three groups.In the end, Gina Alajar, Janina San Miguel, and Nonito Donaire, Jr. got thelowest number of votes and were pushed into the Bottom Three. These votes—thelowest of which was received by Janina San Miguel—were decided by homeviewers based on the performances of the contenders the previous week. JaninaSan Miguel was a sport despite the verdict and exited the stage with a smile.
ADVERTISEMENT - CONTINUE READING BELOW
The pressure is still definitely on as the eight remaining celebritycontenders battle it out on-stage to remain on the safe side. Who will be the next contender to bidfarewell? Find out next week on Celebrity Duets 3, airing every Saturday on GMA-7 right after Pinoy Records.