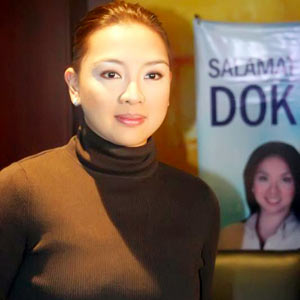 ---
SalamatDok! host Cheryl Cosim has a reason to smile againas her live weekend public service program partners up again with one of the leading medical institutions in the country.
Manila Doctors Hospital (MDH) signed aone-year program sponsorship with the public service program of ABS-CBN. Thecontract signing took place last September 9 at the ELJ Communication CenterBuilding inside the ABS-CBN compound.
Present at the signing were host CherylCosim, ABS-CBN Senior Vice President for News and Current Affairs Maria Ressa, News and Current Affairs Saleshead Yvette Novenario, together with MDH officials Atty. Nenuca Almira and Dr.Rex Mendoza.
"Health system is always in the top threeof concerns in the any part of the world, and in the Philippines, it is thenumber one concern of Filipinos. And we have to thank both Salamat Dok! and Manila Doctors Hospital for that partnership thatwe have had in the last two years and extending forward. Salamat Dok! wouldn't exist without Cheryl Cosim and her vision forit," Maria Ressa said after the signing.
"We have been partnering with the program, Salamat Dok! since two years ago and nowwe are starting our third year. And during the last two years of our experiencewith Salamat Dok!, we really indeedfound fulfilment in being able to serve our mission and vision of the hospital—that of being of service to the public through Salamat Dok!" pointed out Atty. Almira.
A thankful Cheryl meanwhile acknowledgedthe hospital for their continued trust in the show and is looking forward tomany more years of partnership with the hospital.
CONTINUING PUBLIC SERVICE. Cheryl said that Manila Doctors was one of the first institutionsthat tied up with the public service show since the inception of the show sixyears ago.
"Napakalaking bagay ng partnershipespecially with Manila Doctors na kahit anong medical mission, they are therefor us. Hindi lang po na andoon sila sa isang episode at magdadala ng isangexpert as a guest but they also bring other doctors to give medical servicepara sa mga patients every Saturday and Sunday, for 200 to 300 patients everyweekend. Like if our topic is about the heart, they bring in extracardiologists yung other patients. We even refer other patients kahit hindinila episode and they are more than willing to accommodate them," she said.
ADVERTISEMENT - CONTINUE READING BELOW
Cheryl said that they are sometimesfrustrated that they cannot accommodate all the people who come to theirmedical mission because resources are very limited.
"Kung pwede lang lahat, tulungan namin lahatng may sakit. It's really challenging for us," she admitted.
She also gets to see the plight of some ofthe patients who come to their medical mission.
"Kadalasan sa mga medical nakikita ko namalala na yung mga sakit nila. Like Maria Ressa said that one of the problemsin our country is that our health system is so bad that we don't give enoughmedical attention to our people," Cheryl lamented.
The TV host said that sometimes she would resortto coaxing her friends to help out some of the patients that need some help.
"I ask my friends na mag-donate. Pa-kapalanna lang talaga kung minsan. 'Magbigay ka naman ng P5,000 dito para pambili nggamut.' Ang dami talagang nangangailangan," she said.
LEANING TOWARDS PUBLIC SERVICE. Cheryl said that Salamat Dok!came to her as a blessing as a broadcaster five years ago.
"As the years went by, mas napunta ako sapublic service. I like doing stories for Bantay Bata. And then I was so blessedand lucky they gave Salamat Dok!because I've realized that this is what I want more than doing the hard news.
"Public service is really challenging.Talagang you really have to make an extra effort, personal effort. Sometimes,you really have to feel detached kasi I get affected. Iyakin po ako and Ireally get affected," she revealed.
"Like last year we went to Pampanga andBulacan sa mga Badjao. They live under the bridge. And it's really smelly.Walang banyo. Tapos hindi sila sanay mag-Tagalog. Nag-medical mission kami andwe also brought in groceries. And I was so happy. It also made me realize howlucky we are, or how lucky I am compared to the people. See, napapaluha natuloy ako," she said while tears started to form in her as she recalled theexperience.
ADVERTISEMENT - CONTINUE READING BELOW
SALAMATDOK! THIS SEPTEMBER.For the month of September, Salamat Dok!goes to Biñan, Laguna this Saturday, September 19. The area is one ofthe dengue hotspots in the country. On Sunday, September 20, Dra VickiBelo will guest on the show to talk about how to maintain beautiful eyes and thedifferent treatment done like Mesotheraphy for Eyes, Botox for Crow's Feet andfine lines under the eyes and Blepharoplasty for eyebags and drooping eyelids.
On September 26, Salamat Dok! goeson a medical mission in Mandaluyong City together with DZMM. Finally, on September27, Cheryl will discuss how breast cancer can afflict women and even men.
Catch
SalamatDok!
every Saturday from 6 am to 7 am and every Sunday from 7:30 am to 8:30 amon ABS-CBN.