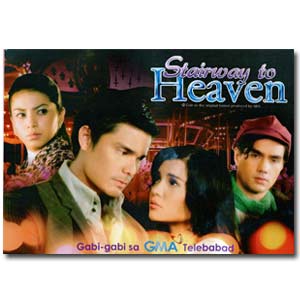 ---
In the first episode of GMA-7's Stairway to Heaven, which airedtonight, September 14, viewers were able to meet the different characters towatch for in the Philippine remake of this Koreanovela.

The first sequence shows an emotional Dingdong Dantes playing the piano on theshores of Punta Fuego, Batangas. He sees Rhian Ramos, wearing an all-whiteensemble, and she sits with him near the grand piano.

Viewers are then taken back to childhood days of Cholo (Dingdong's character)when he first met Jodi (Rhian).

Back then, the young Jodi (played by 13-year-old Barbie Forteza) already found comfort inthe arms of Cholo (portrayed byformer ABS-CBN talent Joshua Dionisio). It is revealed that Cholo comes from arich family that owns a theme park called Eldar's Kingdom. The two continuedwith their friendship even though Jodi and her family moved to Manila.

Maita Aragon (Jean Garcia) becomes the stepmother of Jodi when she marriedArchitect Joven Reyes (Jestoni Alarcon). Little did they know that Maitaalready had a family of her own in the past. She had sired two children, withDindo (Soliman Cruz) and he suddenly showed up in Manila to turn over Tristan(Jake Vargas) and Eunice (Joana Marie Tan) to her care.

Joven accepts the children and he treats them as his own. Little did he knowthat Eunice and even his own wife would start tormeting his own daughter Jodi.

Maita viciously controls Jodi's every move and punishes her cruelly-even givingher a hard slap on the face. Even her double-faced stepsister Eunice schemes todestroy Jodi and claim all her possessions. She also becomes obsessed with capturing the affection of Cholo.
ADVERTISEMENT - CONTINUE READING BELOW
Tristan, Jodi's stepbrother, mistakes Jodi's kindness for affection andgradually falls in love with her.
See how Jodi will cope with all of these hardships in the coming episodes of
Stairwayto Heaven,
whichairs on GMA-7 weeknights right after
Darna
.