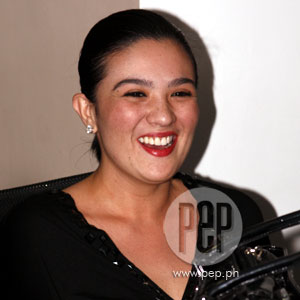 ---
After reprising Nora Aunor's character in Bakekang, SunshineDizon is once again tapped to fill in the shoes of the Superstar in GMA-7'supcoming teleserye titled Tinik sa Dibdib. This Sine Novela offering is slatedto air its pilot episode on September 28, 2009.

Sunshine visited the office of Summitmedia earlier today, September 17, tointeract with the editors of the various publications and online affiliates(including Philippine Entertainment Portal).

PEP asked the Kapuso star how she felt about reprising the role of Ate Guy inthis remake of the 1985 film.
"Well, as much as I can, I don't want to really pressuremyself because nga si Ate Guy yun," said Sunshine. "Siguro, I'll be on the samelevel na lang when I played Bakekang before. It's not the matter ofkailangan mong talunin whatsoever yung ginawa ni Nora Aunor because that'salready Nora Aunor. Given na yun, wala ng makakatulad sa kanya, wala ngmakakasurpass nung nagawa niya. So I really hope that I do justice din to thecharacter that she played before. Sana man lang kahit konti."
How does she deal with the pressure that comes with therole?
"I really don't think so much about it. Kasi mawawala nayung fun, e."

She enumerated the names of her co-stars in her follow-up project afterstarring in the teleserye All About Eve.

"It's gonna have a very good cast. I'm working with Marvin Agustin, and there'salso Ara Mina, Bembol Roco, Daniel Ramirez, Deborah Sun, Maybelyn dela Cruz,and Michelle Madrigal. It's going to start airing on September 28. Mixedemotions pa din ako. Happy, excited, and scared. We really have high hopes forthis project, and it's gonna be directed by Direk Gil Tejada."

How would she describe her character in Tinik sa Dibdib?
"Ang character ko na si Lorna, medyo mahirap talaga kasisobrang dysfunctional nung family niya. She's really abused emotionally. Mayedad na naman yung parents niya but she can't plan anything for her life. Kasithe whole family is dependent on her. Parang ganun, and then, they're veryviolent pa, nagbubugbugan yung parents niya, and yet the mother doesn't want toleave the husband. Basta dysfunctional yung whole family niya."
"Yung famous line ni Ate Guy dun was, 'Wala na kayong binigay kundi puro tiniksa dibdib sa akin.' So, that line epitomizes the whole story. Sobrang tinik sadibdib talaga."
ADVERTISEMENT - CONTINUE READING BELOW
Who will be the so-called thorns in her life?
"Actually, lahat sila. Kawawa talaga si Ate Guy sa story. Youknow, you root for her na sana maging masaya din siya in the end. Pero theoriginal plot talaga of the story was sad talaga."
Who will serve as her love team partner in this teleserye?
"Well, there are two guys, one is Marvin Agustin, and theother one is Rico Barrera. Sila yung may mga gusto kay Lorna sa story. Angfirst love niya is Rico but then she lets go of him because of family issues.And then, she falls for Marvin, then, that's where the hell starts na naman.She thought that getting married with Marvin, she'll have a better life peromas worse pa pala yung pinasukan niya."

Adding to her miseries is Ara Mina, who is cast as the querida ofLorna's husband.

Did Sunshine watch the original Tinik sa Dibdib?
"Yeah, I did. Sobrang galing. Pero I watched it just for thesake of knowing the plot, pero hindi ko na siya inulit-ulit kasi I might youknow...I want to have the freedom din to interpret the character. Baka kasisabihin nila, 'Naku, ginaya.' Ayoko, kasi nga hindi mo na pwedeng gayahin yun, e.Hindi mo na malalampasan yun. So, I think it's better that I have my owninterpretation of the character. And you know, just hope na kahit papaano, Ican live up their expectations."


PEP also took this opportunity to ask Sunshine about herupcoming movie titled Babang Luksa.
ADVERTISEMENT - CONTINUE READING BELOW
"I'm not sure pa of the full cast but it's gonna bedirected by Erik Matti. I'll be working with Mark Anthony Fernandez but Icannot reveal the identities of the other characters. It's a horror film. Andit's like a family story parang one of the family members died, basicallythat's the plot. Nagbababang luksa ang family pero may mga mysteries, thingsthat will happen throughout the movie."