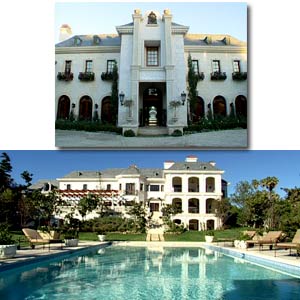 ---
On Sunday, September 20, viewerswill have an exclusive pass to the mansion where the King of Pop was founddead, as Q Channel 11 airs its second Michael Jackson special, the documentary titled Inside the Michael Jackson Mansion: Never Can Say Goodbye.

The media, even Jackson'sown family, has been banned from the infamous Holmby Hills mansion in Los Angeles, as it is ground zero for the investigationthat has been ongoing since Jackson'sdeath June 25.
Now everyone finally can have aglimpse of Jackson'slast abode through the one-hour documentary produced by producer and talk showhost Byron Allen for the program Beautiful Homes and GreatEstates. Entertainment Studios, Allen's company, was able tocapture exhaustive footage of the mansion, where Jackson resided since January of this year,just a few months before he passed away.
Jackson rented the 17,000 square-footmansion for $100,000/month, and every ornate detail is exposed in the videotour: the Russian-themed private movie theatre, Jerusalem stone façade, African walnut floorsand Egyptian chandeliers. Viewers will also be granted access to theelegant swimming pool, park-like grounds, lavish bathrooms and fireplaces, andsumptuously-decorated rooms—including the studio where Jackson rehearsed for what would have beenhis final concert series, and the master suite where he was found unconscious.
Aside from the exclusivetour, the documentary also features interviews with Kerry Gordy, son of legendaryMotown founder Berry Gordy and close friend of Jackson, and Mohamed Hadid, thefamous real-estate developer who built and owns the mansion.
Inside the Michael Jackson Mansion: Never Can Say Goodbye
airs on
September 20
, 9:10 pm, on Q Channel 11.