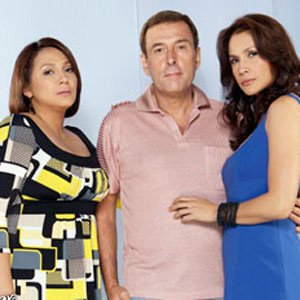 ---


Tayong Dalawa is expected to end its saga on ABS-CBN by September 25, 2009. But before the characters bid farewell on the boob tube, viewers will get the chance to know the backstory of four characters who have made their mark on popular culture.


Learn more about the characters of Rita (played by GinaPareño), Elizabeth (played by Helen Gamboa), Marlyn (played by Cherry Pie Picache), and Ingrid(played by Agot Isidro) in the TV special titled TayongDalawa: The Untold Beginning. It will be aired this Sunday, September 20, right after ASAP '09 onABS-CBN.

The special episode brings viewers back to the time when Marlyn and DavidGarcia Sr. first met at a former U.S. airbase where they had a brief fling, notknowing that it would later lead to a world of tragedy and suffering. Learn thereasons for Marlyn's pursuit of love despite being forced into prostitutionlike her mom Rita who in turn will become responsible for keeping the darksecrets in their family.

Viewers will see Elizabeth as the overprotective mom whose daughter Ingridsuffered from a deep trauma ever since her husband left. The show will also getto the root of Ingrid's anger and seemingly psychotic behavior when her visionsof having a happy family are shattered.

Catch the stories of Rita, Elizabeth, Marlyn, and Ingrid in Tayong Dalawa: TheUntold Beginning this Sunday right after ASAP '09 on ABS-CBN.