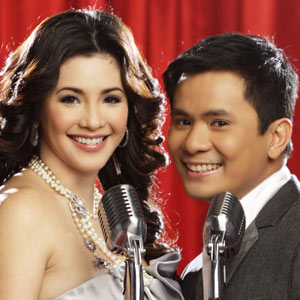 ---
CelebrityDuets 3, GMA-7's singing competition for the stars, held a non-elimination night last September 19, giving the eight remaining celebrity contenders one more week to enhance their vocal skills. Another round of eliminationswill take place this Saturday, September 26. Who will exit the show after former beauty titlist Janina San Miguel?
The remaining contenders are celebrity fashion designer Maxie Cinco, fashionphotographer Niccolo Cosme, 2009'sWBA Superflyweight champion Nonito Donaire, Jr.,actor and concertproducer Jomari Yllana, award-winning actress and director GinaAlajar, cosmetic surgeon Mikaela, entrepreneur JoelCruz, and Brazilian-Japanese model Akihiro Sato.
First on stage was designer MaxieCinco with singer and former child actress Aiza Seguerra. The two performed "You're The One That I Want" from the musical Grease. According to his staff, Maxie makes his own costumes andaccessories. That night, he wore an Elvis-style wig and a pair of aviator shades, whileduet partner Aiza was garbed in a white, curly, long wig complemented by atight-fitting leather suit and red high-heeled pumps.
The costumes prompted composerand judge Danny Tan to comment, "Maxie, bilib ako sa powers mo," he toldthe designer. "Ginawa mong babae si Aiza," he explained, noticing the singer'schange in image from boyish to feminine. "Dapat ganyan ang mga performances mo,masaya, pero na-feel ko parang kulang pa," he countered. "Mag-relax ka pa, maging masaya ka pa. Kulangpa ng fun, pero papunta ka na do'n. 'Pag nag-e-enjoy ka, nag-e-enjoy dinkami."
Following Maxie wasphotographer Niccolo Cosme who had sultry actress Ara Mina for apartner. They gave a faster and more upbeat interpretation to Jordin Sparks andChris Brown's hit duet, "No Air."
Judge Freddie Santos admitted,"Weird song for me. Weird song choice. I wish there weren't too manythings happening, para makapag-concentrate ako sa inyong dalawa," he said, bringinginto light the moving staircases which the duo used as props. "The one thing, though,that I really appreciate is, Niccolo nagiging walanghiya ka na. Okay yun,"he told the photographer.
ADVERTISEMENT - CONTINUE READING BELOW
Boxing champ Nonito Donaire,Jr. went from real-life punches to comedic punches this week, as he teamedup with YouTube sensations and comedy duo, Moymoy Palaboy. Nonito sang Shaggy's"Angel" with one-half of Moymoy Palaboy, while Roadfill merely acted inthe background. The group had a massive YouTube window as backdrop, andRastafarian-inspired costumes that seemed to mimic the Jamaican feel of thesong.
After the performance, host OgieAlcasid (who had to pull off a solo act with the absence of co-host RegineVelasquez this week) teased Nonito about opening for GMA-7's Sunday concertprogram, SOP. Nonito mimicked aJamaican accent as a reply to this joke, which Ogie took as a cue to tease him somemore about joining gag show, Bubble Gang.
It appeared that Ogie wasn'tthe only one impressed, for judge Freddie Santos was so awed, he even mumbledsome Visayan words to Nonito. He then said, "That was so insanelywonderful. Really. Ang gaan, 'e! Talagang hanep."
Actor and concert producer JomariYllana rocked Tears For Fears' "Everybody Wants To Rule The World" with TheDawn frontman, Jett Pangan. The duo wore similar leather jackets to completethe rocker vibe.
Judge Tessa Prieto-Valdez wasall praises for the actor. "You're so cool!" she told Jomari. "Every weekyou're getting so much better. Sobrang guma-gwapo ka na! Galing, thecombination was so good," she noted, referring to the vocal blending that theactor whipped up with his duet partner. "I so love you! Good job!"
Next was multi-awarded actressand director Gina Alajar with actor Tirso Cruz III. Gina and Tirsodanced and sang Donna Summer's "Let's Dance" in what appeared to be aballroom-inspired performance.
"Bravo! Ang galing!" saidjudge Tessa Prieto-Valdes. "Alam mo mahirap kumanta at sumayaw ng sabay-sabay,"she told Gina, who had been in the Bottom Three last week. "So much better thanlast week, grabe. I've been in the Bottom Three, and I know how that feels. Forsure this week hindi ka Bottom Three, I'm so sure of it. Congratulations! Ilove the number!"
ADVERTISEMENT - CONTINUE READING BELOW
Up next was beauty maven Mikaelaand duet partner, Pinoy Idol grand winner Gretchen Espina. The duo performedBeyonce's "Single Ladies," complete with the original dance moves. Mikaela evenwent on to copy Beyonce's swimsuit-inspired costume, but adorned hers withglitter and some flashy accessories.
Despite the loud dance movesand costumes, Mikaela failed to impress the judges. Danny Tan confessed, "Forme it was a disaster, actually. I think choice of song mo is a big problem, forme. Maybe you should re-think kung anong song talaga bagay sayo," he told thecosmetic surgeon, taking note of her previous song choices. "I really don'tthink you have the inner rhythm to get through these fast and dance numbers. It'sjust a matter of choice of song siguro."
Perfume line owner Joel Cruzwent for a ballad this week, singing Josh Groban's "You're Still You" withballadeer Bo Cerrudo. Joel seemed to contrast the relaxed atmosphere with acheerful costume, including a yellow overcoat and a cowboy hat.
Judge Freddie Santos didn'tlike the props and costumes, which according to the judge, are rathermismatched. "Kasalanan yung kurtina na hindi naka-match sa lamp post, hindinaka-match sa damit nung dancer, hindi naka-match sa overcoat, na hindinaka-match sa kanta," he said.
The last contender to perform that night wasBrazilian-Japanese model Akihiro Sato with Pambansang Ilong Allan K. Theduo performed the Spanish dance song, "La Bamba" in matching unbuttoned whitepolos and tight-fitting high-waist pants.
Akihiro impressed judge Tessaso much, that she even asked for a signed poster of the model. "Akihiro, thisis the best number yet. I so enjoyed it," she told the stunner. "Your voice wasso much better. You're really enjoying. Pero alam mo, kulang pa rin. You gottaopen more. Open more!"


Tessa's comment prompted Ogieto ask, "Are you saying that next week, he should take off his shirt?" Tessahappily agreed to Ogie's quip and added, "Grabe, boses mo, so much better. 100percent," she told Akihiro, adding that the two other judges agreed to this.
ADVERTISEMENT - CONTINUE READING BELOW
Tune inevery week as these singing celebrities compete for the title on Celebrity Duets 3, airing every Saturday on GMA-7 right after Pinoy Records.