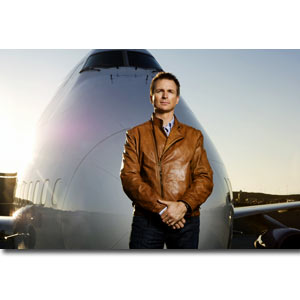 ---
Studio23 gives viewers the biggest season premieres and grandesttelevision events including the live telecast of the much awaited TheAmazing Race 15.


Twelve teams once again race around the world for $1 million in the 15thinstallment of the Emmy award winning reality series The Amazing Race15 airing via satellite on Monday (September 28) at 8 AM with primetimetelecasts beginning October 1 at 8 PM.

Fromlive television events, Studio 23 also brings you all-new episodes ofyour favorite foreign programs as well as the must see back-to-backseason finale of teen drama 90210.
Catchthe hilarious second season of breakthrough hit reality show ISurvived a Japanese Game Show every Tuesday at 8 PM as another group ofunknowing Americans were brought to Japan to compete in challenges on alocal game show for a shot at the $250,000 prize.
Bobby,Sam, and Dean, on the other hand, visit a psychic to help them get someanswers as to how and why Dean has returned from Hell in the continuingfourth season of Supernatural, Saturdays at 8 PM while the Oceanic 6returns to the island in the intense fifth season premiere of Lost this Friday (September 25), 9 PM.
Tensionsrise for the teens of Beverly Hills as prom night approaches in thetwo-hour special season finale of 90210 this Thursday (September 24) at 8PM. A dateless Annie agrees to attend the event with the extremelynerdy Charlie, who then plots an evil revenge after he realizes Annie'spurely platonic interest. Meanwhile, Dixon is nominated for Prom Kingas Kelly and Harry work to get Liam on the right track.
Inpreparation for the 2010 FIFA World Cup South Africa, Studio 23airs the football corner dubbed as Goal!, Mondays to Fridaysfrom 11 PM to 12:30 AM.
Lastly,Studio 23 also airs one-minute short TV programs on fashion,technology, gadgets, and various national issues namely Girlista, Quick E, Shoutout, and News Bites airing daily at different times.
ADVERTISEMENT - CONTINUE READING BELOW
All these jam-packed offerings are coming your way this September only on Studio 23.