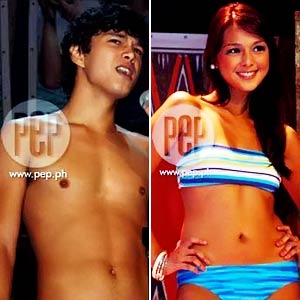 ---
Troy Perez, thelatest castoff from Airai and Justine Ferrer, the reigning "Isla Purgatoryo Queen"battled it out on a face-off challenge that would give the winner the chance tobecome this season's Ultimate Sole Survivor.

Survivor Philippines host Paolo Bediones announced the mechanics for the challenge. Justine and Troy must runtowards the water and swim to floating bamboo poles. Underneath the bamboos isa rock weighing 60 pounds tied by a rope. The first castoff to bring the rockalong with the bamboo back to their base wins the immunity bracelet and getsthe chance to stay on Isla Purgatoryo for three more days.

Both castoffs had a difficult time lifting the stone, all the more carrying itfrom underneath the water. Troy even thought that the stone is heavier than hisbody weight.

The two had a different strategy trying to nudge the stone towards the beach.Since Troy was having difficulty trying to hold his breath underwater, heopted to pull the stone using the rope attached to it while he tries to keephimself on the surface by clinging on the bamboo.

Justine on the other hand, submerged herself into the water from time to time,to carry the stone with her hands, while standing upright on the seafloor. She then walked her way towards the shore.

Later, Troy was way behind as Justine reached the base. Troy even uttered "Ohmy God" as he saw Justine's bamboo poles floating away from him.
Justine's hand carried the stone, dragging the bamboo along towards the mat. While, onthe verge of drowning, Troy gave up and asked for help.

"Noong time na 'yun, super exhausted na ako and weakness ko rin iyongswimming," Troy admitted.

Justine, on the other hand, could hardly believe she won four timesconsecutively, this time against a male challenger.

"Ang saya-saya ko talaga. As in, hindi ko akalain na malakas si Troy, lalakisiya, natalo ko siya," Justine said proudly.

Paolo bid goodbye to Troy, the fourth official castoff of Survivor Philippines:Palau.

"I don't have any regrets. Kung ano iyong inihain ng kapalaran sa akin, tanggapko. Minaximize ko kung anong mayroon ako. Na-upgrade na iyong dating Troy. Sobrangmaparaan, sobrang independent, kahit saan mo dalhin survivor talaga," Troysaid.

Meanwhile, Justine hopes her winning streak would continue.

"Pumapabor talaga sa akin. Sana magtuloy-tuloy na siya hanggang sa merge,"Justine said.


THREATENED BOYS. At the Airai Camp, Louie Ang, Charles Fernandez and CrisBolado discussed what their next move would be after realizing that the boys are beingvoted off, one by one. They thought of voting Tara Jane Macias off before the merge that would happen in a few days.

Louie : "Basta tayong tatlo solid na tayo.Alam mo si Tara kasi daldal nang daldal, e. Pinapangarap nating umabot sa merge."
Cris : "Nagbubuhaysenyorita na siya."
Louie : "Saka, kampante na siya."

"50-50 pa ako kay Tara. Hindi pa ako sure kay Tara," Louie said.

Charles : "Hindi kasi ang nangyari, 5 boys 5 girls. Uubusintayong mga lalaki."
Louie : "Mas maganda na iyong mas maraming lalaki sababae, 'di ba?"

Charles said that Cris just agreed to their plan. What the boys didn't knowwas, Tara was also quick to inform Mika Batchelor about Louie's attempt to get her on hisside

Tara : "Alam mo ba, inaako na ako ni Louiena, tatlo na daw kami. Pero iyon sabi ko nga earlier pa na nagdecide na akonoong sinabi ko na the brave ones should stay"
Mika : "It's still you choice, nasa sa'yopa rin."
Tara : "Pero ayoko. Pinakita ni Cris na mayword of honor siya, like sinusunod talaga niya."


ADVERTISEMENT - CONTINUE READING BELOW
LOVERSIN PALAU? Atthe Koror camp, Marvin Kiefer and Jef Gaitan were seen spending more and more time together.

"Para sa akin, ito na iyong chance na nandito kami na to get closer to her.Malaman iyong buhay niya, kasi hindi kami masyadong close," Marvin said.

"Masaya kasi marami kaming napag-uusapan tsaka e, kasi gwapo kasi si Marvin ekaya kapag kausap mo siya, masarap siyang tingnan," Jef said.

As they ate, Echo noticed that Jef was becoming prettier. But for Jef, it's theisland she now calls a paradise, making up her beautiful aura.

"Sobrang perfect iyong day na iyon. Parang iyon yung most romantic paradiseplace. Pero it's so paradise kasi parang kasama mo iyong mga kasundo mong tao.Kung parang mayroon man akong ini-imagine before na place na gusto kong magingisolated, eto na 'yun!" Jef said.


HUMAN LECHON CHALLENGE. The teams arrive at the site of thereward challenge. Paolo welcomed them and explained the mechanics of the game.

At Paolo's signal, the entire team should cling to a bamboo, with their feetand hands.
They shouldavoid touching the ground, except for their hair and clothes, else they geteliminated from the game. The team with the last member left hanging on thebamboo wins the reward. The reward, an hour of signature aruga full bodypampering massage complete with oil, lotions administered by two masseuse forall the members of the winning tribe.

Before the challenge began, Amanda Cooley Van Cooll had to sit out for Koror.

After a little over a minute, Cris surrendered because of his wound in thefoot.

Louie went down as well after a little over six minutes, leaving his partner onthe pole, Mika.

After 21 minutes, Jef gave up followed by Shaun Rodriguez.
ADVERTISEMENT - CONTINUE READING BELOW
It's down to three castaways for each tribe.Charles, Mika and Tara for Airai; Echo Caceres, Marvin and Suzuki Sadatsugu for Koror.
Louie then started flame baiting Suzuki to distract him, Tara and Cris followedsuit. Jef countered by trash-talking Charles as well.
Jef : "Ano 'yan Charles?"
Echo : "Puro kagat ng lamok puwet ni Charles!"
Jef : "Pasilip nga Charles, anong mayrondiyan?"
Charles: "Wow! O sige, tingnan mo."
Louie : "Ipakita mo Charles."
Jef : "I-shake mo nga."
Paolo then said that he thought the challenge would only last for 30 minutes,but it turned out the remaining three were already hanging for more than anhour.
Charles went down after one hour and 27 minutes.
Marvin then began distracting Tara. Suzuki went down after one hour and 34minutes. Trash-talking continues.
Marvin : "Ang itim ng kilikili ni Tara!"
Tara : "B.S."
Shaun : "Patingin nga ng buhok."
Marvin : "Ang itim ng kilikili ni Tara!"
Tara : "So what?"
Tara took offense to what Marvin has said.
"Alam kong magaling siya pero. I don't like him, his attitude sucks a lot!"Tara complained.
Tara went down after one hour and 43 minutes. Mika is the sole tribe memberleft for Airai.
Eventually, Mika submitted to defeat and released her grip after two hours and fiveminutes. Marvin and Echo were the last two hanging for Koror's another win.
"Iyong point na iyon, even namanhid na siya. Pwede pa akong tumagal but inisipko na this is one of our parang last immunity challenges as a team. Pagdatingng individual na baka may malaking target na ako sa likod ko kung ako iyongpinakamatagal na naka-hang doon," Mika ended.