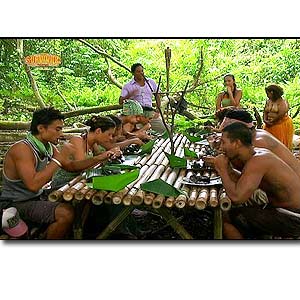 ---
In episode 28 of Survivor Philippines Palau, theKoror tribe waited for Echo Caceres who had left the camp overnight. Echo was required toundergo medications after having allergic reaction from eating crabs.
ShaunRodriguez recalled how Echo has been doing the daily camp chores early in the morning,but now that she's away they had to take her place.
Later,at the Crew Camp, Echo received a clean bill of health from resident physician,Dr. Samuel Ramos, following medical observation overnight. The doctor said thatshe no longer had any symptoms of the allergy.
"Isanginjection lang ni Doc Sam, okay na ako. Pero hindi nga ako bumalik last night kaagadkasi under observation pa. Hindi ako papayag na dahil lang sa allergy mawawalalahat ng mga super na paghihirap na pinagdaanan ko," Echo shared.
Afterher medical condition improved, she went back to the camp where Jef Gaitan welcomedher in the forest.
Atthe Airai Camp, Cris Bolado and Louie Ang had a serious chat about their families.
Louie : "Nami-missmo na pamilya mo?"
Cris : "Laginaman e. Kaya lang pag nandito ka sa ganitong lugar, tapos inano mo pa nyung emotion mo, bibigay ka."
THE KOROR BLOOD. Later, when Louie got to talk to Charles Fernandez, he triedto convince the raketista to vote off Cris if ever they would face the tribalcouncil again. Charles agreed and they shook their hands. The raketista sharedwhat he has witnessed during the reward challenge yesterday.
Charles: "Nag-usap sila kahapon niShaun."
Louie : "Oo, nag-usap sila."
Charles: "Nadinig ko yon. Sabi ni Kuya Pao,"Bawal mag-usap, Cris, Shaun. Balik sa mga pwesto." Naalala mo nung nakabitin pako, nakita ko sila. Sa kanila lang ako nakatingin eh."
Louie was confident with his alliance with Charles.On the other hand, he was skeptic about Tara Macias's loyalty to the original Korortribe.
"Si Charles naman kasi,solid alliance ko yan eh. Kumbaga sobrang pinagkakatiwalaan ko sya this... sincenung mga pangalawang araw namin dito sa Airai. Si Charles yung parang littlebrother ko, " Louie said.
ADVERTISEMENT - CONTINUE READING BELOW
Louie : "Nagusap silang dalawa ni Shaun kahapon. Si Cris at si Shaun. "
Tara : "Anongpinag usapan nila?"
Louie : "Taposmay mga sign-sign sila nila Jef."
Tara : "Talaga?"
Louie : "BastaTara, confident ako sa iyo. Confident kami ni Charles sa 'yo."
"Sabi naman ni Tara namabait si Cris, ganyan. So parang, walang kwenta talagang tao, hindi niyatalaga alam kung pano laruin tong Survivor, " Louie said.
"Maagapa lang kinausap na ko ni Louie e, na kung matalo sa immunity ivo-vote out dawnamin si Kuya Cris, all and everything. Sabi ko lang, Okay, Okay, Okay." Tara stated.
THE SURVIVOR FLAVOR. MikaBatchelor picked the tree mail for her tribe, and then Tara read the message aloud.
"Hindi naman bulag perohindi makakita sa liwanag. Hindi naman bunga pero nakasabit sa sanga. Alamin ang sagot sa bugtong na ito. Pero ang tanongko, matibay ba ang sikmura mo?"
Mikawas quick to conclude that they were supposed to eat bats and dared her tribemates if ever they could stomach the challenge. Everyone seemed to be ready.
Mika : "Yeah. I don't know. Well, matibay ba angsikmura mo. Kung kaya mo kumain ng paniki."
Cris : "Oh yeah!"
Louie : "Paniki is very delicious!"
Cris : "No problem. Yeah. It's a food you know?It's f****g meat right? Damn!"
Atthe Koror Camp, Jef read the tree mail message for the team. But they were notable to guess it right, as Echo thought it was a game of "pukpok palayok" or pot hitting.
PALAU'S DELICACY. Survivor Philippines Palau host Paolo welcomed both teams to their immunity challenge.He asked members of Team Koror to surrender the immunity idol and Cris toreturn the immunity bracelet. Paolo then proceeded to explain the challenge.
"Siyempre hindi makukumpleto ang pamamalagi natindito sa Palau kung hindi natin matitikman ilang mga tinatawag na Palauan delicacies.Pumili kami ng isa at siyempre dito hindi ito Survivor kung wala tayong exoticfood eating challenge," Paolo said.
ADVERTISEMENT - CONTINUE READING BELOW
The TV host then presented a special centerpiece for thelong table; it was a live fruit bat hanging on a branch.
Paolo called upon a Palau native, Beverly todemonstrate to the castaways the how to consume the nocturnal animal. Theycastaways could eat everything except the head and the bones. "It's more tastier (sic) than chicken," Beverly said.
Koror and Airai tribe members positioned themselves tohave a random pair of castaways opposite to each other. They must eat two fruitbats all at the same time. Determining the winner between the competing pairdepends on how clean their plate was after eating, which means, the individualwith the least left-over wins a point for the team. The team to score at least threepoints from the total of five wins the immunity idol. The castaways are giventwo minutes to finish the challenge.
Louie was up against Suzuki. Amanda and Cris were thenext pair. Tara and Echo were against each other. Marvin and Charles were headto head and finally, Mika and Shaun were the competing pair. Jef had to sit outfor Koror.
"Nakakalungkot kapagnagsi-sit out ka kasi parang dun pa lang, parang sinasabi na hindi niya kasikaya at mas kaya namin kaya kailangan siya yung umupo," Jef commented.
The castaways had no qualms eating the fruit bats,and most of them said that the taste was tolerable, even delicious at times.But the most difficult part was trying to swallow the fur of the animal. Even thevegetarian, Marvin sacrificed his diet to accomplish the task.
"Fouryears na akong hindi kumakain ng meat, so naremember ko iyong chicken," Marvinsaid.
After two minutes, the challenge was over. But Criswas seen throwing up.
"Iyong balahibo niya talagang umano sa ano ko. E,hindi rin ako kumain nung time na yun. Tapos hindi ako nainom ng tubig so anghirap lulunin. Napaganun ako. Dumiretso," Cris explained.
ADVERTISEMENT - CONTINUE READING BELOW
"Actuallysa totoo lang, iyong lasa okay lang like masarap naman talaga siya kaya langsobrang like fatty, like greasy talaga siya. So ma-feel mo talaga all over yourfingers at saka yung face mo talga, it's so greasy," Mika said.
THE JUDGMENT. After studying the leftovers, Paolo announced theresult of the challenge.
Between Louie and Suzuki, Airai gets the first point.Louie was confident that he was able to outdo Suzuki during the challenge. ThenMika was declared the winner against Shaun to get Airai's second score. BetweenAmanda and Cris, Koror got an automatic point after the former basketballplayer threw up. Louie was so disappointed over Cris' performance.
"Nadisappointako kay Cris talaga sobrang big time nadissapoint ako kasi immunity challengeyun e. So dapat kumbaga kung alam niyang iduduwal niya, dapat inistay niya munasa mouth niya tapos paunti-unti nilulunok niya, dinuwal niya e. Parang sinadyaniya e," Louie said.
Between Marvin and Charles, the vegetarian won the challenge,making the scores tied to 2 - 2. Echo was proud that Marvin was willing to sacrificefor the team.
Finally, it's up between Echo and Tara. Paoloannounced that Echo gets the point and Koror snatched the immunity challenge,extending their winning streak.
Paolo once again instructed Koror to hand over theimmunity bracelet to a member of Airai. After discussing it with the team, Echoreturned the bracelet to Cris. While the former basketball player feltdelighted with this development, Louie got even more disappointed.
"Pinili namin ulit si Cris kasi alam naming malakisiya, pero sa endurance, hindi na niya kakayanin," Echo explained theirdecision.
"Hindiko alam kung nag-iisip si Echo ng maganda o talagang, ewan ko. 'Di ko alam kungsumusunod siya sa plano namin. I don't know. Nadisappoint talaga ako," thefrustrated Louie said.
However,Louie was right with his observation on Cris, as Mika eventually revealed theplan.
"Angsinasabi ni Kuya Cris sa lahat is that nandiri siya doon sa balahibo na hindi niyatalaga nalunok. Pero kasi sa huling-huli na 'yun e. But nung after kinausapniya ako na nakita daw niya na like si Louie nananalo compared to Suzuki butnaisip niya na iluluwa nalang niya para manalo ang Koror kasi natatakot siya najust in case kami yun manalo e mayroon silang i-vote out sa Koror na baka si Shaunyung ivote out bago mag-merge," Mika said.
ADVERTISEMENT - CONTINUE READING BELOW
CAMP SWITCHING. Afterdeclaring the winner, Paolo announced another tribal switch. But this time, theteams must go to their new home, the rival's camp—bringing only what theyhave with their hands and leaving everything they have at their original camp.
"Hindi pa tayo tapos. Dahil ang Survivor is adaptingsa kahit anong environment, kung saan man kayo mapadpad kailangan marunongkayong makihalubilo, makapag-adjust at siyempre, mabuhay. Pag-uwi ninyo,diretcho kayo sa camp ng kabila. You're switching camps. Lahat ng mga gamit,from your old camp mananatili doon. Kung anong dala-dala niyo ngayon, yung langang pwedeng ibalik sa bago niyong camp," Paolo said.
Bothtribes submitted to Paolo's instructions. But what the winning tribe, Korordidn't expect was what they are about to see at their new home.
Thesight of the camp took a toll on Echo and Marvin, after realizing that all theyworked hard for at their old camp would be enjoyed by Airai while they have tostart all over again with their new camp.
Echo : "Ay! 'di siya bahay,lungga siya!"
Marvin: "Ay p**a! Ang pangit!
Echo : "Ayang panget!! Ayusin natin ayusin! Ayusin! Gusto ko ng bahay, ayoko ng lungga!"
"Superna shock ako, natulala nga ako eh, sabi ko, Sh*t! Ang dumi, I can't live ng 16days na wala man lang magwalis, magdamo, basura kahit saan, pinagbiyakan ngniyog kahit saan ang dumi!" Echo complained.
"Sobrangbadtrip, hindi lang ako, kami lahat. Kasi parang sobra nilang baboy, parang mgabata. Hindi ko alam kung paano i-describe, sobrang dumi. Daming kalat. Lahat ngna open ng buko kahit saan lang, daming langaw," Marvin said.
Amandaalso got dismayed with what she saw when she returned to her old camp.
"Akodati akong Airai, so alam ko na itsura ng Airai. Pero noong nakita ko, masmalala pa siya kaysa doon sa dati. Kase maski dati noong Airai pa ako, ako 'yunglagi nagkakalaykay. Kasi gusto ko maaliwalas, nagugulo utak ko pag magulo,"Amanda said.
ADVERTISEMENT - CONTINUE READING BELOW
Asidefrom the mess, Echo complained about the blunt bolo while Marvin had to kickthe crate and threw some coconuts away to release his frustration.
"Grabe.Galit na galit ako noong hinahati ko yung niyog kasi pati iyong bolo ang purol.Parang everything is not going into place. Pati bolo hindi pa matalim, so anghirap kahit gaano ka kagaling maghati ng niyog kung ang bolo mo hindi matalim,walang mangyayari," Echo complained.
Meanwhile,Mika was excited to go to Koror's camp for the first time, for a newenvironment.