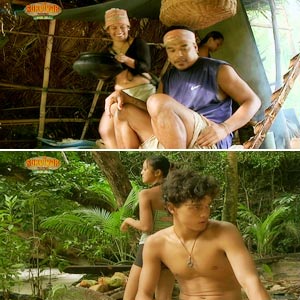 ---
In Survivor Philippines Palau, the Airai tribe matesarrived in their new camp, formerly occupied by Koror. The original Korormembers, Louie, Tara and Charles were so excited to be back and were delightedto see major improvements.
"It's good to be home. So nung palakad na kami sa shoremedyo nagandahan ako sa bahay kasi may table na. Kumbaga mas nag-improve payung bahay namin. Talagang sobrang ok, sobrang sulit. Kumbaga kahit talo kamisa immunity ok kasi meron kaming kutson," Louie said.
"Sobrang saya kasi alam naming may lugaw at may sugar yunglugaw so yun yung nagpasaya sa akin talaga kasi I can taste something sweet,"the thrilled Tara stated.
The original Airai members, especially Mika, were all themore impressed with their new home base.
"Like wow! Kung dito talaga ako nakatira kahit siguro like Idon't know, isang taon or something, pwede akong mabuhay dito as in para siyangbahay," Mika said.
Among the items left by the Koror members were the betterfood supply, firewood, the cushion and beddings.
On the other hand, Cris admitted feeling guilty and sorryfor Koror members who had to go home to the former Airai camp, which they leftbehind like a total mess.
"Inisip namin ni Mika na kawawa naman sila doon sa kabila naparang nakaka-guilty naman. Dito sarap-sarap namin," Cris observed.
But Tara did not feel sorry to her former tribe mates.
"Hindi ko naman iniisip na kawawa sila because there's nokawawa in this world. Lahat tayo pwede maka-experience ng sacrifices, lahattayo dapat maka-experience ng mga ganyang bagay since Survivor ito ano?" Tarapointed out.
"The decision is fixed."
Charles, acting like a tour guide, was excited to show Mikaaround her new camp. They also took the opportunity to talk about theiralliance.
"Actually ako iyong natatakot kasi tatlo pa kayong Koror.Like dati ba na Koror and like dalawa lang kami ni Kuya Cris so parang mayimmunity bracelet si Kuya Cris baka ako ang i-ano nyo," Mika told Charles.
ADVERTISEMENT - CONTINUE READING BELOW
"I'm still thinking about it na baka ako pa rin yungtanggalin. I just have to hope na loyal pa rin si Tara at si Charles," Mikasaid.
Later, Tara, Mika and Charles were seen talking about Louie.
"Namumulitika na naman yung isa tungkol nga sino ivi-voteout and everything. 'Yun kinausap na namin lahat. Nag-usap na naman kami lahate, kaming apat so 'yun na 'yun. Fixed decision is fixed," Tara affirmed.
"Right now gusto ko talaga sabihin na trust ko sila, youknow. I really hope na they stick to their word kasi kung hindi ako ang uuwi,"Mika said.
KOROR'S CHORES. On the other side of the island, thetribe members of Koror started to fix their new camp. The girls removed thescattered leaves and scraps in the area. Echo also fixed their campfire. Marvinand the boys also gathered and piled up some firewood. The "Spicy Bicolana"somehow was contented with the result of their camp's make-over.
"Nagtulong-tulong kami at sa ilang oras napagtutulong-tulong namin, nakahinga kami kahit paano. Very big differencecompared sa nakita namin noong dumating kami," Echo said.
"Kaunting kalaykay, sunog, basta basura talaga. Noongdumating kami dito, kadiri, daming basura, pati plastic ng basura malapit sabahay. Walang effort. Parang ano na lang, wala namang ginagawa during the day.Siguro masyado lang silang maraming iniisip," Amanda stated.
However, Echo still felt bad over the camp switch thathappened.
"They don't deserve to sleep there because we won it. It'sours, pinaghirapan namin. We worked hard to have that kind of shelter and wedon't deserve to be here because hindi nila inalagaan yung lugar nila," Echocommented.
MIKA'S PREDICAMENT. Backat the Airai camp, the members were done with their favorite pastime: cookingup an alliance. Louie then played "chick boy" again with Mika.
Louie : "Baby, bakit ayaw mo akong katabi?"
Mika : "Wag ka ngang ganyan."
Louie : "Ba't ayaw mo akong katabi?"
ADVERTISEMENT - CONTINUE READING BELOW
Mika : "Ay naku, hindi ako tatabi diyan."
Louie : "Minsan lang tayo magtatabi ayaw mo pa."
Mika : "Sorry."
Louie : "Pero pag si Troy gustong-gusto mo.Nakaka-bwisit."
Mika : "Hindi. Ako ba nagpili na magtabi siya saakin."
Louie : "Sabi mo lalapit lang ako. Kasi angpangit mag-ano e."
Mika : "Gusto mo sapak? Sige, sige lumapit ka saakin mamayang gabi. Sige subukan mo."
Louie : "Wala, hindi ako ganun. Alam mo tingin kosa 'yo, ate."
Mika : "Hmm, kunwari ka pa."
Louie : "Ate, ano, kinukombulsyon ako. Bago 'yun.Sinabi niya talaga kinukombulsyon."
Later, something else caught Mika's attention. She realizedthat her bust-size has changed and casually shared her predicament to the restof the tribe.
Mika : "Ang dibdib ko nag-lawlaw na."
Charles: "Ano bangsize sa 'yo? Thirty?"
Cris : "Pumayat ka kasi."
Mika : "36B. Yun nga para siyang alam mo iyongballoon, kapag deneflate mo? Yun na yung didbdib ko. Promise. Wala na tonglaman."
Tara : "36B?"
Charles: "Bihirayun na size sa 36."
Mika : "Nalulungkot ako sa dibdib ko."
MARVIN'S MISSION. Atthe Koror Camp, the tribe members continue to air their protest against theAirai tribe now occupying their original camp. But they still tried to adjust to their new shelter as they cooked theirmeals with the broken cooking pot. They had to cook rice porridge twice soeverybody could eat.
Meanwhile, Marvin decided to channel his anger andfrustration to get even with the rival tribe.
Echo : "Siguro ginagawa nila maghapon, nakahiga."
Marvin: "Masmotivated ako na i-vote off ko sila isa-isa. Just for this, I'm gonna votethem. If I have to use all my powers just to vote them off 1 by 1. Hanggangtayong anim na lang matira then we can fight. They don't deserve this s**t!"
BEST BUD. Back atthe Airai Camp, Louie asked Charles for assistance to put on his pants.
Louie : "Hindi pa nga ako ready e."
Charles : "Okaylang iyan sa camera, tingnan mo baba natin. "
ADVERTISEMENT - CONTINUE READING BELOW
Louie : "Hoy, huwag p** ka!
Charles : "Akala ko pangarap mo boldstar?"
Cris observed that Louie has gotten used to giving orders toCharles, even with the simplest things.
"Si Louie kasi iyong tipong pwede nang kunin, tatawagin pasi Charles. So iyong nagbulungan kami na senyorito, kawawa naman si Charles.Ganon, dadamputin na lang tatawagin pa si Charles," Cris said.
But for Louie, there's nothing wrong treating Charles like asmall brother.
"Since best bud ko nga siya, kumbaga siya na iyong nakasamako kahit nasa Koror. Nag-Airai, siya iyong nakasama ko. Okay na okay na kamingdalawa, siya yung tinawag ko."
Later, Tara complimented Louie as he noticed that Charles''older brother' has already tamed down on his usual foul language.
Tara : "Natutuwa kami sa 'yo, nabawasan na iyongpagmumura mo."
Louie : "Siyempre naman."
Tara : "Natutuwa kami sa 'yo Louie."
Louie : "Alam mo kung bakit hindi na 'konagmumura."
Charles : "Dahilnandito si Mika. "
Louie : "Siyempre. "
Mika : "Sus! "
Louie explained that he's still Koror-at-heart and that hecannot fully express himself with his new tribe mates.
At the Koror Camp, the tribe members content themselves withwhatever food they had and not being selective on what to eat. Jef was happyenough to eat a "butbot," a growth inside the coconut.
"Dalawang beses kami kumain kasi gutom na gutom kami at iyonnga basag iyong palayok. Luluto kami kulang talaga so kailangan talagangdalawang salangan so iyon sabi namin huwag na tayo magtipid kase nagtitipidtayo 'di naman tayo ang nakinabang," Echo said.
MEET SADATSUGUSUZUKI. After a tension-filled day, the Koror tribe found comic reliefcourtesy of their funny-man, Suzuki. Suzuki was first "interviewed" by Amandaand asked him what he thought about their new camp.
Suzuki, sarcastically answered "Maganda, iyong place. It'sso madilim. Maganda. Mga kababayan, mga tropa! Ang ganda-ganda ng place dito!Kung gusto ninyo mag-enjoy, dito na lang kayo! Thank you very much."
ADVERTISEMENT - CONTINUE READING BELOW
Then Suzuki played the role of a "TV Host" and askedquestions directed to Shaun and Amanda.
Suzuki ended his show with a song-number for his "fans."
Suzuki: "SurvivorPhilippines in Palau, I love you Parau, ikaw ang mamahal ko Parau, I love youParau!"
SMOKE-FILLED CAMP. Buteven before the Koror tribe mates finally cap the night off, another mishaphappened as their campfire grew and the thick smoke blew directly to theirshelter.
"Iyong bago matulog, tapos iyung apoy malakas na tapossobrang lakas ng usok. Tapos narealizenamin na iyong hangin papunta na sa amin nasusuffocate na kami umiiyak nakami, sobrang bad trip pero nakakatawa," Marvin recalled.
"Hindi ko naman ineexpect na ganun talaga kausok parang,okay, ang Koror namatay dahil suffocate nagbibiruan na kami," Echo said.
When the fire was extinguished, Marvin and Jef slept besideone another. Echo then wondered how comfortable the Airai members were alreadysleeping on their old camp.


And the Airai members were indeed comfortable, as they sleepsoundly on their new camp.
ISLA PUGATORYO. AtIsla Purgatoryo, an unwelcomed resident of the island visited Justine's campbefore she falls asleep.
A boa lurks and Justine was seen making the sign ofthe cross.
Survivor Philippines Palau
airs weeknights on GMA-7 right after
Rosalinda.