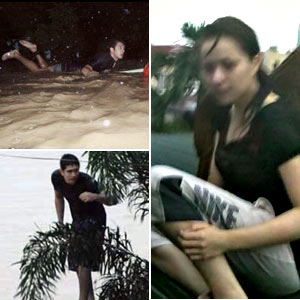 ---
KarenDavila and Bernadette Sembrano of The Correspondents will expose the grim aftermath oftyphoon "Ondoy" and will go deeper into the reason behind the recordrainfall this Tuesday (September 29) on ABS-CBN.

LastSaturday, many areas in the National Capital Region were practicallysubmerged in water after "Ondoy" (international name: Ketsana) relentlessly poured one of theheaviest rains in the country's history. Apart from Metro Manila, theprovinces of Rizal and Bulacan were also gravelyaffected.

Ina previous documentary on the sinking islands of Maldives, Karenreported the possibility that Rizal, Bulacan, and Marikina may gounderwater in the future due to climate change.

Asthey help in rescue and relief operations, Karen and Bernadette willalso look into the connection of climate change to "Ondoy," which haskilled almost a hundred and affected thousands of Filipinos.
Join Karen Davila andBernadette Sembrano as they dive deeper into the tragedy brought by"Ondoy," this Tuesday (
September 29
) on
The Correspondents,
right after
Bandila
on ABS-CBN.