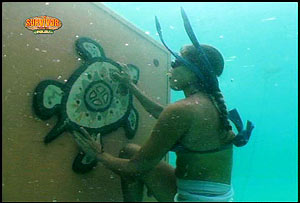 ---
OnDay 19 of Survivor Philippines Palau, each tribe was made to swap itemsfrom each other while they fought against each other for a mouth-wateringreward challenge: the chance to grill juicy burgers and eat pizza at theircamp.


That morning at the Koror Camp, the tribemembers had only coffee to start the day, as they couldn't cook a decent mealwith their broken cooking pot.
Later, Echo noticed how Suzuki's looks drastically changedas the days passed by in the island.
Echo : "Alam mo noong dumating siya dito,first day, maputi, macho, malaman, naka-shades, matinee idol talaga ,maka-crushan mo sa unang tingin sabi nga ni Tara. Ngayon, parang joke lang angmukha ni Zuki. Joke lang, gwapo ka pa rin!
Zuki : "Ganun talaga sa Survivor ano?"
But Suzuki never complained. He knew from thebeginning that vanity has no room in this competition.
"Parang mukhang joke na iyong katawan ko. Maybigote pa. Ang masasabi ko kay Echo, ganun naman talaga e. Nagbiro lang namansiya. Handa naman ako na papanget ako dito," Suzuki said.
At the Airai Camp, the morning after the tribalcouncil, the tribe members were already showing curiosity over the possibletribal merge.
Cris : "Day 19"
Charles: "Tay,nakalahati na rin natin ano? 39 days."
Tara : "May merge ngayon, naniniwala ako,kung hindi, may shuffle."
"We'reall expecting that to happen na may merge and may feast, but nothing happens,"Tara said.
"E, kasi worry sila doon sa ano, sa merge kasiang pinag-babasehan nila iyong last top 10. So ngayon ten na wala pang merge.Sinasabi ko lang kung wala, wala, kung meron, meron basta iyong araw-araw, kungano iyong challenge laban na lang," Cris said.
THREE PRECIOUS ITEMS. Charles and Echo got tothe tree mail and read the message to their respective tribe mates. It said:
"Kunganong ginawa mo, siya din ang gagawin sayo, ayon sa kasabihan.
Mag-usapat isipin ang tatlong mahahalagang kagamitan sa kabilang camp.
ADVERTISEMENT - CONTINUE READING BELOW
Dalhinang mga ito sa challenge mamaya.
Asahansa inyong mga gamit merong tatlong mawawala."
Tara understood that they were supposed to getthree items from their rivals' camp, and they should also surrender threeitems, in exchange to which Cris agreed.
"Kasi ang strategy ng kabila kung ano iyongibibigay nila, parang iyun din ang tatapatan mo," Cris said.
The Koror tribe talked about what items theyshould get from Airai's camp as they thought that nothing valuable could betaken from their present camp.
The 'ambassador' of each tribe should inform oneanother what items they were going to swap. Amanda and Tara met at the middleof the forest.
Amanda: "Iyongbolo, palayok, saka poncho."
Tara: "Okay,iyong sa amin naman, bolo, flint, palayok."
Amanda was surprised to learn that the Airaitribe wanted to get their palayok and their flint.
"Noong sinabi niyang palayok, bakit naman gustonila ng palayok, aanhin nila yung biyak na palayok dito? Parang hindi ko naisipna ang intentions yata nila e talagang pahirapan kami," Amanda said.
But for Tara, it was just a fair swap.
"Patas lang naman e. They want the bolo, theywant the palayok but they don't have the poncho, we have a lot of ponchos likekami yung mas maraming resources than them, sila yung mas miserable yungshelter and everything. Mas komportable kami. Hindi ko naman gustong walasilang fire, pero iyong thing lang na wala na kaming pwedeng kunin sa kanila,"Tara explained.
Amanda returned and informed her tribe mates theitems that would be taken from them.
Amanda : "Ang gusto nila, bolo, flint atpalayok."
Echo : "Anggusto nila mag-suffer tayo. If they want the flint, that means we have tomaintain our fire."
Shaun thought that the rival tribe wanted tocripple them for wanting to secure the valuable items.
"Pumasok sa isip namin na baka gusto nila 'di nakami makaluto, wala na kaming fire, hindi na kami makabukas ng niyog, na paragutumin kami," Shaun said.
ADVERTISEMENT - CONTINUE READING BELOW
Later, Amanda thought of slicing a portion ofthe flint and setting aside some of its powder. Echo was able to cut a portionof the flint.
"Tactical ka na kasi kung matalo, kawawa kami.Gumawa na kami ng tatlong bunton, biniyak na ni Echo iyong flint para mayroonkaming starter pa rin, striker, so long story short, ready kami," Amanda said.
After realizing that Tara remained as Airai'sambassador, the Koror tribe mates figured out that Louie was the latest personwho got eliminated from their tribal council.
Suzuki admitted that he felt sad upon knowingthat one of his earliest friends on the game already left.
At the Airai camp, before proceeding to the nextchallenge, the members packed all the things they could bring in anticipationof another camp switch or the merge.
"Iyon 'yung isang naisip nila magpalitan ng campkaya dinala nila lahat ng mahahalagang bagay. Kaya nagbalot-balot kami at leastkung magkasama-sama kami, may gagamitin lahat," Cris said.

UNDERWATER PUZZLECHALLENGE. Survivor Philippines Palau host Paolo welcomed the teams to the site of the challenge. Hepresented to Koror the Airai tribe, minus Louie. But before Paolo explained themechanics of the reward challenge, he asked the tribes about the three itemsthey brought for the challenge.
The challenge would only require four members torepresent each team. At Paolo's signal, team members should stand on a balancebeam, walk across then jump into the water where they must swim to get a puzzlepiece. After getting a puzzle piece, they must swim towards a puzzle box. Thepuzzle box has five sides, where the puzzle pieces must be placed. Only onepuzzle piece could be attached per side. After getting all the puzzle pieces inplace, everyone must cross the bridge, jump into the water and bring the entirebox onto the shore. The first tribe to accomplish the task wins the reward.
Paolo then presented the reward: a sumptuoustreat of pizza and hamburger patties that the tribe members could grill back totheir camp. The castaways were elated to find out the reward, which they allagreed to be worth fighting for. Paolo also announced that the losing team mustsurrender the three items they brought to the winning team.
ADVERTISEMENT - CONTINUE READING BELOW
Koror had to sit out two members for thechallenge and the team picked Suzuki and Echo.
"Para sa pizza, hamburgers na iluluto sa camp atang tatlong items ng kalabang tribe, Survivors ready? Go! " Paolo signaled.
Mika and Marvin began with the challenge. Bothwent over the platform and crossed over their respective balance beams thenjumped to the water. Mika and Marvin were head to head as they get their firstpuzzle piece. Mika got the turtle while Marvin got the jelly fish puzzle piece.Both of them successfully placed the puzzle pieces to the box and swam back totag their next team mate.
Marvin tagged Amanda who crossed over thebalance beam carefully, then jumped to the water to get the turtle puzzlepiece. Mika tagged Tara. As Tara crosses the balance beam, she almost fell ifnot only she was able to grab some ropes. Marvin and Echo jeered.
Marvin and Echo: "Hulog!Hulog!"
Paolo : "Oh!Recovery from Tara!"
Tara : "Stopbullsh**ting me guys!"
"Natawa kami kay Tara kasi nga nagpakita sya ngpikon na side, and I think hindi to dapat. Poker face ka, e. Dapat 'pag nasachallenge ka dapat hindi ka magpakita ng emotions kasi makikita nila angweakness mo, the next time alam na nila kung san ka nila titirahin," Jef said.
Tara dove into the water and swam towards herpuzzle piece, while Amanda was already approaching the puzzle box.
Amanda had a difficulty placing his turtlepuzzle piece, which kept floating in the water. Tara meanwhile was taking alonger time to place her starfish puzzle piece, so Mika coached her. Amanda wassuccessful after standing on the box and swam back to tag her teammate, Shaun.
Paolo announced that if a castaway fails toplace the puzzle piece, he/she could return and tag another member. While Mikawas prodding her to just give up, Tara still tried to fit her puzzle piece butfailed. She eventually gave up and swam back to be replaced by Charles.
ADVERTISEMENT - CONTINUE READING BELOW
Shaun meanwhile kicked his shark puzzle piece tofall into place and swam back to tag Jef.
Charles backstroked his way to get Tara'sfloating puzzle piece. Mika was already fuming as she shouted, "Stop f***ngbackstroking! Look where you're going!"
Jef was able to get her manta ray puzzle pieceafter standing on top of the box. Charles eventually got the starfish puzzlepiece into place then did another backstroke swim to the shore.
Charles tagged Cris, while Jef tagged Marvin.Cris got his puzzle piece first and swam to the box. Marvin got a starfishpuzzle piece and tried to place it on its slot on the box. Cris got back to theshore first, while Marvin was having some difficulty.
Mika was next to get another puzzle piece andshe was able to place the shark figure first while Marvin was still strugglingto fit his starfish piece. He was being cheered by his teammates.
Tara was tagged. Marvin finally placed hispuzzle piece on the box and swam back. The four members of Koror must then walkover the balance beam before diving to get the entire puzzle box.
Tara was having trouble getting the final puzzlepiece to fit in the box. Mika and Charles were already screaming at her. ButTara seems to have gotten lost.
Mika : "Kabilang side, kabilang side, theother side!"
Charles: "Sinabi ng sa kabila, sa kabila!"
Mika : "The f****ing other side!"
Paolo : "Tara, hinahanap kung anong side ngbox!"
Tara said that finding the right side of the boxwas easy, but placing the piece was more difficult.
Meanwhile, Marvin took Jef's hand as they swam together.
Using the ropes,Team Koror was ahead, alreadydragging the puzzle box towards the shore. As they were getting nearer to thefinish line, Tara was still struggling to place her puzzle piece. Koror placedthe box on their mat.
ADVERTISEMENT - CONTINUE READING BELOW
"Koror wins reward!" Paolo declared to thedistraught of the Airai team.
Koror did not only win three items from theirrival tribe, they also feasted on the pizza reward. They also brought back totheir camp meat patties, bread, vegetables, cheese and ingredients for theirhamburgers.
Tara knew that she would be blamed for theirloss, something that was already on Mika's mind.
"Alam ko naman na kung para sa amin para saamin, kung 'di para sa amin 'di para sa amin. But I did my best pero feelingko, baka ako sisihin nila. I can't blame them," Tara said.
"I don't wanna say that I'm a bad sport orsomething ganun. Pero hate na hate ko matalo. Oh my God natalo na naman tayoand hindi dahil like sa team kundi dahil sa isang tao," Mika said.
Survivor Philippines Palau airs every weeknightright after Rosalinda on GMA-7.