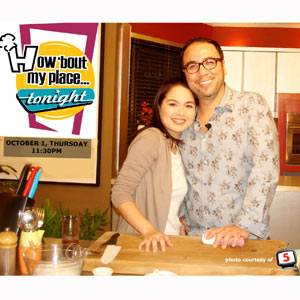 ---
TV5 has a specialcooking treat for everyone this October in How 'Bout My Place Tonight? asaward-winning actress Judy Ann Santos whips up her veryown quick and easy recipe this Thursday, October 1, at 11:30 pm.

The show is a cooking clinicwith Chef Fernando Aracama and Chef John Cu-Unjieng teaching viewers the masterful but practical art of cooking. But some saywives are the best cooks, and maybe her husband Ryan Agoncillo can attest to that asJuday shares her special recipe on Asian noodles.

A budding professional chef, Juday recently receivedher Certificate of Competency in cooking from TESDA in July, after graduatingfrom the Center for Asian Culinary Studies and taking a course inInternational Cuisine in Thailand.

Juday has assumed manyroles in her showbiz career—child star, daughter, sister, lover,superhero—and last April, she married TV host-actor Ryan. Juday prizes her passion and knack for cooking—one of the probablereasons for winning over husband Ryan's heart: through his stomach.

Enjoy this deliciousmoment as we learn essential cooking tips straight from Judy AnnSantos in How 'Bout MyPlace Tonight? this Thursday, October 1, at 11:30 pm on TV5.