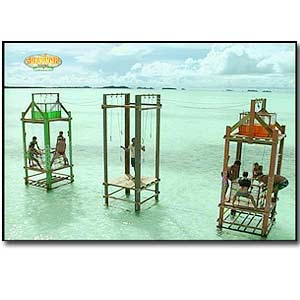 ---
On Day 20 of SurvivorPhilippines Palau, the castaways deal with a physical challenge and powertripping from each other.


At the Airai Camp, Mika complimented Charles about his noticeablegood performance during the previous reward challenge. The 'raketista' fromDagupan City, she said, deserves to be part of the merged tribes.
It also seemed that Charles has already positioned himself on asolid alliance with the sexy chef.
"Kasi totally may tiwala ako kay Mika. Mabait si Mika,magaling makisama," Charles explained.
"Si Charles even though, technically sa buong tribo namin siyayung weak, ang ganda ng attitude niya na like 'kahit ano, kaya kong gawin', atsaka binibigay niya talaga lahat ng kaya niyang ibigay sa challenge, so for me,even if you're weak, you're more deserving," Mika said.
While Mika was showering Charles with praises, she was expressingher disappointment with Tara.
"Kasi, I'll tell you the truth, sobrang na-disappoint talaga ako.I know she really wanted to try her best. Okay lang na siya iyong bumalik kasiakala ko 'pag second time kaya niya na 'yun e. Pero kung alam niya na na hindiniya kaya, sana either ikaw or si Kuya Cris na lang ang bumalik," Mika toldCharles.
ADVERTISEMENT - CONTINUE READING BELOW
Before going to their next location, the Airai tribe took theirmeal first. Charles led a special prayer for their tribe.
Charles: "Lord God, thank you for thisblessing. Thank you for the food. Give us strength, endurance for this after, for our challenge, immunitychallenge. Ibibigay namin lahat ng best namin Lord. Kami ang mananalo ngayon Lord.Sobra na po. Tama na. Go lang po kami ng go sa lahat ng challenge na ibibigaypo ng Survivor, ang bawat isa sa amin. Lalaban po kami. Thank you po sa lahat.In Jesus name, Amen."

FIRST LOVER'S QUARREL. Atthe Koror Camp, meanwhile, Jef was still holding grudge after receiving the"poor me" remark from Marvin. As she had a chat with Echo, she explained herside of the story.
Jef : "Maayosako kasi ganito talaga ako pinalaki, fair lady, anong magagawa ko?"
Echo : "So that only means that you're not 'poor me'?"
Jef : "I'mnot 'poor me.'"
ADVERTISEMENT - CONTINUE READING BELOW
Echo : "Siloveteam o."
Jef : "LQ, first LQ ito. Wala ang ibig sabihin lang nun hindi talaga ako puwede sa bata , baka maloka ako masisira ang ulo ko araw-araw. Iyungsweet face ko tuloy nagmamaldita panget."
Later, Jef tried to give Marvin a cold shoulder when the 'ultimatecrush' offered to give her a hand while trying to unhusk a coconut. Obliviousto Jef's grudge, Marvin expressed that he just wanted to teach Jef while doingchores.
"Of course I care kay Jef kung nasaktan siya especially sa mgabagay na ganun kasi may itak saka malaking risk 'pag may mali ka ng kaunti,"Marvin said.
"Kasi 'di ba galit na galit ako kay Marvin, buti na lang 'di kopinagpalit bf ko sa kanya habang di pa too late," Jef said.
After accomplishing the task of unhusking the coconut, Jefcelebrated her first 'butbot.'
Later, Tara andJef picked the tree mail message for their respective tribe.
ADVERTISEMENT - CONTINUE READING BELOW
"Ang tubig aybuhay.
Kaligtasan mo'ydito nakasalalay.
Kapag ika'ykinapos at ito'y nabuhos,
tiyak na kawawakang lubos."


SPLIT SECOND LOSS. Survivor Philippines Palau host Paolo Bediones welcomed thecastaways to the site of the challenge. He greeted Airai by saying, "Ayokongmakita ko ang araw na isa na lang ang natitira sa inyo."
He then explained the mechanics of the game.
The game required four members of each team. At Paolo's signal,the teams must carry a heavy box. Attached at the top of the box are three corkplugs that Paolo would pull every two minutes. Once the plugs are pulled, waterwould flow into the box that would make it even heavier. When the team is no longer able to carry thebox, a cork would fall to a certain level. Once the center-cork is pulled, itmeans that the team loses the challenge.
Amanda and Jef of Team Koror sat out for the challenge.
The game began. Green water flows out of the Koror Tank, whileorange water flows from the Airai tank, filling up their boxes.
ADVERTISEMENT - CONTINUE READING BELOW
"Pagkatapos ng 30 seconds makakaramdam na kayo ng bigat ng tubig.Napakahalaga ng position ng inyong mga paa, napakahalaga ng position ng inyongmga kamay. Pwedeng i-adjust habang bumibigat. Pwede ninyong buhatin para sainyong mga kakampi kung kinakailangan," Paolo explained.
After a minute, Team Koror was struggling with their position.Their box was slightly tilted. On the other hand, Airai was going strong.
Paolo announced that after two minutes, he would release one ofthe ropes that would enable more water to flow from the tank.
Team Airai made minor adjustments in their position not knowingthat it accelerated the cork's release. The team got the shock of their livesafter Paolo announced, "Ang cork ay natanggal na. Koror wins immunity!"
Cris explained that it appeared that they were not actuallylifting the box and its imbalance or tilt that got lower and lower, caused thecork to become loose.
Paolo then instructed Team Koror to pick a member of the Airaitribe to receive the immunity bracelet. After the team's deliberation, Marvinhanded the bracelet to Tara who was thankful for receiving it.
ADVERTISEMENT - CONTINUE READING BELOW
Tara was surprised when she was given the immunity bracelet, butshe believed that she is deserving of it. Jef, meanwhile said that they thoughtTara causes the most stress to her team, the reason they picked her to receivethe bracelet. Mika was just utterly disappointed.
"Hindi ko alam kung ano ang tawag sa feeling na iyon, naiinis ako.Iyong reaksyon niya. Biglang lumaki ang ulo niya. Kung ako ang tatanungin moright now, siya iyong talaga ang weakest," Mika said.


TARA'S TIRADE. Back at the camp, Charles and Tara werediscussing whom they should vote off. Tara was trying to convince Charles tokick Mika out.
Tara : "Si Mika ivo-vote out natin. Walaakong choice. Ewan ko kasi, 'di ko s'ya naiintindihan masyado e. Likepalipat-lipat. Pinag-isapan kong mabuti. Una kong pinuntirya si Kuya Cris perosa nakikita ko mas mahihirapan akong ihandle si Mika...alam mo si Kuya Cris s'yayung tipo ng taong 'di sinisisi yung taong weakest so like me. Like you have toknow what happened, ako 'yung medyo may kasalanan."
ADVERTISEMENT - CONTINUE READING BELOW
Charles: "Pero silang dalawa ako ibobotonila."
Tara : "Oonga. Kaya nga ikaw ang tutulungan ko e."
Charles: "Kungako sa`yo si Tatay Cris kasi si Mika pwede mong kunin."
Tara continued coercing Charles to vote Mika off. Charles, on theother hand, knew that Tara could not persuade Cris to vote against Mika andadvised her not to even approach the former pro-basketball player.
Charles: "Pero kung ako sa`yo 'wag mo na`tongkausapin. Maniwala ka sa'kin. Hindi na magbabago isip nila, sapagkakakilala ko kay Kuya Cris."
Tara : "Maniwala ka rin sa `kin. Akobahala. Basta iyan ang sabi ko sumunod ka na lang muna. Akonang bahalang kumausap sa kanya."
Charles also told Tara not to approach Mika and let him do thetalking. But it appears that Tara had something else in mind.
Tara : "It'sa thing na tayong apat dito naisip ko kanina kung sino ang dapat tanggalin. Feeling ko na ako yung tatanggalin n'yong tatlo kasineed two boys e. One girl should be left! Ganun iyon e, so ngayon I have tothink. Kasi binigay sa kin 'yung immunity like Oh my God...thank God I cried."
ADVERTISEMENT - CONTINUE READING BELOW
Mika : "Soako, iyong tatanggalin mo?"
Tara : "Hindi. Naka-mindset na'kokanina. Na ako iyong tatanggalin. One girl iyong tatanggalin."
Mika : "Sokung iyon nga ang iniisip mo na ganun na rin , so ako iyong ivo-vote mo."
Tara : "'Di ko alam. 'Di pa nga konakakapagdecide e. 'Yun iyong iniisip ko kanina."
Mika : "Peroat this point, girl or boy, it doesn't have to do with physical strength. Nakita mo sa mga challenges? That`s notlike winning at the moment."
Tara : "Iyung thing na alam ko kung sinoyung mas may silbi dito sa camp. Kasi alam kong mas matanda ka sa `kin. Whatyou say I just follow better rather than iano ko yung ideas mo. Basehan mo langeverytime we talk to each other, never akong nag-impose sa`yo na you're wrong."
Cris leaves the shelter. Out of nowhere, Tara went on with hertirade, telling Mika how she felt useless in the camp. Mika was alreadyteary-eyed and eventually decided to just simply leave.
ADVERTISEMENT - CONTINUE READING BELOW
Tara : "I want to do the fire. You were theone like alam mo na `yun. So ikaw na lang yung gumagawa and all everything."
Mika : "But you never asked me like nagusto mong gawin."
Tara : "Ang point ko lang na ikaw yungparang mas magaling dyan. Nastart mo siya, mas napractice mo s'ya, so ikawyung gumagawa ng ganun. Ako lang iyong parang walang silbi, ako lang 'yungnaga-assist and everything. Even though I can do things like but I can`t do itkasi nandyan ka, simple!"
After their conversation, Mika was seen crying. Tara then focusedher outburst to Charles.
"Naiinis ako na nagpo-powertrip na parang pwede niya lahat kamingpagsabihan or something. Parang sino ka? Like who are you to talk to me thatway just because you have a f****ing immunity bracelet!" Mika stressed.
Soon after, Charles followed Mika. Mika was already struggling tokeep her cool. Charles eventually got emotional as well.
ADVERTISEMENT - CONTINUE READING BELOW
Mika : "Ayawko nang makinig kaya pumunta na lang ako dito."
Charles: "Pero sa`kin, okay lang bang makinigka sa`kin?"
Mika : "Yeah."
Charles: "Kanina'di ba sabi ko..."
Mika : "It`sjust parang unfair na sinasabi nya na everything`s my fault, na parang wala syang silbi dito sa camp kasi ako yung gumagawa ng fire.F**k! Kung gusto mong gawin, why don`t you f****ng do it then, you know? 'Di konaman sinasabing ako na lang. Kasi sinasabi naman niya sa'kin na o Maiks ikawgumawa nito. It`s just unfair."
Charles: "Pero alam mo kanina hindi ikawiyung naisip kong iboboto, si Tatay ang naisip ko. Kahit na sabihin mo kay Tatay pero sana 'wag mo na langsabihin."
Mika : "Thanksfor being honest with me."
Charles: "Promise hindi pumasok sa isip ko naikaw ang iboto ko kanina. Masakit sa`kin pero talagang, 'di ko rin kayang, 'di sa nag-aacting ako onagda-drama. Wala na kong pakialam anong sabihin nila. Ikaw, kung ako angiboboto mo, tatanggapin ko pero kung hindi salamat pa rin. I want to stayhere."
ADVERTISEMENT - CONTINUE READING BELOW
Mika : "Perosinabi ko din kay Tara kung wala sa kanya iyong immunity siya rin 'yung iboboto ko."
Charles: "Sana 'di mo na lang sinabi. "
Mika : "YeahI know. But I wanted to be honest. Like tingnan mo ngayon meron siyang immunity biglang, Wow! powertrip'di ba?"
Charles: "Pero 'di mo na mababago siya nabinigyan e."
Mika : "Iknow, sobrang nagkamali yung kabila."
Charles: "Ikaw na lang ang magdesisyon sasarili mo. Dalawa lang ang pagpipilian mo. Dalawang C. Cr ba o Ch ang umpisa?"
Survivor Philippines Palau
airs weeknights on GMA-7 right after
Rosalinda
.