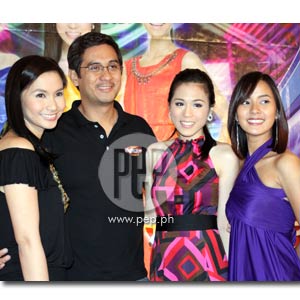 ---
The word "double up" summons a lot ofpossible interpretations.
"Dobleng saya at dobleng intriga," ABS-CBN'sPinoy Big Brother business unit headLauren Dyogi said to the members of the entertainment press when asked to explain the term "double up" in PBB's new season, which will open thisSunday, October 4.
Nevertheless, Dyogi's reply, though vague andanti-climactic, sums up the spirit of the popular reality television show—unclear,uncertain and thrilling, which is somehow contradictory given the show's conceptof monitoring the participants day-to-day activities inside the house.
But there are certainly changes thistime not seen during the previous seasons.
For one, Lauren excitedly mentioned the "expensive"renovation done inside the house's interior to give the program a new look.
"Kung features nandun naman 'yongstandard sections ng bahay," Direk Lauren offered. "Of course, you have the kitchen,dining, and others. But meron kasing pakulo ng naapektuhan yong technicalrequirements ng bahay. It's still is a house pero as a program nag-iba 'yongpositioning."
ADVERTISEMENT - CONTINUE READING BELOW
NEWCAST, NEW FLAVOR. Pinoy BigBrother'sappeal, however, doesn't depend much on the house interiors since the focus is mainly on the peopleresiding inside the abode round the clock.
For the new season, Direk Lauren revealed thatthe team tasked to screen the aspiring housemates applied certain changeson the requirements and qualifications set in choosing the final lineup.
The housemates this season are interestingmix of individuals with varied backgrounds and characteristics—integral ingredientsthat Direk Lauren hopes to highlight as the season progresses all the way to theholiday season.
"The story will depend on who gives us astory among the housemates," he mentioned.
"Iba yong mix ng housemates ngayon so hopefullyiba yong maibigay na kuwento kasi iba 'yong personality, iba 'yong pagkatao,iba 'yong demographics na kanilang pinagmulan. Definitely, it would bedifferent," he further assured.
There won't be any changes though to PBB'sresident hosts. Tasked to welcome the new members and update viewers are the trio of Mariel Rodriguez, Bianca Gonzales and Toni Gonzaga.
ADVERTISEMENT - CONTINUE READING BELOW
"Honestly kahit kami we don't know whatto expect," said Bianca with a giggle to PEP (Philippine Entertainment Portal) in aninterview after the press conference proper.
"I look to it na lang na parang sige I'llbe excited na lang to find out on Sunday what double up means. Pero for sure it'sgonna be super exciting because they keep saying na it's something that hasnever been done in any Big Brotheraround the world. As in una ang mga Pinoy so kaabang-abang talaga."
As an added treat to its viewers, fanscan get double features on Pinoy BigBrother Uber, double the fun on PBBGames Uplate, and double the excitement on Pinoy Big Brother Double UP on primetime.
Stay tuned to Studio 23 for the weeklyhighlights inside the PBB house through the show PBBWeekend Primetime, which airs every Saturdayand Sunday at 6:00 p.m. starting October 10. Watch raw footage from thehouse on Pinoy Big Brother Streamingat 1:00 p.m. beginning October 12.
ADVERTISEMENT - CONTINUE READING BELOW