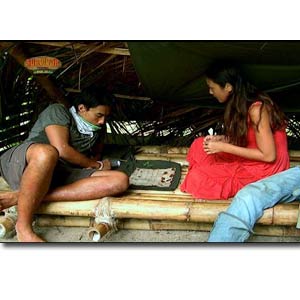 ---
Tara and Mika, who is known to have a strong alliance, engaged in a verbal tirade on Day 21 of Survivor Philippines Palau.


Atthe Koror Camp, Marvin presented to Jef a huge 'butbot' which is entirely onlyfor her. Jef was so delighted by Marvin's surprise that she was already willingto forgive him about the "poor me" incident. Marvin just knew that butbot wasJef's favorite and she appreciates it every time he gives her one.
"Binigayn'ya 'yung malaking butbot. Parang love ko na naman ulit sya. So sige na nga,pwede na nga i-forget yung ginawa n'yang ano na poor me," Jeff said.
Atthe Airai Tribe, Tara was already trying to sway Cris that she is on his side.
"Competition lang to Kuya Cris, 'di ko namanpwedeng ibigay sa inyo `tong bracelet tapos ipapaboto ko yung sarili ko. Why?I'm in this competiton. Sinasabi ko sa 'yo, you decide. Kasi magiging tiebreaker. Whatever it is," Tara told Cris.
Cris,on the other hand, just remained quiet, somewhat bewildered with all of Tara'stalking.
Tarathen explained why she would rather have Cris than Mika to stay on the game.
"Goodsi Kuya Cris e feeling ko, rather than Mika. The way she thinks parang makikitamo iyung bad side kay Mika. Sobrang maraming bad side na parang tinatago lang.Iyung pagkahard-headed. Parang ang selfish," Tara pointed out.
Toprove her worth, Tara did some chores on the camp. She insisted that she can doanything on the island.
"In this competition, 'yun pa ngang mga weak'yun pa nga 'yung nanalo e. Kasi 'yun pa nga iyung parang pinoprove nila nakayang-kaya nila til the end. Pero honestly kung ako pagagawin mo ng isangbagay like magluto and everything, I can finish that in a minute or in anhour," Tara bragged.
CH OR CR. Later, Mika was convincing Cris to coerce Tara invoting her out, while the two of them would vote-off Charles.
ADVERTISEMENT - CONTINUE READING BELOW
Mika : "You need to convinceher to vote me out. Kumbinsihin mo si Tara na i-vote out ako, kasi si Charlesivo-vote niya ikaw. So 1-1. Kung tayongdalawa pa rin ang magvo-vote kay Charles that's 2 votes Charles and each of ushave 1 vote each but it's okay, kasi 'di pa rin tayo uuwi."
Cris : "Bastatayong dalawa iboboto si Charles. Sige! "
"Ang iboboto ko si Charles. Pero ang hindi alam ni Charles, ang iboboton'ya, si Charles din. 'Yun lang. Sa madaling, sabi 'yun lang. 'Yun lang ang madaling kwento,"Cris relayed.
"SOWHO'S THE TARAY QUEEN NOW?"Tara was nosy withwhat transpired between Charles and Mika's previous conversation. Charles saidthat he did not get any definite response from the sexy chef, about thingsrelated to the tribal council ahead. Tara then began to be on the defensiveside once more insisting that she could also be in-charge of the tribe, onceMika is removed.
Unawarethat the person she's talking about was listening right behind them, Mikabutted in. The cat got Tara's tongue, but not for long. And what happened next,was a prolonged shouting match between the catty tribe mates.
Tara : "Whyis she not talking? Alam n'ya iyong point ko. She`s saying it to my face, I`m weak. Should I cry? I`m thankful. At leasthindi ako plastic. Nagpakaplastic ba ako? Hindi. Sinabi ko na e na ako 'yungivo-vote out n'yo. Pero, sorry nandito sa 'kin to e. Ako 'yung binigyan e. Howcan I rule? How can I prove na I can be masipag? How can I prove na I can dothings..."
Mika : "Ifyou wanna do it then why don`t you do it?"
Tara : "No,no Mika. It`s not just sa `yo."
Mika : "Listento me first. Think about what you`re saying. Because of me, you can't do sh*t in camp? Because of me?"
ADVERTISEMENT - CONTINUE READING BELOW
Charles: "O, walang sakitan ha!"
Mika : "You'resaying...saying because of me you can`t do the fire?"
Tara : "No...gine-generalko lahat Mika. Please understand. 'Di ko pinupunto na
ikaw. It`s just like my decision. 'Yun 'yung desisyonko lahat-lahat na."
Mika : "Butyou know what if, that`s how you feel then, why are you saying it to my face?"
Tara : "No.Paano 'kong sinabi sa `yo yun? "
Mika : "Likekung gusto mong gumawa ng fire, ikaw ang gumawa ng fire!"
Tara : "Ibigko lang sabihin. Mika listen, sinabi ko na kanina pa lang na ako na 'yung puntirya. Ako na 'yung parang walang silbidito. Sabi ko 'di ko magagawa 'yung mga bagay na ganun. Kung wala si Charles,'di ako ang magsisipag. 'Di kung wala ka 'di ako yung gagawa ng fire. Gagawinko 'yung kaya mong gawin."
Mika : "Insteadof f****ing talking, do it!"
Tara : "Yeah. I`ll do it! Gagawin ko 'yunkung kailangan ko! Di naman ako nagpapakaplastik 'di ba? Gagawin ko kung kailangankong gawin 'yun."
Mika : "I know butinstead of talking, it's what I'm saying then do it!"
Tara : "Lagi lang ba kong nagsasalita? Hindi ba ko naga-assist? Nag-a-assist akokaya wala ka ring masabi kasi nga nag-a-assist din ako while you're doing that.Do I have to prove it na kaya ko iyon?"
Mika : "I know butdon't say na it's my fault na wala kang silbi sa camp."
Tara : "No I'm notsaying na it's you're fault Mika. Mismong inamin ko kanina iyongweakest part na ako iyong walang silbi. Honestly, Mika kung hindi 'to binigaysa `kin, Okay. Nakamindset na ako. Ako iyong ivo-vote out. Fine."
Mika : "And Ihonestly told you."
Tara : "Yeah. Thankyou. 'Yun lang! I'm not deciding yet. Mismong ako. Alam mo naman from the very start na okay tayo. You know?"
Mika : "You knowwhat, ganito na lang. If you want to prove yourself, less talk and do something!"
ADVERTISEMENT - CONTINUE READING BELOW
Tara : "Ok. I`ll do.I`ll do! That`s all. That`s all! I have to prove it more but 'yun na nga.'Yun lang naman ang point ko e. Wala naman talaga akong inimpose sa`yo na ganun."
Mika : "Never kongsinabi sa`yo na like, o Tara ako na lang gagawa nito 'wag na lang ikaw."
Tara : "Really. Itrust you. Pero you just said to me kanina. Ako iyong puntirya mo. Hindi rin ikaw iyong puntirya ko."
Mika : "You know whatyou said na kung ikaw iyung ivo-vote ko, to say it to your face.Yeah. I was f***ng disappointed yesterday na hindi mo nagawa. I can`t helpthat! Everyone`s gonna feel that because for me ginawa ko iyong best ko. Andalam ko na ginawa mo iyong best mo but at that point in time I'll be honestwith you. Masnafi-feel ko na mas malakas si Charles kaysa sa `yo."
Tara : Iyon nga sabiko. Kaya din binigay nila sa 'kin 'tobecause, I have proven as well sa kanila na naging malakas din ako."
Mika : "You thinkthat's the reason why they gave you that? Hmmm."
Tara : "Oh. I don'tcare. Weakest or something impose that to me. That's all. Inimposeko na mismo sa sarili ko na ako na iyong walang silbi dito. Fine! But it's notyet the time I shouldn`t give up still. Wala naman akong problema sa ganun e.Binigyan man nila ako ng immunity. 'Di weakest na kung weakest. Walang silbiman ako dito. Walang silbi na kung walang silbi. Pwes kung magstay ako ditopwes, I can do things, everything that you can do so. Simple!
Mika : "So exactly.Do it! Prove it!"
Tara : "Do you reallyhave to impose that to me, okay, I'll do it!"
Mikabelieved that Tara's possession of the immunity bracelet has gotten into herhead. She vowed not to forget and not let Tara get away with what hastranspired.
ADVERTISEMENT - CONTINUE READING BELOW
"Akokasi pag if someone does something to me or says something to me na sa tinginko hindi tama, hindi ko pwedeng i-keep in 'yun e. Once you`re in my bad side mymind won`t change anymore," Mika said.
Later,Mika and Charles discussed about their strategy for the tribal council.Suddenly, Mika was heard with a different tune.
Charles: "Ang hirap magdecision `no?"
Mika : "Pero pagi-vote ko talaga, promise mo sa `kin ha. Pag i-vote ko si Kuya Cris, ivo-vote natin si Tara next?"
Charles: "Oo."
Mika : "Kung hindiibigay sa kanya."
Charles: "Naiiyak ako."
Mika : "'Wag kangiiyak. Iiyak din ako bahala ka d'yan."
Charles: "Si Tatay. Alamko ako iboboto ni Tatay. I want tostay."
Mika : "I want to stayand after that alam kong ako yung ivo-vote n'ya kaya sinasabi ko sa`yo na si Kuya Cris na lang yungivo-vote ko. Pero never mong sasabihinkay Tara ha."
Charles: "Huwag mo sasabihin kay Tatay Cris."
Mika : "No."
Beforethey called it a night, Tara and Mika finally talked calmly and tried to settletheir differences in a more civil manner.
Mika : "So, nafi-feelmo na there's nothing left in me na maibibigay ko?"
Tara : "Nafi-feel kolang na I can`t overrule you. I must always follow you. Iyon
lang'yun. Sobrang gusto kita sana na magkasama tayo sa ano pero mas una mongpinakita sa `kin na ganun e. So ganun din na feel ko. I hope you understand. So'yun ang naging basis ko."
Mika : "Bakit hindiba sa tingin mo judgmental 'yun na dahil hindi mo ko ma-overrule,'yun 'yung dahilan na ivo-vote out mo 'ko? Na you`re not thinking for the teamor whatever it's just, whatever wala kong masasabi kung 'yun ang personaldecision mo."
Tara : "I'm stillfiguring it out kung..."
Mika : "Paano kung'yun nga talaga like they`re gonna pick us up one by one?"
ADVERTISEMENT - CONTINUE READING BELOW
Tara : "'Yun na 'yun.Whether you`re weakest or not, strongest or not, pipiliin ko na lang ko na lang kung sino gusto ko."
But Tara is alreadyunyielding about her perception of Mika.
"Shecan't be trusted at all times. Masyado siyang, I don't know. Ang bilis n'yangmag-change. Parang in a clash lang e mag-iiba na s'ya," Tara said.
AtIsla Purgatoryo, Justine and Jumbo took a walk at the beach. Justine wasdelighted to find several big clams. She then cooked some clams, by boiling itwith the onion and tomato leftovers she got from the 'burger reward' of herformer tribe, Koror.
"Masmay dating iyong ngayon kasi may flavor maamoy mo 'yung onion tapos may kamatissiyempre parang normal lang at least makakain mo s'ya talaga. Naluto kasi s'yasaka inenjoy ko naman kasi nga namiss ko yung kabibe," Justine said.
PEACE OFFERING. On Day 21 on Palau, Tara and Mika were seen doing chores together. Mikacleaned their improvised rice cooker. Tara poured some water on it.
"Gustoniya na s'ya gagawa ng lahat but ako sige, gawin mo lahat ng gusto mong gawinwhatever. I'm still gonna go with my same routine. Kung ano kailangan gawin,gagawin ko rin. Hindi ko s'ya hahayaan porke't gusto n'yang siya gagawa nglahat," Mika said.
Atthe Koror Camp on the other hand, the tribe mates were playing "dama" orcheckers. Suzuki proved to be an expert, since he has been always playing thegame with tricycle drivers and barbers back in Tondo, Manila. But during thetruth and consequence part of the game, Suzuki was reluctant to ask Jef somepersonal questions especially about Marvin.
LaterShaun and Echo talked about the merge and how Airai has lost its members oneafter another.
Echo : "From7, no? Seven sila no?
Shaun : "Fromseven down to three."
Echo : "Taposang natira 'yung dalawang babae 'no? Tanggal si Daddy Cris at si..."
ADVERTISEMENT - CONTINUE READING BELOW
Shaun: "Charles."
Echo : "Peromabibigla ako kung si Mika ang mawawala if ever."
Backat the Airai Camp, Charles was seen having an "emo" moment alone, tears fell fromhis eye.
"Tanggapko na na ako 'yung susunod sa TC [Tribal Council]. Inilabas ko lang iyongemotion ko na hanggang dito na lang ako. Tinitingnan ko iyong paligid na walana 'kong magagawa nagdesisyon na sila," Charles said.
Charlesthen approached Cris who was by the beach.
Charles: "Good luck na lang mamaya'[Tay kung sino maaalis. Thank you na lang."
Cris : "Huh?Hindi maganda 'yung rules eh."
Charles: "Thank you na lang sa lahat.Be happy tayo naka 3 weeks tayo 'di ba? Ang dami nating natutunan. Naka 7 cycles tayo."
Crissaid that it wouldn't matter who among the three Airai tribe mates would bevoted off. He would also be thankful, regardless of the tribal council'soutcome.
"Sabi nga ni Charles kanina, salamat Kuya sa 21days na pagsasama natin. So ibigsabihin, kung sino man, ako nagpapasalamat din. Kung sino sa amin ang mawala,OK lang," Cris stated.
Survivor Philippines Palau
airsweeknights on GMA-7 right after
Rosalinda.