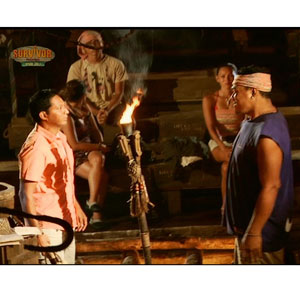 ---
In Survivor Philippines Palau, it was announced that the TribalCouncil aired last night, October 2, was the last one to take place before thetwo tribes merged.

At the Koror Camp, after being drenched by the rain the past evening, Marvinfixed the wall of their shelter. He gathered some coconut leaves and did someminor renovations to shield them from the cold and rainy weather especially atnight.

Meanwhile, Shaun kept himself busy putting up a table out of their crate. Jef,on the other hand, said that she could hardly keep herself sane because there'sreally nothing much to do in the island.

At the camp of their rival tribe Airai meanwhile, Cris was noticeably quiet,refusing to eat with her three remaining tribemates.

After eating, Mika and Cris discretely discussed their plan to vote-offCharles.

"Hindi ka pa uuwi Kuya, hindi ka pa uuwi. I'm not voting you out. Bastakausapin mo na lang si Tara. Kasi sa totoo lang mas mabuti kung ako ang ibobotoni Tara. Kasi si Charles ikaw ang ivo-vote nya. Kasi akala n'ya ako dinmagvo-vote sayo. So dalawa tayong may vote kay Charles," Mika assured Cris.

But later on the table, Charles and Tara were once again plotting their ownscheme.

Tara : "I have my trust with you, you havemy trust with me. Until then mag-merge to, tayo pa rin. Ako na bahala kay Echokasi hold ko si Echo sa kabila.
Charles: "Ako kay Suzuki."

Amidst all the schemes and alliances, Charles admitted that he was still undecidedwhom to vote between Cris and Mika.

"Kinakausap ako ni Tara na iboto daw si Mika. Umoo na lang ako ng umoo. Perodesidido na si Tara na si Mika ang iboboto. Pero si Tatay Cris, Mika at akohindi ko pa alam kung sino iboboto sa natitira sa aming tatlo," Charles said.
Tara then began to rant again about her displeasure with Mika.

"If I'm gonna be deciding, ang ide-decide ko is si Mika ang ivo-vote out kosince ako din 'yung pinuntirya nya. Hindi ko iboboto si Mika dahil sa thing nagalit ako sa kanya, ganito, ganyan. But it's something like feeling ko she'snot good enough.," Tara said.

Later, Cris called on Mika and Charles to look for crabs. His tribe matesfollowed, except for Tara. Her excuse: she did not want to get sunburned anyfurther, being a city girl and all.

Cris was then seen giving Mika and Charles a 'bear hug.' The formerpro-basketball player then walked ahead of Charles and Mika, approaching acave.

GUESSING GAME. At the Koror Camp, Shaun, Jef and Amanda talkedabout the tribal council ahead. Amanda guessed that Charles would get the boot.And if that is the case, there would be only four original Koror members left.

Shaun : "Pag natanggal si Charles, apat nalang yung original."
Amanda : "Tingin ko si Charles e. Malakas ang kutob ko na siCharles ang matanggal."
Shaun : "Sana."
Jef : "Sana si Charles."

"Iniisip namin na si Charles iyong ma-vote out kasi initially iniisip namin orako personally, parang iniisip ko, hindi pa merge e. Matagal pa. So para sagirls' alliance namin, kailangan namin si Tara," Amanda said.

Meanwhile, as Echo was unhusking coconuts, Marvin confessed to her and Suzukithat he is quite worried about the fate of the original Koror tribe mates, oncethe merge commenced.

"Takot ako kaunti. Sa merge baka matanggal na lahat iyong old Koror. E, 'yuntignan mo iyong numbers. Tanggalin pa si Charles. Konti na lang tayo,"Marvin told Echo.

"In-open ko iyong topic kasi, kami tatlo na lang. Baka isa-isahin tayopagdating ng merge. Kasi nga parang dumadami yung Airai na vino-vote out nila,iyung Koror dati. Dito solid pa rin yung tatlo," Marvin said.

But Echo just kept on doing her chore.

"For me, iyong sinabi ni Marvin alam kong nakakaramdam na siya na pwedengmawala siya kapag nagka-merge kasi nga super lakas niya. So kailangan niya ngmga taong masasandalan like an alliance. And he can only trust yung oldKoror and kami," Echo said.

The two were joined by Cris while catching some crabs.

Later, Cris made sure that he would convince Tara to vote Mika out.

Tara : "Ako from the very start of thisgame umiyak ako kasi ayokong pumili e. Wala akong alliances na ginawa. Mismongako sa sarili ko sinabi ko, sige kung basic thing, sige ako yung walangginagawa. But this is a show. This is a game. I won't give up. 'Di ba? I may beweakest, you think I'm weaker, don't impose that."
Cris : "Pero s'ya na 'yung ano mo."
Tara : "Siya na. 'Yun naman sabi mo."
Cris : "No problem, walangproblema."

Cris then gave Tara a hug.

Cris : "It's part of the game."
Tara : "Yun na yun. 'Yung pinag-usapannatin kahapon yun na yun."

Mika, Charles and Cris were seen lying on the table. They were talking abouttheir experience in the island and how they would miss whoever would be votedoff among them. They also talked about Tara's attitude.

Charles: "Hindi na maganda yung ugali nya. "
Cris : "Hindi kasi hawak n'ya lang 'yunkaya malakas ang loob n'ya sa lahat. "
Mika : "Kaya nga. Ang pangit."
Cris : "Noong hawak ko yun, dalawang besespa, wala kayong narinig sa'kin."
Charles: "Wala."

"Nag-good luck na lang kami. Naiyak na lang si Mika pati ako, pati si TatayCris, kung sino ang mavo-vote out. Good luck din sa maiiwan, good luck din sauuwi mamaya," Charles said.

"I don't wanna vote him out but I'm going to," Mika admitted.

THE LAST TRIBAL COUNCIL BEFORE THE MERGE. Survivor Philippines Palau hostPaolo Bediones welcomed the Airai tribe to their fourth tribal council.

"Airai pang-apat na beses na nating magkita. Malapit na tayong maubusan ngpwedeng pag-usapan," Paolo said. He then asked Cris if he was afraid of whatcould be the result of the tribal council, knowing that Mika, Charles and himare the candidates for elimination.

"Hindi ako natatakot. Pumasok ako na masaya, dapat lumabas ako na masaya. Maymaganda naman akong nagawa para sa Survivor," Cris replied.

He then asked Mika if pizza and burger were not enough to motivate their teamto win the reward challenge. Mika said that she never doubted her tribe andbelieved too that they could've really won the challenge. Tara, on the otherhand, admitted that she cried after losing the challenge, because she wantedthe said reward very badly.

Cris was then asked by Paolo what caused Airai's defeats in a row. Crisanswered that the tribal switch did not result to the best combination of theteam.

Paolo then asked them further about the reward challenge where their lost wasblamed to Tara.

Paolo : "Sa reward challenge kung saan pizza atburger yung mapapanalunan, bakit si Tara yung pinalangoy mo when nakita mongnahirapan siya doon sa start?"
Cris : "Tinanong ko siya kung sabi ko sinong next sabi siyaraw, tinanong ko pa siya, sabi ko kaya mo pa? Sabi niya kaya ko so hindi konaman pwedeng pilitin na ako na parang...
Paolo : "Pero kaya mo pa nun na lumangoy ulit? "
Cris : "Oo."
ADVERTISEMENT - CONTINUE READING BELOW
Paolo : "So sa challenge na iyon Tara anong feeling mo napaulit-ulit lumulubog ka, hindi mo maipasok, alam mong nafu-frustrate na yungmga kasama mo kasi syempre hindi nila nakikita kung ano yung nangyayari perohindi mo mapasok?"
Tara : "Yes, honestly I don't know why na nangyari yun like,bakit hindi ko siya mapasok whatever or something. I cant... ginagawa ko yungina-advice nila sa akin to put my feet off, yes down and everything but I can'tdo it kasi nakakainom ako ng tubig and all and everything so like parang kulangyung pwersa ko kasi lumlutang ako. Im bloated I don't know why."
Paolo : "May nangyaring ganoon ba pagkataposng challenge, may mga sisihan bang nangyayari?"
Tara : "Ah ako, I just shut up mymouth like "I'm sorry guys, sabi ko I'm sorry guys" like it's not my first timeto say sorry but I did my best sabi ko yung tipong ano, nakita niyo namansiguro like 'di ba like triny ko naman yung best ko na yun nga ipasok nga siyapero its like (the) challenge is not for me and I can't paste in the puzzlepiece there I don't know why."

Paolo then asked Tara about what she felt after receiving the immunitybracelet.

Paolo : "Bakit ka napaiyak Tara before theimmunity bracelet was given to you?"
Tara : "Yes. Yes before the immunitybracelet was given to me. Wala kasi nga 'yung feeling na napamahal na ko sa mgakasama ko or either. I'd like parang gusto kong mag-merge kami sa kabila nahindi pa sana matanggal itong kasama ko dito, kahit isa man sa kanila dito orlike you know any nga or kanino man sa amin or sino man sa amin. Iyon 'yungfeeling ko na sobrang na...hindi ako yung tipong taong umiiyak eh na ngayon ditolumalabas na tumutulo na luha ko, okay iyak na lang, that's it parang youknow, that's ...it makes me feel better. Mas mabuti 'yung pinapakita kong ganunor like na hindi ko pinipigilan yung nararamdaman ko like yun nga..."
Paolo : "And then ibinigay sayo yungimmunity bracelet..."
Tara : "Sobrang sabi ko, God heard myprayer like it's not yet my time. Going to the immunity challenge sabi ko it'snot yet my time I know kasi alam ko kasi mismo sa sarili ko like I know I canstill show a lot of things like kaya ko pa, marami pa kong kayang ibigay orlike pwedeng gawin or like hindi pa nila alam kung sino talaga ako kung labananna."
Paolo : "Ito, ibinigay ba sa iyo iyan dahilfeeling nila deserving ka na matanggap yung immunity bracelet o ibinigay nilasayo iyan dahil gusto nila sa susunod na challenge weaker ang Airai, perceivedweak ka?"
Tara : "Either, whatever their reasons asI've said. If they would like to say or to impose it to me that I'm weaker andthat's fine. I can still prove it to them that sorry but I'm not the weakest,if you think that I am, No!"

Paolo then put Mika on the spot.

Paolo : "Mika, ikaw? Honestly wereyou happy for Tara na sa kanya napunta yung bracelet?"
Mika : "No."
Paolo : "No, well at least you're honest."
Paolo : "Mika, bakit feeling mo hindi siyadeserving doon sa bracelet?"
Mika : "Hindi naman sa hindi siyadeserving sa bracelet, its just na hindi ko akalain na nasa kanya ibibigay. Satotoo lang if wala sa kanya iyung immunity bracelet, siya ang ivo-vote outnamin. At that point in time, siya ang weakest sa tribe".
ADVERTISEMENT - CONTINUE READING BELOW
TARA'S POWER TRIP. Paolo : "Charles, noong napunta bakay Tara yung bracelet, nagbago ba si Tara?"
Charles: "Mas lalo siyang tumapang."
Paolo: "In what way siya tumapang?"
Charles: "Tumapang siya sa lahat, sa pananalita."
Paolo: "Parang power tripping? And ano yung reaksiyon mo nun?"
Charles: "Hindi kasi siya yan e kasi wala na akong magagawa. Alangan namanna makikipag-argument pa ko sa kanya. Tara is Tara, sarili niya yan, may isipna siya, may puso siya, alam niya ang gagawin niya sa sarili niya. Kaya niyangmag-decide para sa sarili niya, malaki na siya, she's already 20 yrs old."
Paolo: "Anong naobserve mo Cris?"
Cris: "Syempre nakay Tara 'yung immunity bracelet so parang syempre 'di basafe siya, 'yung kumpyansiya niya syempre nasa kanya pa rin, sobrangkumpyansiya niya."
Paolo: "So based on that observation naman ni Cris na ayaw daw niyang maycontact means may punto na nag-kainitan talaga, Mika?"
Mika: "Yup."
Cris: "Talagang nagka-anuhan sila."
Mika: "Kasi noong una parang sinasabihan niya si Charles na, sinasabihanniya ko like parang tinitira niya talaga kami. I feel like I've said in thatpoint in time kailangan kong ilabas and then after noon hindi ko mapigilan angsarili ko na hindi ko kung ano ang nararamdaman ko sa like what my reaction wasto the things that she said to me."
Paolo: "Paano naresolve? Naresolve na ba siya?"
Mika: Not really
Paolo: "Hindi siya naresolve, no apologies made, no nothing?"
Mika: "Hindi naman kami nag apologize sa isa't-isa but you know Isaid 'yung mga kailangan kong sabihin and that's it, after that parang ba't pa'ko magwe-waste ng energy ko kung tapos na ko sa mga kailangan kongsabihin."
Paolo: "Tara sa tingin mo nag-power trip ka ng kaunti?"
Tara: "I don't know. Kasi ako ang taong ganito ako like example ang taasng respeto ko sa mga taong matanda sa akin like, how I respect my sisters ideasand all, everything so as a younger, as in you know parang youngest akosomething ano like eventhough I know I have a better idea, hindi ko iniimposeyun, like ganun."
Paolo: "Pero tatlo sila halos, sinasabi nila pare-pareho medyo nag-powertrip ka nung time na 'yun. Tatanggapin mo ba 'yun?"
Tara: "Yes sure why not."
Paolo: "Does it make you proud na naging power tripper ka dahil maybracelet ka?"
Tara: "Ay no! Kasi hindi ko naman sinabi na, Oh my God, ganito ganyan,pero sabi ko I have to decide, I have to decide. You know if I wanna saysomething, I'll speak it clearly and loudly. Ayaw kong piliin yung emosyon,walang emosyon, walang friend dito. This is a game, this is competition, Ishould remember that."
ADVERTISEMENT - CONTINUE READING BELOW
THE VOTES. Charles was first to cast his vote and he votedagainst Cris.

Tara was next. After writing Mika's name, she said, "I'm sorry but I have to dothis for my own sake."

The next to cast his vote was Cris, who said, "Charles, lahat ng desisyon kopara sa kanya. [referring to Mika]"

Mika was the last to cast her vote.

THE GENTLE GIANT EXITS. Survivor Philippines Palau host Paolotallied the votes. The first was for Charles. The second was for Cris. Mika gotthe third vote. The last and determining vote was for Cris.

Mika broke down into tears, as Cris walked away from the tribal council aftergiving her a hug.

"Ang pagboto kay Cris ay isang patunay na ang lakas ay hindi na mahalaga parasa inyo. Dumarating ang punto na emosyon ang umiiral sa inyong mga boto. Isangmagandang palaisipan iyan pag-uwi niyo ng camp. Malalim na ang gabi, balik nasa camp, " said Paolo.

Cris gave his final message.

"Sa mga katribo ko, wala akong hinanakit sa inyo. Good luck and God bless. SiMika kasi, hindi nagpapatalo. Itinuturing ko siyang parang isang kapatid. Keepup the good work, more power!"
THE SIXTH AND FINAL FACE-OFF CHALLENGE. With Jumbo by herside, Justine waited for her last challenger at Isla Purgatoryo.

When Cris arrived, Justine was surprised to see that the gentle giant would beher final competitor. She admitted that she became a little nervous afterknowing who the latest castoff was.

Justine performed her usual task of explaining to the recent castoff what theywere doing in Isla Purgatoryo and what it entailed.

Justine and Cris then talked about what has transpired for the last 22 days.Cris realized that Justine was the first castaway to be voted off, yet sheremained at Isla Purgatoryo by beating five others before him.

"Maaaring maniniwala akong tinalo n'ya lahat tulad ni Louie. Iniisip ko naitong babaitang ito ha may lakas so pwedeng talunin. So naisip ko na pwede dinakong talunin," Cris admitted.

Then Justine got a new treemail message. It said:

"Magpaalam na sa Isla Purgatoryo,
Ito na ang huling beses na makikita nyo ito,
Ihanda ang sarili sa huling challenge,
Na magbabalik sa inyo sa bagong tribo. "

Cris and Justine then carried the crate, as they left Isla Purgatoryo.

Paolo then welcomed the two Castoffs for the final face-off battle at IslaPurgatoryo. Paolo explained that whoever wins the challenge, gets the chance tojoin the merging of Airai and Koror tribes.

Justine blurted out, "Ito na 'to, ito na 'yung pinakahihintay ko."

Before explaining the mechanics of the game. Paolo said that aside from fire,one of the most important thing in the island is a shelter. The shelter must besturdy, rain-proof and spacious enough for all the castaways. The shelter mustalso have a good floor plan. As it symbolizes the unity of the tribemates, theshelter should also have a good overall design. At Paolo's signal until thenext day, Justine and Cris should build a shelter using all the materials,paints and tools provided to them.

Paolo then explained that the criteria for a good shelter would also be thebasis of the judgment of their finished work. And the judges who would pick thebetter shelter would be the nine castaways. However, the remaining castawayswouldn't know who between Justine and Cris built the shelter that they wouldpick as their home for the merger.

The castoff who wins the challenge would be declared "The Ruler of Isla Purgatoryo"and would take his or her rightful spot at the merge.

Survivor Philippines Palau airs weekdays right after Rosalinda onGMA-7.
ADVERTISEMENT - CONTINUE READING BELOW