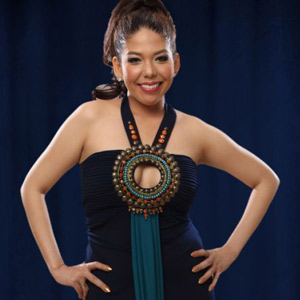 ---
Celebrity Duets 3 contenderMikaela Bilbao quit the celebrity singing competition last Saturday, October 3,due to health reasons. The cosmetic surgeon was brought to the hospital afterher September 19 performance, and was advised by her physician to officially dropfrom the show.
WithMikaela out of the competition, seven celebrity contenders remained: Brazilian-Japanesemodel Akihiro Sato; actor and concert producer Jomari Yllana; perfume lineentrepreneur Joel Cruz; actress and director Gina Alajar; fashion photographerNiccolo Cosme; champion boxer Nonito Donaire, Jr.; and celebrity fashiondesigner Maxie Cinco.
Cheersfrom the University of Philippines Pep Squad opened the Saturday show, whichhad "music icons" as theme for the performance night.
Firstto perform was model Akihiro Sato,who shared that Puerto Rican sensation Ricky Martin was his favorite superstar.With Are You The Next Big Star? winnerGeoff Taylor, he grooved to Ricky Martin's "Livin' La Vida Loca."
MaestroDanny Tan remarked on Akihiro's performance, "Tonight you won us over,kasi marunong ka na mag-please ng audience. And you're starting to enjoy theperformance," the composer and judge observed. "Gumaganda ang boses [mo] kasi relaxedna. Kulang na lang ng chemistry with the partner."
ADVERTISEMENT - CONTINUE READING BELOW
Nextwas Jomari Yllana who choseAerosmith's "I Don't Wanna Miss A Thing," because according to the actor, itwas his song for Andrei, his son with actress Aiko Melendez. Singing withImago's lead singer Aia De Leon, Jomari came up with string music as backgroundand rendered a ballad approach to the song.
JudgeFreddie Santos was pleasantly surprised with the number, noting that this wasthe first time in three seasons where a contender focused on the music. "Notbad, dude! Not bad!" he told the actor.
EntrepreneurJoel Cruz chose Celine Dion's "MyHeart Will Go On," the theme song from the epic film Titanic. Joel shared that he chose the song primarily because hewanted to evoke the feeling of being in love. Garbed in a formal suit, he sangwith singer Vernie Varga.
JudgeTessa Prieto-Valdes said that compared to Joel's past performances, she likedthis performance best. "At least this one, I think you're more relaxed," sheobserved, adding that Joel's voice in past performances didn't appeal to her. Tessaalso advised the businessman to let loose and enjoy more. "I think to furtherreach the people... you gotta be more at ease. Enjoy! I can't feel that you'rehappy, but at least your voice is better."
ADVERTISEMENT - CONTINUE READING BELOW
Celebrity Duets Season 1 contender andcosmetic surgeon Manny Calayan was seated among the audience in support of hisfriend, Joel. After his ballad number, Joel even wore a necklace given by thecelebrity doctor.
Nextwas actress and director Gina Alajar,who was praised yet again for her performance this week. Gina chose BonnieTyler's "I Need A Hero" because she was also looking out for a real-life hero,she shared. Gina and duet partner Rachel Alejandro both appeared as Greek goddessesin white flowing gowns, braided wigs, and floral headdresses.
"Youare so getting this whole concept," remarked Tessa. "Ang galing mo na. You cansing, dance, perform, and now may element pa ng costume," observed the judge. "Congratulations!Beautiful number!"
Fashionphotographer Niccolo Cosme failed toimpress the judges this week with a Madonna song, which he performed withcomedienne Tuesday Vargas. He sang Madonna's '80s hit, "Like A Prayer."
"Masyadokang seryoso," observed composer Danny Tan. He also advised the fashion photographerto lower his taste level when it comes to song choice, in order to reach awider audience. "Energy ando'n, pero hindi ka nag-eenjoy on-stage," he observed."Lagyan mo ng konting fun para ma-engganyo yung tao. Stiff masyado. Think ofsomething else to do na mas enjoy sa tao."
ADVERTISEMENT - CONTINUE READING BELOW
2009'sWBA Superflyweight champion NonitoDonaire Jr. shared his preference for Justin Timberlake's style and music,which he incorporated into his performance. With Pinoy Pop Superstar finalist Brenan Espartinez, he sang and danced JustinTimberlake's "My Love."
JudgeFreddie Santos remarked, "That was the most complete number yet," noticingthe Justin Timberlake-inspired costume, vocal styling, and dance moves. "Lahatng elemento nando'n. Hindi overdone, hindi sobra, hindi TH (trying hard), lahatando'n," the stage director explained. "Sana lahat ng votes din ando'n."
Lastwas fashion designer Maxie Cinco,who delivered another commended performance, this time with Eat Bulaga's resident comedian WallyBayona. The duo sang "I Am But A Small Voice," popularized by a pre-teen LeaSalonga, in costumes that resembled porcelain dolls. Maxie said he chose thissong because it was his offering to the "bagets" children who, according to thedesigner, are pure and naive.
DannyTan was pleased with Maxie's number. "Natumbok mo. Marunong ka na gumawang gimmick sa stage," the composer added, saying Maxie's enjoyment on stage wasvery evident. For Danny, Maxie and Nonito's performances were the "best fortonight".
ADVERTISEMENT - CONTINUE READING BELOW
TheTop 3 contenders based on past week's audience votes were Gina Alajar, JomariYllana, and Joel Cruz. Before the show ended, fallen contender Mikaela Bilbaoalso put up her last performance for CelebrityDuets 3, singing Jackson 5's "Never Can Say Goodbye." The beauty andwellness expert was teary-eyed after her song, and with a shaking voice, profuselythanked GMA-7, adding that CelebrityDuets 3 was a memorable experience.
Whowill leave the show after Mikaela's exit? Find out next week for another roundof performances and eliminations. Hosted by Ogie Alcasid and Regine Velasquez, Celebrity Duets 3 airs every Saturday onGMA-7 right after Pinoy Records.