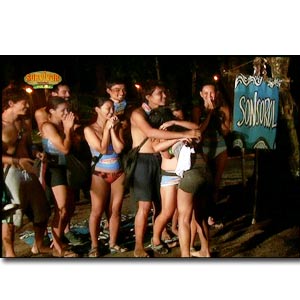 ---
During the October 6 episode of SurvivorPhilippines Palau, Airai (composed of only three members) was officially merged with the six-member tribe of Koror.


At Isla Purgatoryo,Justine Ferrer continued to work on her shelter in the middle of the night. Shesplit the bamboo poles to construct its base. Meanwhile, Cris Bolado reservedhis energy after finishing most of his shelter.


DAY 23. Justine accidentally cutherself as she was splitting the bamboo. She was visibly in pain as she let herfinger bleed. Cris also got wounded. Both of them tended to their wounds.The two then went on to work on the shelter's roof. They continued to workdespite being tired and hungry. Afterwards, they took their seat to rest.

"Sobrang hirap, as in dinugo ako, ang dami kong sugat pero pinilit ko pa ringtapusin yung bahay kahit medyo mahirap talaga, as in sabi ko dito ko na ibibigaylahat," Justine said.


SA PULA, SA PUTI. At the Koror Camp, Jef picked the tree mail and readthe message for the tribe. Charles did the same for Airai.

"Sa pula, sa puti, sino ang magwawagi?
Sino ang sikat? Sino ang hindi?
Baka kinakailangan magpakilala muli."
ADVERTISEMENT - CONTINUE READING BELOW
Amanda considered achallenge similar to a cockfight while Marvin thought of Eat Bulaga's 'Sa PulaSa Puti' game. Jef thought that everyone must reintroduce each other. At theAirai Camp, Charles also thought of Eat Bulaga's game. Meanwhile,Tara sang theriddle.

Back at Isla Purgatoryo, Cris started constructing the fireplace. His shelterwas elevated and was huge enough to be occupied by 10 people. He proceeded topaint the pillars of the shelter.

Meanwhile, Justine's shelter had a division and the fireplace was placed at themiddle. Justine also painted the shelter for finishing touches before cleaningup the surroundings.

They both took a well-deserved rest, waiting for judgment.

"Sa sobrang sakit ng mga nararamdaman kong hirap, pumasok sa isip ko iyongkahit ano mang mangyari gusto ko ang umuwi, as in napanghihinaan na ako ng loobkasi naaawa na ako sa sarili ko na wala kang kain, ang dami mong sugat, angsakit ng katawan mo, naulanan ka pa, pagod na pagod ka," Justine said.

"Hindi ko na ipinasok sa isip ko kasi may pareho kaming natapos e. Kung angiisipin ko manalo, manalo sya, manalo ako, either way okay lang," Cris stated.

MEET SONSOROL. Both Koror and Airaiteams arrived to the site of their reward challenge. Koror noticed theAirai tribe, minus the gentle giant Cris. Mika mouthed "save me" to Amanda.

Survivor Philippines Palau host Paolo Bediones asked Jef for her reaction.The 'girl next door' just shrugged, but Paolo noticed she looked stunned.

"Sobrang shock kami na bakit si Kuya Cris ang nawawala. Worried din ako, si Jefand si Shaun. Sobra kaming nananabik na makasama s'ya. Tapos wala s'ya. Nagulattalaga kami kasi akala namin si Charles ang matatanggal," Amanda admitted.

"Sumenyas na sa akin si Mika na "I am next, save me!" so naawa ako kay Mikatapos iniisip ko paano ko siya isi-save?"
ADVERTISEMENT - CONTINUE READING BELOW

But Paolo's sudden announcement caught everyone by surprise.

Paolo: "Una sa lahat palitan natin ang mgakulay n'yo dahil mas bagay sa inyo ang blue."

Tara returned a smile, while Mika was stunned and Charles dropped his jaw afterimmediately figuring out what Paolo meant. Koror could hardly believe what theyheard then screamed and rushed to their remaining rivals for a group hug.

Paolo instructed the castaways to drop their buffs and declared, "Koror, Airai,wala na! Iisang tribo na lang kayo."

Mika hugged her original tribe mates Amanda, Jef and Shaun while Charles andEcho did the same.

Paolo then handed the new blue buff to Marvin, then Shaun, followed by Suzuki,Amanda, Echo, Jef, Charles, Tara, and finally Mika.

Paolo then gave out another instruction.

Paolo: "Pakibagsak ang mga flag. Koror'bagsak mo na 'yan. Wala nang Koror, wala nang Airai. Ang bago n'yong pangalanay... Sonsorol. Kung naalala n'yo sa 16 States na challenge natin, may isangstate na Sonsorol ang pangalan, 'yun ang merged tribe name ninyo."

The former Koror and Airai tribes dropped their flags, as Paolo had anothersurprise in store for them.

Paolo: "May additional good news tayo.Wala tayong reward challenge na gagawin ngayong araw. Magbibigay lang kami ngreward sa inyo."

The Sonsorol tribe cheered when Paolo pointed to a yacht approaching the shore.

Paolo: "Nakikita n'yo 'yan? Lahat kayosasakay d'yan. Meron tayong cocktails and drinks. Iikot tayo sa mga isla.Dadalhin kayo sa isang special island. Kung saan may isang feast na nag-aabangsa inyo."

Before going onboard the yacht, Paolo had a final message for the new tribe.

Paolo: "Sonsorol, congratulations. Lagpaskalahati na tayo sa Survivor. You've made it to the merge. Pakikuha angmga gamit n'yo, at sa isang sandali sasakay tayo doon and we'll enjoy the restof the day. Magkikita tayo doon sa isla. Congratulations muli."

BOLT FROM THE BLUE. The castawaysheaded to the yacht and they were awestruck by the food and drinksawaiting them on board.

"Wow! Parang dream kong makasakay ng yate. Isa-isa na kaming sumakay natalagang whooo!!! Yung saya namin, hindi namin maipaliwanag," Charles recalled.

Charles and Suzuki chanted "Sonsorol!" to rejoice, while Marvin reminded themthat there's still a feast waiting and the cocktail party was just anappetizer.

"Wow! Meron kang nakitang biscuits, crackers, four kinds of cheese. Tapos maybuffalo wings, sashimi, mga carrot, kung anu-ano pa. Parang wow! Ang sarap!"Shaun said.

Everybody had their share of wine. Amanda told everyone to enjoy the view whileEcho initiated the party as she showed off her dance moves. Mika joined thedance, followed by Suzuki's robotic moves.

"Well lahat ng posibleng gawin namin, magwala, sayaw, talagang magpakalunod sadrinks, kumain nang kumain, i-enjoy lahat," Echo said.


THE NEW SHELTER AT ISLA DEBED. After partying, the Sonsorol tribematesarrived in Isla Debed in the middle of the night, where Paolo showed them theirnew tribal flag. He took first the immunity bracelet from Tara and the immunityidol from the former Koror team.

Paolo then explained the mechanics of their next activity—judging the twoshelters to be presented to them, based on several criteria. The castaways wherehanded tally sheets and pens. Paolo instructed the castaways not to comparenotes as they judged the shelters. But they may double-check and test thesturdiness of the shelter.

The castaways would then judge the shelter based on the criteria indicated onthe tally sheet, by scoring each item, from 1, the lowest point to 10,the highest score.

The criteria included: having a tough foundation, waterproof roofing and walls,appropriate floor plan; it must be comfortable, spacious and with an appropropriateexterior design.

Paolo presented Shelter A and Shelter B. The castaways then proceeded with theirseparate judgements.

Noticeably, the original tribemates got together. Mika, Amanda, Shaun and Jefwent to Justine's shelter first. On the other hand, Suzuki, Tara, Charles andMarvin checked out the shelter built by Cris. They checked the floor, roof andpillars. After doing their inspection, they all went back to the map to ratethe shelters with their tally sheets.

"Nagustuhan ko siya kasi iyung apoy nasa gitna, merong bed dito sa right sideat bed sa left side, so it's perfect for like five people there and five peoplehere, and at the same time pag gusto niyong mag-usap may fire sa gitna, dun kana rin magluluto, so sabi ko wow, magandang pagkakagawa," Echo describedShelter A.
ADVERTISEMENT - CONTINUE READING BELOW
Mika, on the other hand, took notice of Shelter B's elevated sleeping area.

JUSTINE'S VICTORIOUS QUEST. Paolo took the tally sheets but beforeannouncing the result, he told them a new twist via a television set. He showedthem a screening of the greatest surprise they had since their first day inPalau.

Paolo presented the Sonsorol tribe to Isla Purgatoryo or the Snake Island wherea castoff could be given another chance to return to the game. The video showedJustine as the first castoff who became the first resident of the island, withJumbo the dog and the basic supplies needed for survival. Paolo explained thatevery three days, Justine had to wait for the next castoff while she struggledto fend for herself: by building her own shelter, looking for food and tendingher own fire. She also had to face the dangers that lurked especially at night,as the venomous sea snakes imposed a threat to her life.

The nine castaways were flabbergasted with what they were watching, amazed at howJustine was able to live all by herself on the island.

The video then showed Teacher Carol, the second castoff and Justine's firstchallenger at the faceoff challenge. Justine won, ending Carol's stay in thegame. The next challenger was Air Force Pilot, Captain Maya, who shared thesame fate as Carol with their challenge.

The video also showed that Justine got a share of the reward, every time Kororwon. Despite Justine's winning streak, her independence also meantloneliness as the days passed on the island. Echo was seen teary-eyed whilewatching.

Vlad was Justine's third supposed challenger, but the metrosexual quit. After12 days, Troy gave up while Justine stayed on. Louie came after three days. Thecastaways screamed at the sight of Louie, who eventually lost in a palo-sebochallenge. Charles, Echo and Tara were shocked and awed.

Paolo said that Justine had already endured 15 days on the island by herselfand surpassed five face-off challenges. Justine's last challenger was Cris andthey were given the last task building Sonsorol's new shelter for one and ahalf days, to be judged by the nine remaining castaways.

Mika admitted that she amazed at Justine's feat.

"Nakaya n'ya lahat, so parang, oh my God! ang laki ng respeto namin sa kanya,"Mika said.

Paolo then announced that whoever would win the last challenge joins the rest ofthe tribe of Sonsorol. The contest was only between Justine and Cris.

"Iyong nanalo sa five straight faceoff challenges at nagtagal sa IslaPurgatoryo for 18 days, o si Cris na kaka-vote out lang sa tribal council atnakasama n'yo naman sa inyong tribo at sa inyong kampo," Paolo said.

The castaways couldn't hide their anticipation for Paolo's announcement. Hefirst announced that Shelter A got 322 points, while Shelter B got 181 points.

"Ang gumawa ng shelter A at nagbabalik sa ating laro bilang miyembro ngSonsorol ay walang iba kundi si... JUSTINE, PASOK!" Paolo declared.

Justine appeared from the forest, visibly tired and almost in tears. Justine'sformer tribemates, Tara and Echo, hugged her while the original Aira tribemateslooked stunned.

"Nung sinigaw ang pangalan ko, as in, naiyak talaga ako kasi di ko ini-expectna ako ang mananalo, tapos parang proud na proud yung mga kasama ko," said theoverwhelmed Justine.

Justine, the transsexual beauty queen, reigned supreme as she became the latestaddition to the Sonsorol tribe.

Survivor Philippines Palau airs weeknights on GMA-7 right after Rosalinda.
ADVERTISEMENT - CONTINUE READING BELOW