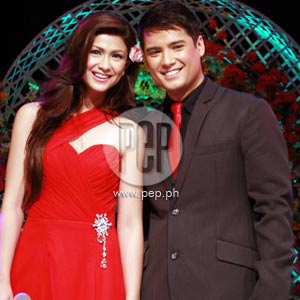 ---
With Rosalindaentering its final few weeks, lead star Carla Abellana promises one certainthing to the viewers.
"Mas maganda na 'yong story," Carlabeamed proudly to PEP (Philippine Entertainment Portal) during a taping break held earlier today, October 7, at the Rembrandt Hotel in Quezon City. In today's sequence, they shot Rosalinda performing for a concert.
Rosalinda—an adaptation ofthe popular Mexican telenovela topbilled by Thalia—premiered last July 6 onGMA-7. The series also serves as Carla's showbiz launch pad and Geoff's first projectas a Kapamilya after leaving his former home network.
We could hear a tinge of sadness when Carlamentioned 'Patapos na siya,' but she quickly added, "pero paganda ng paganda 'yong turnof events leading to the end."
Leading man Geoff Eigenmann, on the otherhand, thinks that Rosalinda'sfast-paced formula helped tremendously in boosting the show's success in termsof viewership acceptance.
"Isa sa mga kumagat sa people 'yongmabilis na pacing," he muses. "Gusto nila madaming nangyayari and we're veryhappy with the results; our rating naman is stable so everything's doing great."
The working relationship between the two continuesto be rosy.
"Very comfortable na kami with eachother," Geoff shares. "Compared siyempre nung umpisa, we've just met so mayilangan pa siguro. But now we're very at ease with or without the camera."
The future for Geoff and Carla's love teamafter Rosalinda is still uncertain atthis point. When asked about it both stars simply smiled before Geoff replied, "Walapang official." Carla finished her leading man's sentence by saying, "Peromeron kaming naririnig though again, nothing official at this moment."