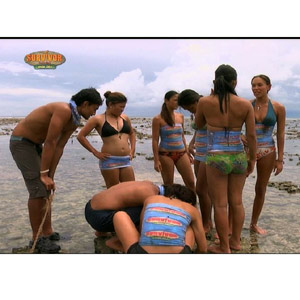 ---
After their individualimmunity challenge in Survivor Philippines Palau, the Sonsorol tribewent back to their camp and ate what was left of their tribal merge feast.Amanda, Mika, and Justine together with Jumbo, walked off to the beach to washtheir bodies covered with mud from the previous challenge and to explore theirnew camp as well.

Amanda : "Kanina kasi langoy siya nang langoy, e, ayokong mabasa, di ko maisip pangalan niya kanina, naisip ko kamukha siya niFulgoso, e."
Justine : "Isipin mo na lang , tingnan mosiya, isipin mo tuta siya, kung tuta siya na malaki, ano siya?"

Tara did not join her tribemates. She admitted that she couldn't get alongwith the rest of the tribe very well and she knew that they probably felt thesame way about her.

Later, Charles joined Amanda and they walked on the beach.

Charles : "Alam mo feeling ko babae talaga e,di ko alam kung sino sa inyong anim."
Amanda : "Ang alin?"
Charles : "Ang mananalo, nararamdaman kolang. Wala namang masama kung maramdaman ko di ba?
Amanda : "Oo naman, lahat naman tayo may feelings, e."
Charles then took theopportunity to tell Amanda about his spat with Tara at the Airai Camp.

Charles : "Makikita mo sa TV, for thefirst time umiyak si Mika. Kasi sinumpa kami ni Tara, noong kaming tatlo nalang, sinumpa ako. Sinumpa niya rin yata si Mika na kapag di akonakapasok sa ano, sinusumpa kita, tapos sinabihan siya ni Mika, 'shut upTara', ito di gawa-gawa. Hindi ako nag-alyansa e, hinayaan ko lang sila,promise, hindi ako gumawa ng alyansa, pero nandito pa rin ako."
Amanda : "Everything happens for areason."
Charles : "Nabigyan lang siya ng immunitybracelet, ang yabang-yabang na niya dahil daw malakas siya."

"Ako personally, kailangan makibagay ka sa kanila e, lalo ang dami pa, sampu pakami, kung lahat sila gusto matanggal si Tara, dahil lahat sila may personalissue towards her, go with the flow. Tatanggalin talaga si Tara, para magingpeaceful iyong samahan ng matitirang siyam," Amanda said.

While washing off the mud, Justine got some clams and told them it was herusual food back at Isla Purgatoryo. Echo later joined them and shared what shelearned about Tara.

Echo : "Grabe, sabi ni Mika ang paninirangginawa ni Tara sa akin at kung kani-kanino pa. And I don't want her to stay."
Jef : "Ayan. Napapraning."
Echo : "Kaya nga napa-praning, dikit kayMika, dikit kung kanino."

Later, they noticed Tara talking to Suzuki.

Charles : "Si Zuki kinakausap ni Tara, sana 'wagmagpa-brainwash."
Jef : "Di si Suzukipa. Zuki namin 'yan e."
Charles : "Ano tawag niyo dun sa isa? Nacho?"
Jef : "Sacho."
Charles : "Sino nagbigay ng pangalan kayBruhilda?"
Jef : "Sila."
Amanda : "Ako."

"Lahat talaga ng nasagap kong info pati dun sa ka-alliance ko na si Mika,negative so parang obvious na ayaw namin siya tumagal, so mostly kungpaano siya nakisama sa mga naging katribo niya," Amanda said.

Later, Echo noticed a fish jumping off from the water. Justine volunteered tocatch it, unaware of the danger ahead.

"Si Echo nakakita ng parang malaki daw isdang nagtatatalon. Lumapit akosa kanya, to help her. So iyon, tinulungan ko siyang hulihin, sabi ko baka dinaman isda baka eel, malaki daw, so doon daw pumasok sa ilalim ng bato, sonoong tinry ko na palabasin siya through my hands, kinagat niya ako," Justinerecalled.

Justine washed off the blood from her wounded fingers as she endured her hand'sadditional cuts.

"As in super dugo, dalawang daliri ko iyong nakagat, super dugo, super sakit, asin!" Justine recalled.

Amanda and Echo continued to talk about Tara. But Amanda said that she couldhardly grasp anything from her conversation with the "raketista." Echo justdescribed Charles as an "innocent" kid, "confused to the highest level."

"Noong nag-usap kami ni Echo, naging topic namin si Tara. Ako, never ko panakasama. So wala naman akong negative na ano sa kanya, puro mga informationlang na nasagap ko sa mga nakasama niya at lahat yun, negative," Amandashared.

Amanda: "Alam mo ang suwerte ko na di ko siya nakasama."
Echo : "Alam mo naawa ako kay Mika,mababaliw na talaga si Mika ng kakapasensya diyan. Ako wala akong pasensya,sinasagot ko na pag nagsasalita siya, kase pag ayoko, ayoko. Ganun langkasimple, ayokong makipagplastikan or something..."
Amanda: " Tinanong ako, 'Sino bang nagpangalan sa kanyang'bruhilda'? Sabi ko ako...Sabi ko, sh*t baka kulamin ako nun, e. "
Echo : "Di naman."

The center of their conversation also had some thoughts about the rest of thetribe.

"Nag-e-enjoy naman ako. Pero nahihirapan ako sa kanilang mag-reach out. Si Mika,okay kami, Si Charles okay kami. Ako, city girl wala akong puwedeng sabihin sakanila," Tara asserted.


JUSTINE'S NEW MISSION. Elsewhere in the Sonsorol Camp, Justine talked toTara about her being voted off by the former Koror tribe. She admitted that shefelt betrayed but she eventually accepted her fate. Tara somehow found someoneto cling to.

Justine: "Pero wala na iyon sa akin, kaya lang sa akinngayon, nag-uusap tayo ngayon makukuha ko ba sa 'yo ang assurance ko?"
Tara : "Of course, especially sa 'kinJustine. You know, bilib na bilib ako sa 'yo.
Kung sino man who deserves to win, like it's you."
Justine : "Ang naisip ko talaga bago ako bumalik dito, sanasa 'tin, sa 'tin lang, is girl power."
,
Justine also shared her game plan now that she's part of the merged tribe.

"I have two plans, first is iyong girls' alliance, second, kung bibilangin moang Koror members, still we outnumber Airai. Kung magko-combine kami, kaya namintanggalin ang Airai," Justine explained.

She also advised Tara to be vigilant with her alliance.

Justine : "Gustuhin mo man maiwan ang isang lalaki na satingin mo deserving, wala kang magagawa kundi sumunod sa agos. 'Wag mongisasalungat ang agos kasi pag nalaman nila iyon tiyak, baka ikaw ang maputukan,di ba?"


ADVERTISEMENT - CONTINUE READING BELOW
GIRLS' ALLIANCE. In the forest, Amanda and Mikatalked more about their alliances, what they missed out after being separatedbecause of the tribal switch, what they found out about their rivals, and theirnext move.

Mika : "Parang na-mention ni Shaun nakailangan like, well, he didn't say specifically, pero sabi niya close kasi siEcho and si Suzuki, so parang kelangan si Suzuki and then sinabi ko na rin kayShaun ang ano natin na parang all girls gano'n, para alam, hindi, kasi para alamniya that there's that going on, but at the same time, we're still gonna saveShaun till the end, di ba na 'yun pa rin iyong ano natin na you, me, Shaun andKuya Cris, di ba, but now it's you, me, Shaun and Jef ."
Amanda: "Kaso hindi papayag si Echo."
Mika : "Si Suzuki?"
Amanda: "Oo, sinasabi niya, hindi niya kaya si Shaun. "

"Parang sinabi nga ni Amanda na, or her and Jef actually na nagsabi na takotsila like kay Echo or like what she's capable of doing. So, parang napaisip akona iyong closest ano niya, or actually sinabi na nina Amanda na yung closestalliance niya ay si Suzuki nga, so naisip namin na we need to take out Suzukipara wala na siyang kakampi, parang ganun," Mika shared.

Mika and Amanda also talked about Justine, whom they consider one of theirgreatest threats.

Mika : "Kailangan at some point sunod na siJustine kasi she's like one of our biggest, sa totoo lang after what I've seen,she's like our biggest competition, though like I feel bad because sobranggaling niya, sobra."
Amanda: "Actually she won na technically, well, not thetechnical, pero iyong the whole."
Mika : "Sole Survivor, nagawa na niya likeshe totally deserves it, sa totoo lang, but for the rest of the game if we stillwanna make it through, kailangan natin siyang tanggalin."

Amanda, however, was still not completely sold on the girls' alliance.

"Hindi rin ako masyadong naniniwala sa girls' alliance pero kailangan ko rinlaruin iyong girls e, so kailangan makuha ko pa rin yung trust nila paramalaman ko kung anong susunod na move," Amanda said.

Amanda: "Sabi ni Jef, 'kung ako na ivo-vote off niyo sabihinniyo sa 'kin a.'"
Mika : "Even ako, a."
Amanda: "Ako rin."
Mika : "I'd totally take it, you know."
Amanda: "It's okay, like I'm here for the game."
Mika : "Exactly, pero even me a, pagif you know it's me or whatever, gusto ko malaman."
Amanda: "Ako rin, gusto ko malaman, ayoko noong shock akotodo."

"It's me against everyone ngayon sa merge pero, siyempre, kahit individualkailangan may kasangga ka pa rin, so ngayon ang nakikita ko na kasangga ko siJef, si Mika, si Shaun at saka, so far, iyung girls din, kasi may girls' alliancekami supposed to be, pero sa larong 'to, ang gulo e," Amanda shared.


FORGIVE AND FORGET, NOT! Mika approached and sat beside Justine andTara. Mika knew that Tara was trying to convince Justine to forget the past andmove on. But for Mika, it proved to be more difficult.

"Parang nagsasabi si Tara na, let's forget about everything, you know,everything na nangyari, blah, blah, blah... Baka for her it's like that easykasi, kasi siya iyong may kagagawan. So, reconcile man siya whatever, basta ako,I'm not reconciled, ganun pa rin iyong feeling ko para sa kanya," Mikaasserted.

Mika then approached Echo who was busy with her chores.

Mika : "Kailangan ninyong makausap siJustine."
Echo : "Bakit?"
Mika : "Kasi nag-uusap silang dalawa niTara."
Echo : "Don't worry nakausap ko na si Justine,you can trust her."

Echo admitted that she believes Tara posed a threat.

"Si Tara threat siya for me in a sense na balimbing siya, puwede niyang siraanang girls sa mga boys na may girls alliance, puwede niyang kapitan ang mga boyspara maging isa sila. But then somehow I know na mas malakas pa rin kaming limakaysa kay Tara, and sina Charles, and si Suzuki is with us, Marvin doesn't likeTara, actually, so si Shaun alam ko na nagja-jive lang siya for now but maysarili siyang strategy in the future, malalaman ko rin yun," Echo stated.
ADVERTISEMENT - CONTINUE READING BELOW
But Tara couldn't care less.
"Hindi nga rin akomanhid para hindi maramdaman na halos lahat sila ayaw sa akin. Pero this is agame, I don't need to please everyone around me. Hindi ko sila kaibigan,"Tara affirmed.

LOUIE'S SURPRISE. When the tribe got their crate back,Marvin was especially glad to be reunited with his luxury item, his journal. Init, he found Louie's surprise.

"Noong nakuha ko iyong notebook ko, tiningnan ko kung ano iyong nasa loob, taposna-notice ko iyong ball pen ko wala nang takip, iyon na, notice ko na maysinulat si Louie. Nag-log din siya tapos may sinulat din siyang poem na, paranghindi mo mai-expect na si Louie ang nagsulat," Marvin said.

Echo : "Ay! Wow naman basahin mo na nga,Marvs."
Justine: "Siya nagsulat niyan? As in iyong ulo niyang 'yon,may lamang ganyan?"

Even Jef and Echo did not hide their surprise after finding out what Louie hasbeen keeping to himself.

"Sobrang na-touch kami and nagulat kami kasi may laman iyong nilagay ni Louie,'saka parang 'Louie?' sobrang barumbado na hindi mo alam na mayroon pala siyangganun, ganung thought, ganung klaseng pag-iisip," Jef said.

"So, I was like, 'Wow si Louie nakagawa ng tula.' So somehow naisip ko parangwhoa! Siguro hindi iyon si Louie, iyon lang iyong strategy na ginamit niya,"Echo said.

Mika also had her own take about it.

"I think it's really part of his personality, siguro like meron talaga siyang,I'm sure, you know, intelligent side, ganoon. Kaya lang hindi niya, hindi iyon'yung pinapakita niya," Mika stated.
Louie's Poem: Survivor

"Ang pagiging Survivor ay di isang biro,
Puro pasakit at hirap dito.
Ngunit kung titingnan mo
Ang kabutihang maidudulot nito,
Siguradong mababago ang buhay mo.
Laging may unos at kahirapan,
Pero pipilitin mong mahawakan.
Ang pinakaaasam mong tagumpay,
Napakalayo pa kung titingnan.
Sana maisip ng mga tao,
Na ang buhay ay di isang laro.
Bagkus ito ay pagyamanin,
Pagandahin at isipin laging,
May bukas na darating.
Dito sa Survivor ako'y natuto,
Kung gaano kahalaga ang buhay ng tao.
Hindi matatapatan ng pera at kasikatan,
Aking naging pamumuhay dito sa isla..."
ADVERTISEMENT - CONTINUE READING BELOW

Survivor Philippines Palau airs weeknights on GMA-7 right after Rosalinda.