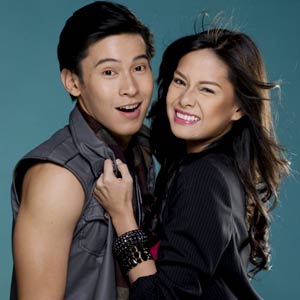 ---
The newest love tandem of Erich Gonzalesand Enchong Dee is becoming a well-supported love team on ABS-CBN.

Some call the new love pair "Enrich"and others call it "Erchong." But, which love team name is better? ForErich Gonzales, any name that will be given to them is good, as long asit supports their amazing rapport.

"Nakakatuwa po talaga na sinusuportahanng mga fans yung love team namin ni Enchong" Erich shared. "Kahit anopong itawag nila sa love team namin, ok lang po."

Surely, the Erich-Enchong love team willprogress as their friendship in Katorse gradually turns to love.

In the upcoming episodes of Katorse, Nene(Erich Gonzales) and Jojo (Enchong Dee) finally become closer than everas they study in the same school. Jojo finally gets the chance to confesshis feelings to Nene. But still confused with her feelings, Nene refusesJojo's proposal. By the time that Nene is enlightened, she realizesthat she also loves Jojo. Nene decides to let Jojo know her realfeelings for him.

What if Jojo changes his mind and justconsiders Nene a friend? Will Gabby's (Ejay Falcon) plan of pairingup Jojo and Nene succeed? What if the plan works? How would the newcouple manage to love each other if Jojo's childhood sweetheart Bettinaenters into their romance?

Follow the exciting love story of Jojo andNene in Katorse, before TV Patrol on ABS-CBN.


ADVERTISEMENT - CONTINUE READING BELOW