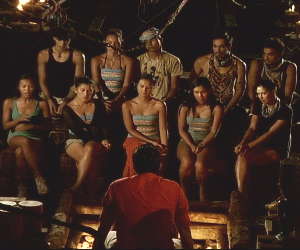 ---


As the Sonsorol members woke up on their second day as a merged tribe in Survivor Philippines Palau, the girlsbreakfasted with a small chat. They first talked about how they truly miss theFilipino bread, complimenting a cold daybreak back home: hot 'pan de sal.'

"Ganitong oras masarap kumain ng masarap na pan de sal," Tara reminded them.

From gastronomic treats, Echo shared her first travel experience abroadwhen she went to Singapore at the age of 17. Going to the airport was also herfirst trip to Manila. Echo also said that she politely asked a passengerto exchange seats, so that she could be able to peek through the window. Forthe entire duration of her travel, she just looked at the clouds.

"Probinsiyana. Alam n'yo ba kasi 17 years old ako that time pumunta ako ng Singapore.First time kong makapunta ng Manila nakita koiyong mga billboards talaga, sabi ko one day magkaka-billboard din ako.Promise. That's the first time kong pumunta ko ng Manila. Second time is arrival (fromSingapore)," Echo narrated.

But the morning wouldn't be complete without discreet discussions about theirstrategy for the tribal council ahead. Charles talked to Jef about how much hewanted to kick Tara out of the game. Meanwhile, Jef was worried about Marvinrefusing to talk to her.
Charles: "Final naako, Tara ako. Tara rin sya."
Jef : "Hindi ko alam."
Charles: "Nagkasira-sira tayo tribe. Lumabas ang tunay niyangugali."
Jef : "Gusto ko mag-usap kami niMarvin. Pero hindi n'ya ako kinakausap."
Charles: "Hindi kasi kahapon ano, magulo ang isip n'ya kayahindi ka niya kinausap. Nag-usap nga kami matagal-tagal."
Jef : "Oo nga. Ba't nga niya hindi akokinausap."
Charles: "Hindi, magulo pa nga isip n'ya kaya lahat nglumalapit sa kanya hindi niya muna kinakausap."
"Siyempre, na hurt naman ako nang kontiknowing na ayaw akong kausapin ni Marvin, kasi, among everyone else naman saaming lahat, I think ako naman iyong pinaka may concern sa kanya, e. Tapos noongiyong sincere naman iyong intention mo na hindi ko naman gusto mag-fish sakanya pero gusto ko naman talaga malaman kung kumusta na siya. Gusto ko siyang,gusto ko siyang alagaan somehow that day kasi alam kong stressed na sya. Ako naiyong nagre-reach out pero parang ang sara-sara-sarado pa rin n'ya," Jef said.

Marvin, on the other hand, knew that his tribemates were talking about thetribal council and that he's one of the targets, being a big threat because ofhis strength.

"Iyung ako na lang mag-isa nag-walk, nag-iisip ako, na parang yun, they'retalking kung sinong tatanggalin, tapos, alam ko na ako isa. I'm a big target talaga,'yun so nag-isip lang ako, at least find time for myself, kasi kung ano iyong plano ko. Kung ano yungpwede kong gawin para hindi ako matanggal, pero wala, parang sabi ko, gusto kolang talaga maligo," Marvin said.
ADVERTISEMENT - CONTINUE READING BELOW
Meanwhile, Tara admitted that shedidn't want to be friendly with the rest of her tribemates.

"Hindi ko ginawa ang effort to be close to them, because kaplastikan yun e.Alam ko kasi at the very point of this game, kailangan kong magtraydor.Kailangan kong magsinungaling," Tara asserted.


The tribemates then busied themselves dismantling the shelter Cris put up and wenton to improve the same shelter which Justine previously built and won her aslot in Sonsorol.

ECHO'S MOVIE. Another light moment came when Justine thought of suggesting a movie title fitfor the Spicy Bicolana, Echo.

Justine: "Ano, papano pag inalok ka bold star?"
Echo : "Sige na. Magkano ba?"
Justine: "Talaga, kakayanin mo?"
Echo : "Sige na magkano na? Para magkaperana agad at makapagpasarap na ako sa buhay."
Justine: "Ang pamagat ng iyong unang pelikula alam mo?"
Echo : "'Wag mong babanggitin,magkakamatayan tayo."
Justine: "Gusto n'yo bang malaman ang pamagat ng kanyang unangpelikula?"
Tara : "Ano, anong pamagat ng unang pelikula?"
Echo : "Gandahan mo naman, sister."
Justine: "Maganda. Isang salita lang."
Echo : "Hindi censored."
Justine: "Hindi censored."
Echo : "Girl, alalahanin mo ang mga kapatidko maliliit pa at ako'y tinitingala."
Justine: "Malalim ang kahulugan pero ikaw na ikaw angdating."
Echo : "Sige na nga magtrabaho na tayo.Tapusin na natin 'tong mga kabolahan."
Justine : "Sasabihin ko na muna."
Charles : "Ano?"
Justine : "Takip-silim."
Echo : "Hayop. Hayop ka. Ikaw naman, girl,Bukang Liwayway"
Justine : "Ayan, sige mag-partner talaga tayo."
Tara : "Maganda iyon."
Echo : "Kasi girl, bukang-buka talagagirl."

While preparing their sea urchin meal, Mika, Jef and Amanda talked aboutCharles's loyalty to the "girl's alliance" that they were plotting.

Amanda: "So, sadali lang. Pag natanggal si Bruhilda atsaka si Sacho, ilan na tayo matitira?"
Jef : "Eight."
Amanda: "Eight. So kailangan makuha natin si Charles."
Mika : "Hindi, kuha na natin s'ya. I knowalready."

Later the tribemates shared their lunch at the newly constructed table. Exceptfor Justine, it was their first time to eat clams.

Echo cherished the moment that all ten of them were still together in thegame.

"Nakakatuwa iyong part na lahat kami nandoon sa lamesa, e ako hindi talaga 'komapakali kasi maganda iyung bahay, may lamesa na," Echo said.


VIXENS. The three original Airai girls then had a moment of bonding by taking a bath bythe beach, scrubbing each other's back.

"Nandoon kami sa sa bandang dagat, dahil away from everyone. Natuwa ako,na-miss ko si Miks. Nagkaroon ako ng sama ng loob sa kanya, pero noong nakasamako siya ulit nakalimutan ko lahat," Jef said.

Tara and Justine, meanwhile, kept each other company.

"So far, si Justine lang lagi kong kausap, more on like hindi rin akomakapaggawa ng alliance," Tara admitted.

Tara shared with Justine the things that happened in the former Airaicamp, specifically regarding the elimination of their tribe mates. But Justinewas not easily convinced by Tara's version of the story.

"Iyong pinag-usapan namin with Tara na kungano yung mga nangyari before, so nagkaroon ng shuffle iyong groups ng Koror atAirai. I really don't believe her 100 percent kasi I have heard other stories naabout doon. Of course, she won't tell anything negative on herself din. So Ijust listened to her and iyon nga, ganun pa rin naaawa. Even me naawa ako peroyou have to think," Justine said.

But Tara was adamant that it was Mika who could not be trusted.

"Si Mika, traydor siya. Nag-o-off-cam siya sa akin, nagso-sorry siya sa akin nahindi niya pinapakita para palabasin na ako ang masama," Tara revealed.

Even Shaun was alarmed by Tara's attempt to form an alliance.

"Nabanggit nila sa akin na, tingnan mo si Taranandun na naman. Panay 'ako, ako, ako,' naghahanap na naman ng mga kaalyansaniya," Shaun said.

Justine, on the other hand, believed that she was one of the most likelycandidates in the coming elimination process.

"Alam ko behind their minds, since you overcome those challenges, you're a bigthreat. This is the flow of the game, kasi kung hindi mo magagawa na taluniniyong flow, most likely kasunod ka niya ng tinutulungan mo." Justine said.

However, Marvin was quite confident that Tara would probably get the boot intheir first tribal council as Sonsorol.

"Hindi ko nararamdaman na ako iyong malaking target. Parang may taong nag-iisipsa akin, may taong na-iisip kay Tara. Gustonila una tanggalin si Tara bago ako tanggalinmuna. Si Tara bago ako, para tanggalin muna yung masamang ugali, "Marvin said.


THE CHARLES AND ZUKI SHOW. Later, Suzuki tried to lighten the mood of their camp before their tribalcouncil by rekindling his 'love team' with Justine as he fixed the table.

Justine also took notice of Echo's so-called 'waste management.'
Justine : "Metro Aide ka ba sa Manila? Nakakaloka ka."
Echo : "Pangit pag madumi."
Justine : "Alam mo, sis, pagkatapos ng Survivor ikaw na langmaiiwan dito kasi inari mo na siya."
Echo : "Hindi naman, girl, wala langmagawa."
Justine : "'Wag ka mag-alala, Echo, sa dami ng abilidad mohindi ka mawawalan ng trabaho, promise."

Meanwhile, the 'ultimate crush' noticed that Jef was giving him the coldshoulder.

"Si Jef walang sinabi sa akin, hindi siya lumapit sa akin noong araw na 'yanparang ina-avoid niya ako," Marvin said.

"Kahit na dine-dedma niya ako, may lumalamang pa rin na hindi ko s'ya botohinna umalis e. Mas lumalamang pa rin na, feeling ko kasi mas kailangan ko siyangalagaan ngayon e, so yun nga I don't wanna be the person to hurt him," Jefconfessed.

Meanwhile, Charles provided a comic relief, while waiting for the tribalcouncil ahead.

Charles : "Handa ka na ba pasukin angboldstar?"
Suzuki : "Hindi ko gustoiyong trabaho na 'yun saka personal na pagmamahal ko, hindi ko gagawin."
Charles : "Hindi mo kayangmaghubad-hubad, sa Koror isla wala kang pakialam naghuhubad-hubad ka e."
Suzuki : "Hindi iyon panget na trabahosinasabi, kaya lang hindi ko kaya."
Charles : "Talaga bang mabaho na ang kili-kilimo?"
Suzuki : "Kanina papansininko, habang nagtratrabaho ako siyempre tumutulo ang pawis ko papansin ko yung kili-kili ko parang nangamoy e."
ADVERTISEMENT - CONTINUE READING BELOW
He then interviewed theEnglish-speaking, err, barking dog, Jumbo.

Charles : "Jumbo, are you happy to stayhere as our co-tribe in Sonsorol team? Paratayong tanga, siguro sabi niya, ' para kang tanga.'"

Later, Echo and Tara finalized their vote.

Echo : "Marvin na."
Tara : "Baka manalo pa siya next time wala na tayo opportunity, kung girls rule tayonglahat alam mong may laban tayo whatever happens."

But Tara knew that as much as the strongest could be the first one to get theboot, the tribe might still target the weakest.

Before the tribal council, the members of Sonsorol watched the sunset as theystayed together beside a huge tree. Echo brought some "butbot" forsnacks.

"Tumatak na lahat kaming sampu, kompleto. Pababa iyong araw, that means pataposna naman iyong day so pakaunti nang pakaunti iyong stay namin sa island,"Echo said.

SONSOROL'S FIRST TRIBAL COUNCIL. Survivor Philippines Palau host Paolo Bediones welcomed the castaways to their first tribal council as part of themerged Sonsorol tribe. Paolo started the discussion by asking the castawaysabout their much anticipated merge.

Shaun said that he was quite confused. He still expected it but it was just amatter of when. On the other hand, Suzuki was excited to meet the othercastaways he wasn't able to interact with. For Charles, he no longer expected amerge and would just wait for him, Mika and Tara to be eliminated one after theother.

Paolo then asked Marvin what it meant for him to be part of the merge.

"It meant to me, parang this is the next chapter of the game. I got to thispoint, parang iyong objective ko on that point is just get to the merge andfrom that point, different game na," Marvin replied.

For Jef, being one of the remaining 10 castaways was already a feat especiallyafter being perceived as the weakest even on their first day in Palau.

"Siyempre big factor 'yun. Ang laking achievement for us na kami iyong nahulipero kami iyong nasama sa merge, kami iyong parang malaking achievement itopara sa amin (ni Charles)," Jef said.

Tara, meanwhile, the merge felt like a heavy load was lifted off her shoulders.

"Sobrang saya sobrang na-stress out na kami. Sobrang maraming drama, iyongparang mga iyakan namin and all, everything before it happened ang saya langtalaga iyon na nga tama iyong sinabi ko may merge talaga," Tarastated.

Paolo then asked the castaways what they thought about Isla Purgatoryo andJustine's winning streak.

Mika : "Sobrang, like wow my mouth justdropped-open. May nangyayari pala na ganito hindi natin alamand not just that yung parang like, wow, ang galing niya nanaka-stay siya nang ganoon katagal na mag-isa lang siya and she beatevery single one na voted out."

Paolo then asked Echo if they voted Justine out at the very first tribalcouncil because of her perceived weakness.

Echo : "I would actually say na hindi iyonsinabi namin 'pagkat ang sinabi naming dahilan is concern kami and yes sinabinamin na we wanted to have a strong group but then and pinaka-main point, thereis 'retokada'. Sabihin ko na iyon actually but then everybody agrees on thatnatakot kami na may mas difficult pa na challenge and then mahirapansiya, yun yung pinaka-thought na nasagi that time."

Paolo : "So it's not that dahil perceived weak siya kasi obviously hindi siya weak."
Echo : "Yah."

Paolo then asked Justine what she felt when he announced that she won thechallenge.

Justine : "Naisip ko, Ay! baka ako na iyongnatanggal kasi usually sa mga pageants iyong unang tinatawag iyongnatatanggal."
Paolo : "Madalas ka naman bang tanggalinsa mga pageants."
Justine : "Hindi naman. Kasi nahihirapan na ako iyongnakaramdam na ako ng awa sa sarili ko kasi iyong ginagawa ko yung bahay,as in ang dami kong dugo ang dami kong sugat as in lahat yata ng corners noongbahay natuluan ko ng dugo. Iyon lang iniisip ko. Tapos noongniyakap nila ako, ang sarap noong feeling na hindi lang sa kanila konapatunayan iyong kapasidad ko. Sa sarili ko, ako mismo hindi makapaniwala.Hindi ko alam na meron pala ako noon sa loob na kailangan pang magkaroon ngSurvivor para lumabas iyon kaya sobrang laking pasasalamat ko."

Paolo then asked Jef about her performance during their first individualimmunity challenge. Jef admitted that she also surprised herself.

"Ine-expect ko naman na kahit papaano ay magagawa ako pero hindi ko ineexpectna mangunguna ako, so nagulat ako doon sa sarili ko. Pero at the same time kasithe whole time na nagcha-challenge ako nagprapray ako, so kahit papanoconfident ako na God can help me," Jef said.

Shaun, also, didn't expect that he would be the first bearer of the immunitynecklace. But the 'hot dad' also knew that he has become a formidable threatamong his tribemates. He vowed to perform his best to stay on the game.


KOROR IS DEAD. Paolo then asked Marvin if the Koror blood still exists, especially that itsoriginal member outnumbers the Airai tribe mates in Sonsorol. Marvin said thatthe old Koror tribe was already long gone, even prior to the merge.

Marvin : "Naisip ko iyon before merge,wala parang iba na iyon. I said Koror dead kasi nga si Charles saka si Tara, they lived with Airai for long time so parang..."
Paolo : "So patay na iyounang Koror, wala na talaga?"
Marvin : "Wala na iyon, it's free for all.Parang there's no way you can trust them. Parang just because you weretogether in a so-called tribe with a name na kung sasabihin nila mag-alliance,ganun na totoo yung sinasabi nila. Maybe they're just fooling you so I don'tthink that's possible. I don't know it's a game we'll see what happens."

Paolo then asked Tara if there is a"kontrabida" or villain among the tribe mates.

Paolo : "Tara maykontrabida ba dito?
Tara : "Walanaman yata e, okay lang."
Pao : "Feeling mo wala , nagkaayusan na bakayo ni Mika?"
Tara : "Okaynaman kami e. Like ako kasi pag may hinanakit ako, 'pag nagagalit ako,naiinis ako sinasabi ko iyon, nag-uusap kami and all, ako mismo iyongnagmumove para mapatch up yung mga bagay-bagay."


THE VOTES. Paolo then instructed the castaways to cast their votes and reminded them thatJustine and Shaun could not be eliminated.

Amanda was first to cast her vote. Followed by Echo then Suzuki. Shaun wasnext. Marvin voted afterwards, followed by Tara.Justine came next, before Mika voted against Marvin.

"Wala akong masasabing bad sa'yo, ikaw lang kasi iyong sobrang big competitionat this point," Mika said.

Charles cast his vote, and finally Jef who said "kailangan ko lang magingplayer, I'm very sorry but i have to do this."

Paolo tallied the votes. The first vote was against Marvin, the next was Tara's. The succeeding votes until the seventh wasagainst Marvin.

"Ang ikapitong castaway na natanggal sa Survivor PhilippinesPalauat ang unang miyemo ng ating jury, Marvin," Paolo declared.

MARVIN, THE FIRST JURY MEMBER. Before Marvin left the tribal council, Paolo bestowed upon him the power tobless and to curse two members of Sonsorol.

"Ang itim na perlas, ibibigay sa isang castaway para mabigyan siya ng plus 1vote sa susunod na tribal council, mamili ka ibig sabihin that's one voteagainst pag-isipan mabuti bago ibigay isang sumpa," Paolo said.

Marvin gave the black pearl to Mika.

"Ito naman ang puting perlas, hindi puwedeng ibigay sa parehong tao, ibigsabihin minus 1 vote kung saka sakali meron siyang boto sa susunod na tribalcouncil, biyaya 'yan ng puting perlas pakibigay sa isang castaway," Paolostated.

Marvin then approached Suzuki and handed him the white pearl.

"Malinaw doon sa inyong boto na ang dating Airai at bagong Airai, ang datingKoror at bagong Koror ay wala na talaga. Tunay na isang bagong tribo na ngayonang Sonsorol. Sa darating pang araw tinitiyak ko na magiging mas mahirap angmga pagsubok para karapat-dapat kayong tanghaling Pinoy SoleSurvivor. Tapos na tayo rito malalim na ang gabi balik na sa camp," Paoloconcluded.

MARVIN'S FINAL WORDS. Marvin sentout his last message for the receipient of the black pearl, Mika.

"Kay Mika I gave you the ball because ayaw ko na matapos iyong Survivorna game just because of the 6 girls and parang alam ko na ikaw iyong leader,ayaw ko lang na the way that the guys are gonna go out because of femalealliance. I wanted to go out with a fight that's why i gave it to you," Marvinstated.

The "Ultimate Crush" and "the Man of Steel" succumbed to his fate.

"I feel, I knew it. I expected it, sa pagtalo ko pa lang ng immunity challenge.Mixed feelings of course I wanted to fight at least makapunta ng top 6 but whatcan you do? God says it all, it's a plan there's no accident in life Ihave to accept it," Marvin concluded.
ADVERTISEMENT - CONTINUE READING BELOW

Survivor Philippines Palau airsweeknights on GMA-7 right after Rosalinda.