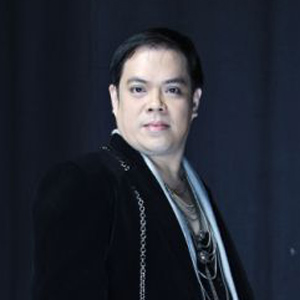 ---
Celebrityfashion designer Maxie Cinco was officially eliminated from the celebritysinging competition Celebrity Duets 3last Saturday, October 10, leaving six contenders to vie for the one million cashprize.
WithMaxie's exit this week, six celebrity contenders remained: fashion photographerNiccolo Cosme, 2009's WBA Superflyweight champion Nonito Donaire Jr., actressand director Gina Alajar, perfume line owner Joel Cruz, Brazilian-Japanesemodel Akihiro Sato, and actor and concert producer Jomari Yllana.
Thetheme for the performance night was "Close To You," which featured duetpartners dear to the contenders.
Firstto perform was fashion photographer NiccoloCosme, singing Tom Jones' "Sex Bomb" with close friend and characterimpersonator Ate Glow, who appeared in a sparkling Filipinana. Niccolo failedto receive praises from some of the judges the past weeks, and for thisperformance, he admitted that he approached Ate Glow, because he wanted to lookfor new ways to impress the judges.
Itseemed that he succeeded in his plan, as celebrity judge Tessa Prieto-Valdez ravedabout his performance. "Every week I'm really entertained by your number," theSeason 1 Grand Winner told the fashion photographer. "It's so creative. You'renot just singing the song, laging iba yung version. I really want you to stay tillthe end, Niccolo! You better be there!"
Nextwas boxing champ Nonito Donaire Jr.who immediately chose his wife, Rachel Donaire, after he heard the theme forthis week. The couple sang and danced ballroom to Dirty Dancing's "Time of myLife." Before the performance, Rachel shared that she and Nonito do everythingtogether, from music and sports, to singing and dancing.
ComposerDanny Tan praised Nonito's number. "Definitely there was chemistry, therewas focus. I really admire your sense of rhythm. Napaka-graceful mong sumayaw,"he continued, "and you enjoyed the performance. Lumabas talagang mahal na mahalmo wife mo," he added, taking into consideration Nonito and his wife's sweet kissafter the performance.
Celebrityfashion designer Maxie Cincofollowed suit, with best friend and soul sister Philip Lazaro. Theyimpersonated Sharon Cuneta's Dorina Pineda and Cherie Gil's Lavinia Arguellesin the '80s mega-blockbuster "Bituing Walang Ningning." In flashy evening gownsand wigs, they performed the hit song of the same name.
ADVERTISEMENT - CONTINUE READING BELOW
"Youare for me the most entertaining among all the contestants," remarked judgeTessa Prieto-Valdez. "Every week pinaghihirapan mo, from the costume, thesinging, the drama, the hair. Every week I'm excited na lang, I'm gonna see youtill the finals, Maxie. You're so galing. I love it!"
Butdespite Tessa's praises and prediction, Maxie was forced to exit the show lateron due to low audience votes.
FollowingMaxie on the concert floor was award-winning actress and director Gina Alajar, who took the stage witheldest son, actor Ryan Eigenmann. Gina shared that she chose her son (withactor Michael de Mesa) because she and Ryan were close enough to share secretsand problems. Channeling the 80's vibe and in retro costumes, both sang anddanced to "Footloose".
Stagedirector Freddie Santos commended Gina's performance for the past weeks. "100 percentenergy," he observed. "She was livelier than her own son, she was livelier thanthe dancers," said the judge. "You've gotta give everything you've got, gano'nlang yun ka-simple. And it was all there. Way to go, Gina."
Crowdfavorite and perfume line owner JoelCruz was next, this time singing with long-time endorser Lovi Poe. Inmatching red and white costumes, they grooved to Ric Astley's "TogetherForever."
SaidFreddie of this performance, "Right before you started singing," he told Joel, "sabiko nga kina Danny, I'm looking forward to hearing you, [and] I hope he doeswell, kasi bagay sa kanya yung kantang 'to. Magka-boses sila ni Ric Astley,"noted the judge. "Not bad! Kasi the last two weeks, parang masyadong pilit yungboses. This time it came out nice and easy. Relaxed. It worked very well."
Brazilian-Japanesemodel Akihiro Sato, who was supposedto sing with fellow Brazilian model Daiana Meneses, took the stage with SOP mainstay Aicelle Santos instead.With a dramatic backdrop of plants and a wrought-iron bench, they performed anOgie Alcasid original, "Bakit Ngayon Ka Lang?"
Theperformance prompted host Ogie Alcasid to comment, "You sang that so well,better than the original, whoever he is," the songwriter said jokingly.
ADVERTISEMENT - CONTINUE READING BELOW
Laughingat Ogie's surprising comment, Tessa admired Akihiro's performance. "Buti na langyou are so cute," she told the model, "so it doesn't matter what I say. You'reso good. Akihiro, you're so charming. Even if it's primarily a singing contest,you took a chance, nag-Tagalog ka. So good effort. Although you didn't sing aswell as the original, your performance was so charming," said Tessa.
Lastto perform was actor and concert producer JomariYllana with duet partner and close friend, actor Joey Marquez. Joey sharedthat Jomari is his teacher in love and that they are really close, having knowneach other for so long. In matching cowboy outfits and with a display of sexygirls and round tables, they sang Fred Panopio's "Ang Kawawang Cowboy." Making a cameo appearance was Jomari'sbrother, actor Anjo Yllana in a Zorro-like costume.
JudgeDanny Tan liked Jomari's gimmick. "I think ito yung pinaka-nakakatawang ginawani Jomari so far," he said. "Natawa ako, nag-enjoy ako. Lumabas pagigingartista mo," noted Danny. "Maganda kombinasyon niyo ni Joey [at] para sa akin,best performance eh!" he exclaimed. "Kinalimutan ko na pagkanta. Pureentertainment. Ang galing."
Takingthe Bottom Three this week were Akihiro Sato, Nonito Donaire Jr., and Maxie Cinco.In the end, hosts Ogie Alcasid and Regine Velasquez announced that fashiondesigner Maxie Cinco received the lowest number of votes and had to bidfarewell.
Withsix celebrity contenders left, who will be on the safe side next week? Find outon Celebrity Duets 3, airingSaturdays on GMA-7, after Pinoy Records.