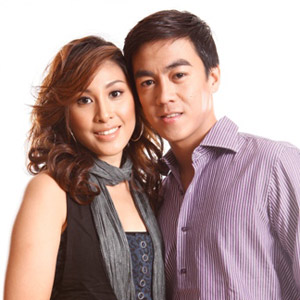 ---
The number of housematesof Pinoy Big Brother Double Updwindled to 10 after the forced eviction of the Double Up twins Toffi andKenny, and JM last Friday (October 9). However, before midnight the followingday, 10 new housemates entered the house via the Halloween-inspired "PBBDouble UP: The Spooktacular Reveal."
The second batch ofhousemates is made up of Steve Jumalonor "Tibo," the "Dad of Steel ng Cagayan de Oro," Cathy Remperas, the"Charming Babe ng Bohol," Riza Mae Patria,the "Bibang Probinsiyana ng Siquijor," Johan Santos, "Ang Cutie Server ng QC," and Hermes Eugene Bautista, "Ang ReluctantAmboy ng Pampanga."

Steve is a champion target shooter. Hermes spends most of his time playingonline games. Cathyis a nurse whohas just passed the licensure exam. Patria (whose real name is Rica Mae) worksas a medical representative. Johan is a part-time student who was an avenger inGMA-7's StarStruckSeason 3.
Also entering BigBrother's house are Patrick Villanueva,the "Charming Banker ng Baguio," RobStumvol, the "Ladies Man ng Austria," TransPinay or transgender Rica Paras, also known as the "MathGoddess of Iloilo" and real-life husband and wife Jimson Ortega "Ang Houseband ng Spain" and Kathleen Lopeña, the "La Señora ng España."

Patrickadmitted that he has been unfaithful to his wife in the past but they are stilltogether. It was revealed that Rob flew one hour from Austria to London so hecould audition for the reality show. He entered the house wearing a beigesoldiers' uniform and it was mentioned that he excels in marksmanship. Whenasked to give a message to people who might view her differently, Ricadeclared, "Respeto sa desisyon ng iba, respeto sa ating pagkakaiba-iba."

This edition also marks the first time that a married couple entered the Pinoy Big Brother house together. Jimsonand Kathleen have been living in Spain for some time now, with Jimson servingas the "houseband".
ADVERTISEMENT - CONTINUE READING BELOW
Just like last week,some of the housemates were given tough secret tasks by Big Brother. First, Kath and Patrick will have to pretend that they are amarried couple while Rob and Rica were challenged to make their housematesbelieve that they are lovers. Patrick and Kath's, Rob and Rica's performancesin their tasks will determine if the houses they belong to will or willnot have a weekly budget next week.
Yesterday (October11), the fourhousemates' strategies were put into action as they entered their respectivehouses. Kath and Patrick were housed in House B wherethe female housemates doubted the authenticity of their relationship. Fakelovers Rob and Rica, meanwhile, were sent to house A, where their subtle "denial" strategy seems to be working.
Will the new housematesearn their respective houses' weekly budget next week? Or will they fail likeevicted Double Up twins Toffi and Kenny (a.k.a Toffifi), who were exposed astwins last week?
ADVERTISEMENT - CONTINUE READING BELOW
Mariel Rodriguez givesupdates on the housemates on Uber,after Maria De Jesus. Get the fullstory on the tasks and housemates with Toni Gonzaga on PBB Double Up on Primetime Bida, after Dahil May Isang Ikaw. Catch the latest news inside the house withBianca Gonzalez on PBB Double Uplate,midnights on ABS-CBN.