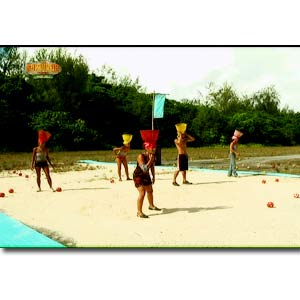 ---
TheSonsorol tribe went back to their camp immediately after their first tribal councilin Survivor Philippines: Palau, where Marvin Kiefer was voted off. Thegirls were trying to justify among themselves the unanimous decision ofeliminating Marvin from the game. For Echo, Marvin's exit didn't have much ofan emotional impact, but probably not for Jef.

"Well, actually, since kami ang nag-expect na si Marvin ang mawawala, hindi ganoonkalungkutan iyong pagbabalik namin sa camp after that tribal council," Echosaid.

Echo : "Narinig ko sa kanya na magiging masaya nasiya kung isa o
dalawang tribal council na hindi siya mavote-out... pero, basta, magaling nasiya, so iyun na 'yon."
Jef : "Uy, puwede ba ako mag-share? Sobrangiyun ang pinaka-hard na ginawa ko, kasi kaibigan ko na si Marvin."

"Sinasabi ko sa kanila na 'yun nga iyong risk I had to take, na masakit para saakin iyong decision na 'yun pero ginawa ko pa rin. Ine-explain nila na, 'Hindi,maiintindihan ni Marvin iyon.' Ine-explain ko sa kanila na sa pagkakakilala kokay Marvin, hindi niya maiintindihan iyon," Jef said.
ADVERTISEMENT - CONTINUE READING BELOW
Echothen turned her attention to the black and white pearls that Marvin handed toMika and Suzuki respectively. She reminded the two not to lose the pearls.

Echo : "Mikes, kamusta naman ang may bolangkristal?"
Mika : "Okay lang, I know this is a game.So okay lang. So, I am asking everyone, guys, 'wag ganon kasi alam ko naman nawalang may ugaling ganoon dito."
Echo : "Magnanakaw? Magnanakaw ng crystalball? Makakain ba 'yan?"
Mika : "Sana nga."

Meanwhile, Suzuki found a special place to hide the white pearl.

Suzuki : "Pero ano, may tiwala ako sa inyo."
Echo : "Suzuki, may tiwala ka sa aminpero sa paligid, dapat di ka magtiwala. Pwedeng may kumuha ng crystal ball mo,pwede din namin kuhanin. Puwedeng ibang tao, may kumuhang ahas. 'Pag maynag-vote off sa iyo, mawawalan ng bisa iyan. So if I were you, maghanap ka nglugar dito sa kagubatan, ibaon mo."
Justine : "Ay, hindi gano'n, dapat tanggapin mo na simulangayong gabi, na tatlo na ang itlog mo. Bakit may bubukas ba niyan?"

Echo knew why Marvin chose Mika and Suzuki to be the recipients of the pearls.

"Black pearl kasi si Mika malakas na babae and Airai siya, white pearl forSuzuki kasi somehow gusto niyang mag-last iyong Koror. Siguro iyong heart niMarvin, nasa Koror pa rin," Echo said.

Day 26

MISSING MARVIN. Justine was the first to wake up the morning after theirfirst tribal council. She said that she has gotten used to waking up earlysince she stayed in Isla Purgatoryo. When Jef woke up, Marvin was their firsttopic of conversation.

Jef : "Alam mo, may guilt feeling talagaako."
Justine: "Normal lang naman iyon kasi sa pinagsamahan ninyo."

"Siyempre noong paggising, na-miss ko kaagad si Marvin. Kasi nga 'pag nagisingako, gising na rin siya and simula noong naging Koror ako. Siya iyong firstgreeting ko ng, "Good morning," 'saka iyong fire din. Pero kasi nine, eight peopledin naman iyong nandito to comfort me, so okay na rin," Jef said.

Justine understood how difficult it could've been for Jef to vote Marvin offthe game.

"Sa larong ito dapat i-set aside mo iyong emotions mo, e. 'Saka di lang dahilconnected sila, mayroon din siyang personal feelings, crush nga raw niya.Biruin mo crush mo, ivo-vote out mo, ang hirap," Justine said.

Later, Shaun got the tree mail for the tribe. Shaun handed it to Echo. Sheread:

"Lumilipad, wala namang pakpak,
daig ang eroplano at tagak,
kung gaano kataas ang lipad,
gayundin ang lagapak pag bumagsak."


SLINGSHOT CHALLENGE. Survivor Philippines Palau host PaoloBediones welcomed the castaways to the site of their first reward challenge asthe Sonsorol tribe. He immediately explained the mechanics of the game.

The nine castaways would be divided into three groups: yellow, red, and pinkteams. Each team would have two catchers and one shooter who would use thegiant slingshot or tirador to shoot the color-coded rattan balls to his teammates.

The job of the catchers is to catch the rattan balls using only the basket on top of their heads. Once caught, the ball should be placed inside anothercontainer to tally the score.

The shooters and catchers wouldn't see one another because of a wall divider.

The first team to catch 10 balls or the most balls after all the 50 ballshave already been shot, would win the reward.

Paolo presented the reward via a television set and it was indeed a marveloussight to behold. The three members of the winning team would experience one ofPalau's most scenic spots: the jellyfish lake. Aside from that, they would alsoride a 'Magical Meduu,' a boat with a glass bottom where thepassengers could witness the amazingly diverse and colorful marine life ofPalau. This magnificent trip plus snacks and drinks to boot was the firstreward up for grabs for the merged tribe.

Both Echo and Amanda expressed their eagerness to win the reward that theyconsidered a once in a lifetime experience.

To divide the tribe into three teams, the castaways were instructed to puttheir hands in a bag and get one of three differently colored stones. Paolothen announced the castaways to show the stones they got and instructed them towear a bandana and regroup with their teammates.

The red team comprised of Echo, Tara and Charles. Suzuki, Amanda and Justineended up forming the pink team, while Jef, Mika and Shaun were the members ofthe yellow team.

The shooters were Charles for the red team, Mika for the yellow and Suzuki forthe pink team. While the catchers were Tara and Echo for the red team; Shaunand Jef for the yellow team while Justine and Amanda for the pink team.

"Survivors ready? Go!" Paolo signaled.

It was "hit and miss" for the shooters who were still getting the hang of usingthe slingshots. But it was Shaun who first caught a ball shot by Mika. Charlesmeanwhile often failed to get the ball cross the wall. Justine on the otherhand was encouraging Suzuki to find the right technique.

Amanda complained at how the ball usually bounces out of the basket despiteSuzuki's good job of using the slingshot.

The yellow team got their third ball, while the red team got their first. Shaunagain caught their fourth ball, then their fifth. Charles got it right and Echocaught their second ball. Eventually, yellow kept the lead by getting 7 pointswhile the red team got their third.

The pink and red team could no longer keep up with the yellow trio as Shauncaught the last three balls needed to win the reward. The final score: Red - 2,Yellow - 10 and Pink - 0.

"Yellow wins reward!" Paolo declared. He then instructed Mika, Jef and Shaun toimmediately leave and enjoy their reward challenge.

HIDE AND SEEK. But the six losing members of Sonsorol would not go backto the camp empty-handed, as Paolo announced another crucial twist that couldchange a castaway's fate in the game.

"Para sa inyong anim, mayroon akong pasalubong para sa inyo. Sa inyong camp,pagbalik niyo doon, mayroon akong iiwang clue sa isang hidden immunity. Mayroontayong clue na naghihintay sa camp. It's up to you--kung ibabahagi ninyo anginformation na 'yan sa tatlong nauna," Paolo revealed.

Shaun and the Girls' Alliance

As the winning team rode the speedboat headed to Magical Meduu, Mika told Shaunabout the girls' alliance. The three also took the opportunity to plot theirnext move.

Mika : "Iyong girls kasi, paranglike they're trying to do like girls' alliance nga, parang ganun."
Shaun: "Pero wala si Tara. "
Mika : "Wala si Tara. It's the restof us, sa girls. Pero para nga, para hindi mabuking ako, si Jef and si Amanda,kailangan ikaw iyong panalunin namin ng immunity so parang like they won'tquestion na bakit like ayaw namin i-vote out ka. Ganun lang yun."
Jef : "Kasi kunwari, mag-give in na lang.Kunwari.."
Shaun: "Hindi ba pwedeng si Tara, si Charles?"
Jef : "Kasi, ikaw yung gusto nila."
Mika : "Ikaw yung gusto nila kaya ikaw ang kailanganmanalo."
Shaun: "Wow, baka last reward ko na to."
Mika : "You know what, ngayon ang iniisip ko,even bago si Charles, like either si Echo or si Justine kasi mas threat silaespecially doon sa... iyong endurance. Echo is gonna last forever. "

"Kasi parang may nabubuong alliance ang mga babae. Sila Echo, sila Justine,sila Mika. Tapos nababanggit nila na ako nga ang gustong tanggalin ng mga babaekasi ako nga yung nanalo ng first immunity. Tapos pagdating sa reward, ito nanaman," Shaun said.

Shaun was also thrilled to share the reward with his original tribe mates.

"Masayang nakasama ko silang dalawa kasi parang ano iyon e, mayroon pa ringnabubuo iyong dating Airai. Plano pa ring magsama-sama hanggang final 4," Shaunsaid.
ADVERTISEMENT - CONTINUE READING BELOW
Thethree wore their reward outfits before heading to their adventure.

TO TELL OR NOT TO TELL. The rest of the castaways are back at theSonsorol Camp. They discussed whether they would tell Mika, Shaun and Jef aboutthe hidden immunity.

Echo : "So ngayon, ang tanong Justine, 'diba may suggestion ka? Ang gustong itanong, sasabihin ba sa tatlo? Tayong lahatalam natin kung anung gagawin."
Justine: "No comment. No comment muna ko."
Echo : "Ako, no comment din. Kasi mahirapmagsalita."
Amanda: "Kung lahat tayo no comment, wala tayong magagawa."

"Pagdating namin sa camp, dala namin iyong information na binigay ni Paolo,pinag-usapan agad namin. How is it gonna be? Is it gonna be group or individual?Isi-share ba natin 'to o hindi?" Echo wondered.

"Napagdesisyunan na lang na kapag ikaw ang nakahanap [ng hidden immunity] sa'yo na iyon," Charles said.


SurvivorPhilippines Palau
airs weeknights on GMA-7 right after
Rosalinda.