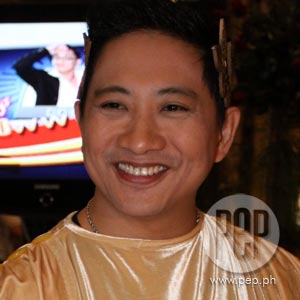 ---
Even though Michael V's popular comedy show Bitoy'sFunniest Videos has been doing well in terms of ratings for the past five years, theaward-winning comedian said he did not feel bad when GMA-7 decided to pull it off the air.
"Kailangan kasi mag-evolve ka, e," he told PEP (Philippine EntertainmentPortal). "Hindi puwedeng isa lang lagi ang ginagawa mo. Pag inabutan ka ng sawang tao, mahirap na."
And evolve he did. When his viewers tune in to his slot in GMA-7's SabadoStar Power this Saturday, October 17, they will see a one-of-a-kind comedy show calledBitoy's Showwwtime. It aims to showcase the wackiest and wildest side ofFilipinos here and abroad.
In Bitoy's Showwwtime, Michael V's popular characters who hosted BFV—Bitoy, Etoy, and Bebang—are temporarily laid to rest. Instead, the comedianportrays a futuristic emperor searching for the best- skilled Pinoy and newest Internet-ional star.
Together with his loyal jovial jester, played by perennial comedy newscasterMang Enriquez, Michael V presents his newest talented discoveries in an hour-longepisode consisting of four segments—"Talbugan," "Videokariran," "Facemuk," and "GayaMo 'Yun?"
In "Talbugan," contestants gifted with the most oddball skills from around the country go to KingBitoy's court to perform for him, vying to win the title Bida sa Talbugan. To win a total of P300,000, each Bida sa Talbugan winner must defend his/her title for fourconsecutive weeks from challengers called Atrebida.
The main difference of this segment from other existing talent shows ontelevision today, like the reigning Talentadong Pinoy of TV5, is that it offers a bigger cash prize.
ADVERTISEMENT - CONTINUE READING BELOW
"Videokariran," meanwhile, is the program's connection to Pinoys living abroadwho are willing to upload their one-of-a-kind performance via the show's website, www.bitoystv.com. The most interestingvideo among a pool of three selections will win special prizes.
Hilarous videos, on the other hand, are the focus of "Facemuk." Videos must becreated particularly for the segment and not just caught on camera. The senderof the best Facemuk video of the week will win a Canon videocam.
Lastly, "Gaya Mo 'Yun?" aims to search the Metro for thebest group of five to seven indviduals who can give today's hottest song ordance hits their own new twist. Cash prizes await the most creative group.
Bitoy's Showwwtime will air its pilot episode this Saturday, October 17, after Celebrity Duets on GMA-7'sSabado Star Power.