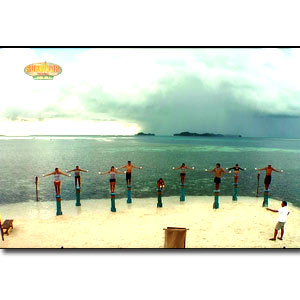 ---
Charlesgot the tree mail message regarding the latest individual immunity challenge ofSurvivor Philippines Palau and read it to the rest of the Sonsoroltribe.

When Tara left the shelter, Echo took the opportunity to tell "The Sexy Chef" Mika about Tara'srumor-mongering behind her back.

Echo : "May sinabi siya sa 'kin."
Mika : "Na?"
Echo : "Ikaw daw ang nang-away sa kanya."
Echo : "Ay, alam ko, sinabi ko na sa 'yo,it's the second time na ginawa niya iyon kasi nasa tuktok ako ng buko,nangunguha, inaway niya nga si Charles."
Mika : "Never niya iyong aaminin."
Echo : "Oo naman, sinisiraan niya ikaw parabumalik iyong kumpiyansa."
Mika : "Ako daw iyong dahilan kung bakitwala siyang ginagawa sa camp and I was like walang nagii-stop sayo."
Echo : "Dapat manalo tayo mamaya, paramawala na siya, ayoko ng kontrabida."

"Nag-uusap kami ni Echo, I guess iyong time na wala kami sa camp na iyong mayreward challenge, ay reward nga kami parang gumagawa si Tara ng istorya," Mikasaid.

But Echo already knew what Tara was like and recalled her first argument withCharles.

"Well, actually noong sinabi sa 'kin ni Mika iyong nangyaring issue about Tara,Charles, and Tara versus Mika, hindi na ko na-shock kasi nakasama ko na si Taranoong old Koror pa kami, it so happened na na-witness ko na kung paano si Taramagalit," Echo said.


ADVERTISEMENT - CONTINUE READING BELOW
LOVEGAME.
As the second tribal council for the Sonsorol Tribewas fast approaching, a particular castaway was looking forward to the usuallydreaded night where one of them is bound to get voted off. For Jef, the tribalcouncil would be another moment to get a glimpse at Marvin, whom she wasofficially missing already.
Echo : "Magta-tribal mamaya..."
Jef : "Makikita ko siya, angguwapo-guwapo niya."
Echo : "Guwapo naman talaga siya."
Jef : "Oo nga lalo na mamaya,imagine mo iyong itsura niya. Ako lang yata excited magtribal sa ating lahat."
Echo : "Hindi na siya mabantot."
Jef : "Oo, tapos nakabihis nasiya."
Jef also realized what the tribe lost after voting off Marvin.
"Lagi namin siyang nabibring-up kasi kahit na may mga bad things about him,sobrang na-appreciate namin iyong mga good stuff sa kanya 'saka, this time, iyongmga tampo nila kay Marvin, hindi na nila nabanggit. It's more on iyong mgaginagawa niya, iyong mga kaguwapuhan niya," Jef said.
Naturally, when the conversation was about Jef and Marvin, the girl'sboyfriend, Nyoy was not far from being mentioned. Jef admitted that she nolonger expects her relationship with Nyoy to last when she returns home.
Jef : "Sobrang naaapektuhan buhay ko sa kanya!"
Echo : "Lagot ka kay Nyoy."
Jef : "Wala na, hindi na 'ko umaasa nameron pang Nyoy after this."
Jef admitted that she missed Marvin so much, enough reason for her to mull overquitting the game and just follow him to become a jury member. Jef said she wanted to know what it would feel like, being with Marvin outside the game.
THE SEARCH IS ON.
The castaways scrambled to the beach toget the second clue for the hidden immunity. Some of them dived into the deeperpart of the ocean, while some walked to the low-tide area. The beach was sovast that they didn't know where to start looking. They incidentally saw somedolphins.
Frustrated about not finding the clue, Shaun and Amanda just opted to get someof the floating coconuts. Amanda and some of the girls went back to theirshelter.
When Tara also stopped her search, Jef and some of the tribematesthought she had already secured the next clue and they panicked.
"Noong una, obviously, parang halata naman lahat, naghahanap pa e. So wala pa.Pero noong bumalik si Tara dito, doon na kami nag-panic. "Oy, guys, guys, siTara bumalik, anong gagawin natin? Baka hawak na n'ya." So nag-strategize nalang kami, "O sige ganito, Charles, Jef balik kayo, sundan n'yo si Tara,bantayan n'yo, 'wag n'yong iiwanan si Tara kahit anong mangyari."
But when Charles left the two girls together in the shelter, Jef experiencedfirst-hand what the famous Tara's rants were all about.
THE GIRL-NEXT-DOOR VS. THE DIPOLOG CITY GIRL.
It appeared that Jefcouldn't stand a second alone with Tara.
"Si Charles, supposedly kaming dalawa, iniwan akong mag-isa. Anong sasabihin kosa kanya? Tapos hindi ko pa s'ya ma-stand kasi, English s'ya nang English, angtagal-tagal niyang magsalita, tapos ang dami-dami niyang gesture," Jef said.
Tara, on the other hand, was clueless about Jef's attitude towards her.
"Sa relationship ko kay Jef, hindi kami masyadong close, may something, I don'tknow, There's a certain thing na parang ano siya sa 'kin, parang maybe naiiniss'ya, cold s'ya sa 'kin," Tara said.
Tara : "Hindi pa naman tayo nagkasama nangmatagal."
Jef : "'Yun nga. Here's what I'm gonnatell you–"
Tara : "–Para kasing ikaw iyong nagpakita nginis, coldness... Kasi nire-respeto ko pa rin iyong edad mo sa edad ko. Like I'm20 and you're 22 right?"
Jef : "You see, that's the thing. Hindi pa'ko tapos magsalita, tapos salita ka nang salita. I told you to let me talk,butt in ka nang butt in. Hindi ko sinasabi na I hate you or I don't like you.It's just that, we never had the chance na maging close lang."
The encounter made Jef realize that it would be impossible for her to befriendTara.
"Kasi noong kinakausap ko siya, o sige, i-set aside ko na iyong mga kuwento nilana plastik siya, maingay siya, pasaway siya. Maging good person ako at bigyanko s'ya ng chance na maging friend ko. Pero hindi talaga," Jef said.
But as usual, for Tara, it's not her loss.
"Kung mainis sila sa 'kin, me as a person, nakakainis ako, nakakairita whateverit is, or like my personality is really strong for them, well, it's not my loss.It's their insecurities, whatever they lack to themselves and they better...pray," Tara asserted.
Soon after, Jef relayed to Mika and Echo what she and Tara talked about.
Jef : "Okay daw kayo. Good terms dawkayo."
Mika : "Nananaginip siya?"
Jef : "Okay, it's not that I don't likeyou, tapos biglang nagha-hyper."
Echo : "Ay, wow!"
Jef : "Tapos, iyong sa inyo daw, sabi n'ya,ikaw daw ang unang bumaligtad sa girls' alliance. Na iboboto mo daw siya."
Mika : "Pero totoo iyon na iboboto ko siya kasi siyaiyong weakest."
SUZUKI'S TREASURE!
Meanwhile, Suzuki didn't immediately return to thecamp; she stayed on the nearby part of the beach to look for the second clue.But when she was about to give up and return to the camp, lady luck finallyfound Suzuki. The "Japinoy hunk" found a bottle hidden behind a rock.Discreetly he took it to the beach and broke the bottle to get the scroll.
But reading the clue proved to be a greater challenge for the Japinoy.
"Pabalik ako sa camp. Ayun. Parang may bote. Nakita ko talaga doon. Taposbinasag ko. Binasa ko. Medyo hindi ko naintindihan. Malalim na Tagalog.Mahirapan ako doon," Suzuki recalled. "Gusto ko sana i-keep ko lang sa akin.Pero gusto kong lalo naintindihan kasi malalim talaga na Tagalog 'yon. Kaya'yon. E, may tiwala ako kay Charles, tinawag ko si Charles," Suzuki said.
Out of frustration, Suzuki called on Charles and pretended that he just wantedsome company for the call of nature.
Eventually, Suzuki told Charles that he already got the second clue and askedfor some help reading it. Charles read the second clue to the Japinoy.
Meanwhile, Shaun already had a hunch that Suzuki found what they were alllooking for.
"Napansin ko si Zuki, parang biglang lumayo. Kasi doon kami naghahanap, si Zukinandito lang sa may pampang naghahanap. Tapos biglang umalis at pumunta sagubat. So, doon pa lang nagduda na ko. Tapos tinawag niya si Charles. Dalawasila na magkasama na parang may hinahanap. So, sa isip ko parang mukhang nakuhanila iyong second clue," Shaun speculated.
At the beach, Mika directly asked Suzuki about the clue, but the Japinoy deniedit. Mika's concern was just to make sure Tara didn't get the clue. Charles covered up for Suzuki. Mika left, somewhat convinced by theboys. Moments later, Shaun joined the two.
Shaun then talked to Suzuki and Charles about forming a boys' alliance.
Shaun : "Pagkatapos ni Tara, iisa-isahin na tayo."
Charles : "Iyong planong 'yon, galing kay Tara 'yon."
Shaun : "Hindi. Si Justine at si Echo na anguma-ano. Gumagawa ng diskarte. Tatanggalin tayo isa-isa. Mauuna lang siguroako."
Suzuki was dumbfounded by Shaun's sudden shift of alliance.
"Kasi biglang lumapit sa 'kin si Shaun, naguguluhan talaga ako, akala ko, iyongAirai alliance, kasi biglang-bigla. Kasi may alliance kami ni Charles,tapos lumapit sa 'kin si Shaun, kailangan ng boys alliance daw. Parangnaguguluhan talaga iyong utak ko," Suzuki said.
The three concocted their own plan.
Shaun : "Kaya mo bang hindi magsabi kayEcho, Suzuki? Kaya mo bang hindi magsalita kay Echo ng pinagusapan natin?"
Suzuki : "Kaya ko."
Shaun : "Baka makonsensya ka."
Suzuki : "Seryoso ba iyong pinag-usapannatin?"
Shaun : "Oo nga. Seryoso tayo."
PANDANGGO SA IMMUNITY.
Last night,
Survivor Philippines Palau
PaoloBediones welcomed the castaways to their second individual immunity challenge.Before explaining the mechanics of the game, he announced that aside fromthe immunity necklace, also up for grabs was a scroll containing a twist.
Paolo then explained the mechanics of the game, inspired by the Filipino folkdance called "Pandanggo sa Ilaw."
The castaways would place one candle inside a glass bottle on top of each oftheir hands. In different time intervals, the castaways would follow severalpositions as they balance the candles while standing on an elevated post. Theyare prohibited from using their fingers to keep the candles steady in place;they are only allowed to do so as they change positions. They should also stayon that position until it's time to change again. Three violations wouldeliminate them from the challenge. Ultimately, if the candle falls, the game isover.
As if being stationary in a certain position were not difficult enough, thecastaways also had an option to give up their chance for immunity in exchangefor the bribe being offered to them: food.
TARA AGAINST THE WORLD.
The first position was parallel hands. Momentslater, Jef was already complaining. After five minutes, she got eliminated fromthe game.
Because of that, Tara had more reason to think less of Jef.
"Sobrang safe sila, especially with Jef, she's the weakest. Hindi magigingpuntirya iyong pa-tweetums effect niya, talagang maano iyong mga taorito. Hindi ko ginagawa 'yun," Tara pointed out.
Amanda then complained about her hurting arms and announced that she's ready togive up. She was the second casualty of the challenge, after eight minutes. Amandaexplained that she's weak when it comes to endurance challenges. Mikafollowed after standing for 10 minutes.
The second position was "arms up."
Shaun was down after 12 minutes. Charles already committed twoviolations. He finally got down after 14 minutes.
All the original Airai castaways were already down, leaving the original Korormembers to finish the challenge. But the early quitters ended up disappointedbecause they gave up before the bribe was presented.
"Nanghihinayang ako, tapos inisip ko iyon siguro napapala ng walang effort,talagang nawawalan ng biyaya," Jef realized.
When the hotdog sandwich with fries was presented, Echo decided to quit thechallenge and take the bribe after 16 minutes. Justine gave way to Echo.
Echo enjoyed every moment eating the hotdog sandwich.
"Akala nila concern ako sa alliance but actually concern ako sa sarili, selfish'ko pero that's part of the game. It's okay." Echo said. "Iyong feeling nakumakain ako habang may nakatayo, nagsa-suffer at mayroon pangnaiinggit, is something na feeling ko winner ako," she added.
Echo then started bribing Tara with the jumbo hotdog sandwich. But Tara wasunperturbed.
Echo : "Tara I'm telling you bumaba kadyan pagkatapos pag may hinain."
Tara : "Bababa nga ako."
Echo : "Sayang ang pagkain, girl."
Tara : "Food is just food. Honor isdifferent."
Tara became more confident that she could win the challenge.
"Kasi sobrang malakas akong tingnan, nandoon na parang sa tingin lang magalingka talaga. I showed, I proved it to them how sport I am. Tipong hindi ko ginive-up para lang makuha ko yung food, hindi ako kagaya sa kanila na kontingganun lang, well, I think they know their weaknesses," Tara said.
The next bribe was presented: a fish-fillet burger.
The castaways who were already out of the challenge kept on cheering for theremaining tribemates, except for Tara.
"Si Tara wala ni isang nagchi-cheer at that time. Medyo nagi-guilty ako pero Ineed to play it safe. Bakit ako mag-cheer kay Tara? Baka ako balingan ng mga tao,pero medyo naawa ako sa kanya kasi sobrang obvious na walang may gusto sakanya," Amanda admitted.
But again, Tara couldn't care any less.
"They don't cheer me up, the hell I care. I don't need that," Taraemphasized.
In the "Pandanggo sa Ilaw" challenge, there are only three castaways remaining:Justine, Tara, and Suzuki. Find out who will win this individual immunitychallenge in tonight's episode of
Survivor Philippines Palau
. It airsweeknights on GMA-7 right after
Rosalinda.