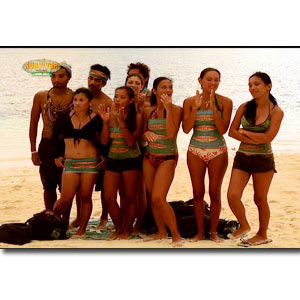 ---
The"Pandanggo sa Ilaw" immunity challenge in Survivor Philippines Palau continued.

Host Paolo Bediones removed the burger meal. The last bribe was presented. It was a grilledfish fillet meal, complete with rice and chips. But the remaining castaways—Suzuki, Justine and Tara were not tempted. Paolo eventually removed all thefood from the table. There were no more bribes available to anyone until thegame ends.

After over thirty minutes, Justine even danced and rotated on top of the post.

The next pose was "one arm up, one arm down". Jef and Echo continued toflame-bait Tara.

Echo : "Ayaw talagang bumitaw girl."
Jef : "Ayaw niya bang makasama si Marvin?"
Echo : "Puwede bang itulak?"

"Palaban 'to, ha. Bakit ayaw niyang bumitaw? Talagang lumalaban talaga siya,talagang effort! Sana hindi magpabaya sina Justine, hindi magpabaya si Suzukikasi ayaw talaga namin sa kanya for the immunity," Jef said.

Jef noticed that Tara's fingers were touching the glass on the last pose. Itdistracted Tara and her candle fell. Justine immediately got down after, whichmade Suzuki the automatic winner of the immunity necklace. The rest of Sonsoroltribe got what they wanted and cheered the fact that Tara was finally outof the challenge.
ADVERTISEMENT - CONTINUE READING BELOW
Suzukiwas equally surprised by his feat.

"Ang saya ko kasi hindi ko ine-expect na makukuha ko iyong immunitynecklace," Suzuki recalled.

Everyone congratulated Suzuki and Justine, Tara just went down and remainedquiet.

Suzuki received the immunity necklace from Paolo. But Justine, being the runnerup, received the scroll but not without a warning.

"Justine, ang scroll na ito ay puwede lang buksan sa tribal council, kapagbinuksan mo ito sa camp tanggal ka na sa laro natin. Hawakan mo 'yan, bantayanmo 'yan. Kapag wala 'yan sa tribal council, walang bisa iyang scroll na 'yan,"Paolo told Justine.

When the tribemates got back to their camp, the rain poured so hard that theirshelter got drenched. Some helped out to fix the roof while Amanda had somedifficulty starting a fire but she eventually did.
Thatnight, Suzuki was ecstatic after winning the immunity and most of the tribemates poked fun at him. Meanwhile, Tara was noticeably quiet and kept herdistance.

"Actually super poker face si Tara. Hindi siya nagpakita ng reaction," Jefrecalled. "Behind her back tumatawa kami, 'wag na lang pansinin... Iyong ibanaman naaawa kasi wala talagang pumapansin sa kanya."

Despite knowing that her tribemates were ganging up on her, Tara remainedunaffected.

"Definitely, hindi ako manhid para hindi maramdaman na may nangyayari nung timena nandun pa lang kami sa camp. And hindi nga rin ako manhid para hindimaramdaman na lahat halos sila, feeling ko ayaw sa akin. So hindi din naman ako,parang, hindi ako nasasaktan or something, kasi alam niyo, alam ko yung feelingna hindi ko naman ginawa talaga yung effort to be really close to them kasika-plastikan yun eh," Tara said.

Day 28

SHAUN'S MOVE. Suzuki and Charles woke up early and immediately went tothe beach to look for the hidden immunity. The two went to the forest wherethey read the clue again. Charles demonstrated what the clue could've meant.The two also discussed if Shaun could be trusted regarding the boys' alliancehe brought up.

"Nag-usap kami ni Suzuki na hanapin iyong immunity bracelet. Kasi kailangannatin iyong gawin. Kasi nagkakaroon na ng girls' alliance. Ilan kami na lang,tatlo na lang. Noong pumasok kami sa merge, apat lang kaming lalaki," Charlessaid.

Suzuki : "Sa tingin mo, may tiwala ka kayShaun?"
Charles : "Kahapon nga hindi ko alam e.Sabi ko nga sa sarili ko. Si Zuki, 100 percent. Si Kuya Shaun 50 percent. Kasi ngakabago-bago ko pa lang siya nakasama. E ikaw?"

The two then panicked when they saw Shaun nearby. They were not sure atfirst if they would share the second clue to Shaun. They even ran into theforest to hide from Shaun, until Charles wondered why they were avoiding him.

Charles : "Wait, di ba ililigtas natinsya? Bakit hindi na din natin sya sabihan?"
Suzuki : "Ha? Oo nga pala, 'no."
Charles : "Sabihan na natin sya."
Suzuki : "Hindi, tatanong ko kay Shaunkung sigurado siya sa tiwala niya sa 'kin."
ADVERTISEMENT - CONTINUE READING BELOW
"Maya-mayanakasalubong ko iyong dalawa. Nabanggit nga nila sa akin na, doon nagsimulangmagtiwala sakin si Zuki at si Charles. Nabanggit nila sa 'kin yung next clue,"Shaun said.

Suzuki expressed that he completely trusted Shaun and he was also glad thatthere already was a boys' alliance.

"Sobrang thankful talaga ako kay Shaun, kasi akala namin ni Charles, nasa Airaisiya. Maramdaman ko talagang thankful ako kay Shaun. Buti naman may boys'alliance na tatlo na kami," Suzuki said

Shaun also felt that Suzuki could be trusted.

"Makikita mo kay Zuki iyong sa mukha niya na talagang, sa lahat naman ngginagawa niya, sincere siya," Shaun said.

Charles, on the other hand, was not letting his guard down.

"Iyong tiwala ko kay Suzuki, 100 percent. Kay Shaun, 50 percent lang. Kasi totally hindi akotanga, hindi din ako bobo para hindi ko alam 'yon, about strategy," Charlessaid.

TARA'S MOVE. Later, Tara tried to get Suzuki and Charles on her side andtold them who should be eliminated from the game.

"Kailangan kong kausapin si Zuki, di ko na kailangang maglandi pa sakanya and all. Sabi ko sa kanya 'wag kang matakot sa girls' alliances dahil akomismo, ayaw kong mangyari yun," Tara said.

Tara : "Kahapon individual challenges... Isaiyon sa challenges na malalaman mo kung sino ang malakas or sino ang may tibayng loob. So isa ka duon dahil nga ikaw ang nakakuha ng immunity. Hindi akonakikipagcompete sa`yo. Ayoko makipagcompete sa`yo dahil alam kong meron kangkakaibang lakas. Dahil humuhugot ka rin sa pamilya mo. Ako humuhugot din nglakas sa pamilya ko."
ADVERTISEMENT - CONTINUE READING BELOW

Suzuki : "Baka tanggalin kami. Kami ang kawawa..."

Tara : "Ano?...hindi ka kawawa. Maniwalaka sa `kin. Kinausap ko na si Mika...si Justine. Personal kong ano sa`yo, ako mismo hindi kita iboboto.Kakausapin ko ang lahat kung sino dapat ang kausapin. Iboboto ko pa si sigurosi Jef na ma-out kasi weak siya. Honestly mabait naman siya and everything perokung s'ya iyong mananalo sa Sole Survivor, hindi siya karapat-dapat."

Suzuki understood that Tara wanted the original Koror tribemates to make thetop 5.

"Sabi ni Tara, kailangan natin, Tara, Ako, Charles, Justine, Echo maging top5," Suzuki said.

Charles, Suzuki and Shaun continued their search for the hidden immunity. ButCharles warned Suzuki about Tara.

Charles : "Huwag kang papaepekto kay Tara. Si Tara iyongtaong tatraydor sa`yo. Kung maniniwala ka sa `kin salamat. Kung hindi salamatpa rin. Ikaw ang bahala. Di mo napapansin di tayo kinakausap ni Justine atEcho, kaya magtataka ka na, bakit ganun si Echo samantalang mas matagal silangnagkasama ni Zuki?"
ADVERTISEMENT - CONTINUE READING BELOW

Suzuki : "Di ba dati kinakausap tayo noong malapit namag-merge, ngayon hindi e. Parang hindi sya magquestion sa `kin, kung sinotatanggalin."

JEF'S DISCOVERY. In the forest, Jef alerted Amanda about what shediscovered after she asked Suzuki whom he would vote off. Jef realized thatShaun already got Charles and Suzuki on his side.

Jef : "Nakausap ko na si Zuki. Sabi ko,"Zuki sinong iboboto mo after Tara? Si Echo." Sabi ko, bakit? E kasi sabi niKuya Shaun iboboto daw kami ni Justine tsaka ni Echo next."
Mandy : "May tao ba dun?"
Jef : "Wala. Kami daw iyong iboboto. Mayalliance na pala yung dalawa. Imagine! Nagalingan kaya ako."

"Natakot ako kasi nakita ko parang bigla naman naging in control naman siShaun. Naconvince ni Shaun na magside sa kanya 'yung dalawang boys taposnaconvince pa kami ni Shaun na magside sa kanya. Tapos alam ko pa kung gaanobina-value ni Mika iyong opinion ni Shaun. Natakot na ko for myself. Paanonaman ako mag-stay dito? Baka in the end ang gawin ni Shaun tanggalin lahat nggirls," Jef wondered.

Back at the beach, Suzuki tried to get assurance from Shaun if he was indeedsincere with the boys' alliance.

Suzuki : "Sana maintindihan mo kasi datingano kayo e."
Shaun : "Natatakot ka. Kanino mo gustongmakipag-alliance kay Tara? Pinapalabas nila na, parang 'di sila naguusap-usap,bigla na lang may lumalabas na parang nagkakaparehas sila ng binoboto parangganoon iyong ano. Ayaw nilang sabihin na may alliance sila."

"Nabanggit lang sa`kin ni Zuki ulit na parang nagdududa siya. Na kapag panahonna ba ni Mika, kaya mo ba siyang iboto? Oo, sabi ko kaya ko. Basta iyong usapannatin ok na 'yun," Shaun assured.

REVIVING KOROR. While cleaning the pot, the Taray Queen moved over toJustine and tried to convince her to destroy the girls' alliance. Tara wasinsistent that Jef does not deserve to stay in the game.

Tara : "Kasi individual challenge na, it'snot team up! Ano ba talaga si Jef dito? Para lang s'yang whatever. Para langsyang nagbabakasyon! That girls' alliance sucks!"
Justine: "Pinag-usapan na namin 'yan ni Echo na ang girlsalliance, mawawala 'yan, malapit na!"

"Si Jef, she's one of the weakest. Like more on paswerte-swerte lang 'yan.Naka-free ride lang 'yan sa merge. Honestly speaking, 'di na s'ya masyadongnaghirap. Nag-eenjoy lang siya dito. Ayoko namang magstay si Jef nang matagaldito na alam ko namang 'di siya ganun kadeserving to win. Dahil girls rule,kailangan girls ang matira, no it`s not. For me it's more worthy to win in thiscompetition na lahat palaban, hindi sumusuko," Tara pointed out.

Later, Tara was seen talking to Echo. The Taray Queen was on quest to reviveKoror alliance and bring them to the top 5.

Tara : "Takot daw s'ya sa ating mgagirls."
Echo : "Si Suzuki."
Tara : "Sabi nya hindi nya iboboto siShaun 'Day. Alam mo kung bakit? Kasi 'Day alam n'ya uubusin natin silang mgalalaki. Alam mo iyong iniisip ko, the 5 of Koror should stay."

"Sa Koror talaga masasabi ko si Justine, isa siya sa deserving, si Echo, siSuzuki, deserving. Well sa lahat ng patient (sic) na ginawa ko dito, na sobrangdislike nila 'ko, misunderstood ako nila, Pwes! Masasabi kong deserving ako andif I`m not, I really have to push myself throught this na deserving ako manalopa rin, whatever will happen," Tara asserted.

Meanwhile, Justine was also on the move and tried to talk Suzuki into stickingwith the Koror Alliance.
ADVERTISEMENT - CONTINUE READING BELOW
Justine: "'Wag kang mag-alala, kasi ang plano namin niEcho, matira tayong apat.Ikaw tsaka si Charles. So pag-apat na tayo, ilan nalang ang matitira sa Airai. Uubusin natin sila. So bale iyong girls' alliancemedyo meron sa ngayon, pero mawawala rin yun kasi..."
Suzuki : "Sandali eto ha. Sina Shaun, Mika, Jef,Amanda. Sila pa rin iyong alliance nila? Sa tingin mo?"
Justine: "Hindi."
Suzuki: "Hindi no?"
Justine: "Girls alliance na kami, After Tara, angiboboto is Shaun. So ilan na lang ang matitira di 'ba? Dapat tayong magkaisa,iyong Koror. So kung sino iyong iboboto namin iboboto ninyo ni Charles. Sobahala na kayo ni Charles mag-usap kasi hindi naman talaga dapat tayo nag-uusaptalaga para hindi mag-isip iyong kabilang grupo, no?"
"Nasabiko kay Suzuki na buuin natin, 'wag tayong magtiwala sa kabilang grupo sa Airai,dati tayong Koror so dapat magsama-sama tayo. After ni Tara, ang matitira ako,ikaw, si Echo, si Charles, so apat. Sa kabila kapag ako ang nakaboto ng isatatanggalin ko si Shaun, so bale tatlo na lang matitira so maa-out number naminsila so pwede kaming mabuo ulit na Koror," Justine said.


ADVERTISEMENT - CONTINUE READING BELOW
Survivor Philippines Palau airs weeknights on GMA-7 after Rosalinda.