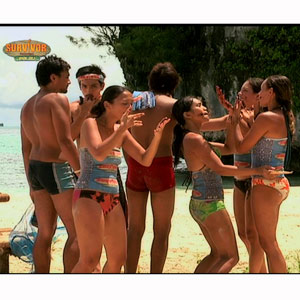 ---
The morning after the second tribalcouncil of Sonsorol in Survivor Philippines Palau, Justine woke up stillin disbelief with what has transpired. In the October 16 episode of the GMA-7reality show, Tara and Echo were eliminated one after the other in back-to-backtribal councils.
Justine realized that Echo beingeliminated from the game meant that Suzuki and Charles didn't go along withtheir plan of standing up for Koror alliance by voting off Shaun.

"'Paggising ko noong umaga, ganun, walang nagbago sa pakiramdam ko. Galit ako,I feel parang betrayed pa rin, 'di ko nalaman bakit ganun ang nangyari. Naisipko na ako na susunod, e. Sige na magwala na 'ko pero sabi naman noong kabilangisip ko, kung magwawala ka lalo ka niyang pupuntiryahin. Pinilit kong kalmahiniyong sarili ko, then noong medyo kalmado na 'ko saka ako nag-isip, I'll continuewith the alliance at iti-twist ko," she added.

Meanwhile, the original Airai girls talked about the next castaway to be votedoff on their hit list.

Amanda: "I truly believe in Shaun naman pero I'm justthinking at least kung Suzuki ang susunod, kasi between Zuki and Charles,sobrang hirap talunin ni Zuki, e. Sobrang tatag niya e."

Mika : "At saka iniisip ko if it's Justinena next, bibigay niya iyong pula na ano, pipili talaga siya, kung si Zuki, it'sjust random. Hindi natin alam baka kay Justine pa niya ibigay kasi galit siya."

After catching crabs, Charles shared his prediction that a girl would mostprobably win the game. Mika, on the other hand, gave him an assurance that hewould become part of the five remaining castaways.
Charles: "Babae talaga iyong mananalo."
Mika : "Bakit naman?"
Charles: "Wala lang."
Mika : "Let's be positive. Ang isipin moiyong goal mo dito. Goal mo maging top five. Positive thinking lang, mangyayaritalaga iyon. Promise talaga."

But Charles also warned Mika that Justine would be more determined to stay inthe game by winning the individual immunity challenges.

Charles: "Go lang tayo, pero sa darating na mga immunitykailangan natin galingan kasi nga dinibdib ni Justine."
Mika : "Yeah, exactly. Kaya nga, dinibdibniya so watch out lang kasi tayo, pipilitin niya talaga iyong immunity na siyatalaga iyong manalo."

Later, Jef and Suzuki talked about the previous tribal council. Both of themexpressed feeling guilty about voting off Echo from the game. Suzuki alsoshared Justine and Echo's plan of voting against Shaun. Jef then shared how sheregretted voting Echo off, and how she felt controlled, not being able todecide for herself.

Jef : "Bakit ka nga, bakit mo nga napilingtanggalin si Echo?"
Suzuki: "Kasi nga tatakot din kami, lalaki din kami, madamikayong babae tapos mamaya kung sana gusto ko tatagal."
Jef : "Hindi ko alam, feeling ko lahat ngbinoboto ko hindi ko gusto, lahat. Parang hindi pa 'ko nakakapagdecide on myown except kay Troy, oo kasi noong binoto ko si Troy, gusto ko talaga siyai-vote out, pero iyong pagboto kay Marvin, pagvote ko kay Echo, parang lahat'yon the next day ang sama-sama ng gising ko. Parang feeling ko lahatdinidiktahan lang ako kung anong gagawin ko tapos, tapos na."

"Comforting na somehow na mayroon akong makakausap, e totoong tao pa si Zuki e'yung kahit papano may malalabasan ka ng ganitong stress," Jef said.

Then the boys got together and talked about their next move.

"Ano, Justine na?" Suzuki asked Charles. Charles slightly nodded then Shaunarrived. Afterwards, the boys went back to their search for the hiddenimmunity.

The tribe of seven castaways then ate their breakfast. Then afterwards, Mikaand Shaun talked about the immunity and the blood pearl. Mika expressedconfidence that the Airai votes would be sufficient enough to make their planwork, since they have already outnumbered the original Koror members.

Mika : "Kailangan talaga, isa sa atin,makakuha ng immunity."
Shaun : "Problema ko iyong sa, pag-vinote out natin siJustine, baka ibigay sa iyo, iyong ano."
Mika : "Hindi kaya nga, si Suzuki anguunahin natin. And then si Charles walang problema din 'yun, like I don't knowif ma-vote niya si Suzuki pero, tayong apat."
Shaun : "O sige."

Amanda then expressed to her tribe mates how much she already missed her mom.She said that as she grows older, the more she loves her parents.

Later, Jef read the tree mail to the tribe.

"Ang grasya ay bababa pero huwag uubos-ubos biyaya,
Pag-isipang mabuti, nasa huli ang pagsisisi.
'Wag masyadong mapili, baka matapat sa 'yo ay bungi."

They figured out that the next reward activity would be an auction. Shaun askedJustine to read the message, she took it and read it without giving muchreaction. Amanda took notice of Justine's indifference.

"Hindi pa ako nakaka-get over noon sa nararamdaman ko, e. Para bang dina-digestko pa lang iyong dapat kong gawin," Justine said.

Amanda knew that Justine was already feeling on the edge.

"Noong natanggal si Echo, s'yempre kasali kaming tatlong babae na nagtanggal sakanya. Absolutely alam na namin na tumaas na iyong guard ni Justine, parang"Hoy! iba na 'to, wala na iyong girls' alliance. Parang medyo tingin ko kabadosiya, tingin niya siya na talaga ang susunod," Amanda said.


SURVIVOR AUCTION. SurvivorPhilippines Palau hostPaolo Bediones welcomed the Sonsorol tribe to the site of theirnext activity, which was the traditional Survivor Auction where the reward ofeach of the castaways would depend on luck and instinct.

But on Paolo's signal, the castaways must first swim to the ocean towards amarker. Below the marker, which is about eight feet deep, is a treasure chest.Inside the treasure chest were the rai stones colored yellow, red and blue. Theblue rai stone is equivalent to 10,000 pesos; red is 5,000 pesos while yellowequates to 3,000 pesos. The castaways must get as many rai stones as possiblewithin 5 minutes before the chest closes. The castaways also have an option tohelp each other or not. The castaways were also provided with sacks where theycan put the collected rai stones.

"Survivors ready, go!" Paolo signaled.

Shaun Mika and Amanda led the way as they swam towards the markers for the raistone treasure chest. Justine and Jef followed.

Mika and Shaun got their first rai stones but not without difficulty as thetreasure chests also contained some corals and sea cucumbers.

Four of them--Suzuki, Jef, Justine and Charles--failed to get any rai stones duringthe allotted time.

Paolo took the sacks that Amanda, Mika and Shaun were able to get before theauction proper. Paolo computed the rai stones and exchanged them for theiractual peso bill equivalent.

"Noong kinompute na ni Paolo, kung magkano talaga nakuha ko, 131,000 nagulatako parang umabot sya ng ganun kalaki? 'Di ko naisip ganun kalaki aabot yun,"Amanda said.

"Noong tinotal lahat ng points, ang pinakamaraming nakuha si Mika, nasa 150plus, si Amanda 131, ako nasa 81 thousand lang. Akala namin iyon na anggagamitin namin. Nagtataka ako noong kinonvert ni Pao, nakita ko cash, so peratalaga s'ya, parang, wow! Sana maiuwi na lang namin, 'wag na mag-auction. Iuwina lang," Shaun suggested.

But Paolo countered what the three of them probably wanted more as he said,"Itong pera na 'to syempre di pwede iuwi sa Manila, dito lamang pwede gamitin ang cash."

Paolo then gave out the rules for the auction. They could lend or loan somemoney, and they could also ask for money but they could not share the reward.

The starting bid was at 5,000 pesos. Paolo handed an envelope to Mika that shecould use during the auction.

Before the auction began, Mika asked if they could give money to the rest ofthe castaways. Paolo agreed and she gave Suzuki, Charles, Justine and Jef ashare of her cash. Amanda also gave money to the four but Shaun didn't.

Some of the objects up for auction were covered while some were exposed. It'sup to the castaways if they would bid for it or not.

The first item was a meal of chicken barbecue, pork barbecue with rice andice-cold pineapple juice. The starting bid was 5,000 pesos and Shaun took it.Nobody had a higher bid, so the item was sold to Shaun. Shaun ate the mealwhere he is seated and was instructed not to share it to anyone.

The second item was covered. Amanda was the first to start the bid. She andMika were bidding against each other until the pot prize was 15,000. The itemwas sold to Amanda and it was a little piece of jell-o.

The next item was also covered. Mika and Jef fought placed their bids, untilAmanda placed 25,000. Mika eventually got it for 26,000. Paolo then asked Mikato choose between two covered items. After some thinking, Mika took the seconditem.

Paolo opened the first one and it was a meal of three chicken feet. He thenpresented what Mika has chosen and it was a meal of one whole chicken with amango shake. Mika ate her meal with gusto.

Paolo then removed the cover of the last item of the first stage of theauction. It was the much-awaited chocolate cake. Amanda pleaded for the cake.

Suzuki and Amanda placed their bids. Amanda pleaded to Suzuki to give in butshe eventually outbid him.

Mika, Shaun and Amanda then went against one another. The prize went over40,000 pesos. Amanda won the bid at 46,000 pesos.

Charles and Suzuki smelled the cake as Amanda enjoyed eating it. Mika said thathe would pay 5000 pesos to lick Amanda's fingers. Paolo agreed.


COFFEE WITH THE PRESIDENT. The second part of the auction officiallystarted. Paolo instructed them to take one partner, except for Mika.

Shaun took Suzuki as his partner. Amanda took Charles, while Justine and Jefwere paired together. The partners had to combine their money to place theirbid.

The first time was a treat for a Milky Way Spa and a jetski adventure.

After Shaun, Jef and Charles went against each other. Charles eventually wonthe reward package for 26,000 pesos. He and Amanda are up for a MilkywayAdventure, although the latter was busy eating her cake and couldn't care lessabout it.

Paolo then announced that the next to be auctioned off is a coffee and feastwith no other than the president of the Republic of Palau, His ExcellencyJohnson Toribiong.

Suzuki and Justine tried to outbid each other.

Justine: "Wala na...wala na...hindi nakakaintindi ng Hapon yungpresident, tumigil ka...hindi kayo magkakaintindihan...Parau. Talagang rarabankami."
Suzuki : "Gutom na ako..."

Justine and Jef placed a 60,000 peso bid. Suzuki went on with 61,000. But thepair of the girls eventually got the date with the president for 69,000 pesos.

The last item was not revealed. Suzuki and Shaun took it at the starting bid.Charles bid for 10,000 pesos. But for 15,000 it was sold to Suzuki and Shaun.When they read the parchment, what was written was "Trip to Camp."

Shaun : "Trip to camp. Wow! Babalik lang kami sa camp...Pu**babalik lang tayo sa bahay."

In the end Suzuki got nothing.

Paolo declared that the auction was already over. But he instructed Mika toopen her envelope. It was an open ticket and she could choose among the threetrips, where she would want to go. Mika chose the feast with the president withJef and Justine. Amanda and Charles are off to the Milky Way Spa and jetskiadventure. Shaun and Suzuki would be left in their camp.

Mika, Jef, Shaun and Charles then started licking Amanda's fingers, which wasfilled with chocolate frosting.
ADVERTISEMENT - CONTINUE READING BELOW
But Paolo ended theepisode by saying that a tree mail message was waiting for the two guys back atthe camp.
Survivor Philippines Palau
airs weeknights on GMA-7 right after
Rosalinda.