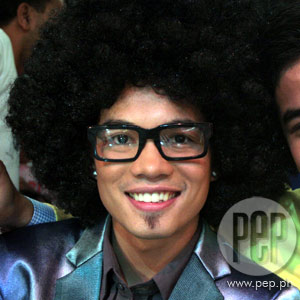 ---
Celebritysinging competition Celebrity Duets 3held another elimination night last Saturday, October 17. By the end of the show, boxing champion Nonito Donaire Jr. was officially out after receiving the lowest number of votes from a nationwideaudience.
After theelimination of three contenders, five celebrity contenders were left in theGMA-7 show: Brazilian-Japanese model Akihiro Sato, fashion photographer NiccoloCosme, actress and director Gina Alajar, entrepreneur Joel Cruz and actorJomari Yllana.
The themefor the night was "Motown Week," taking into account the group of record labelsthat popularized songs in the 1960s, which played a big role in racialintegration of popular music. This week, the contenders also revealed somerandom tidbits about their fellow contenders.
The CelebrityDuets set was loaded with energy—groups of fans in color-codedt-shirts cheered wildly in the audience section in support of their singing idols.
The Fantastic Six opened the show with Marvin Gaye's"Ain't No Mountain High Enough" dressed in retro-wear, along with back-dancersgarbed in similar vintage clothing. The back-up singers were dressed up likeKorean sensation Wonder Girls with their shiny gold dresses and '60smicrophones. Silver disco balls lined the stage and the ceiling, while thejudges and the back-up band all donned large Afro wigs.
ADVERTISEMENT - CONTINUE READING BELOW
After theopening number, 2009's WBA Superflyweight champion Nonito Donaire Jr. took center-stage, receiving hoots and cheersfrom his fans in the audience. Appearing in afro wigs and retro costumes,Nonito and comedienne Mitch Valdez sang the '60s hit "I Got You (I Feel Good)"by James Brown. His fellow contenders all revealed that Nonito is "carefree,""an amazing person" and "an extrovert."
Applausefilled the stage. "Much better," said stage director and judge Freddie Santosto Nonito. "Ito yung sinasabi ko sa 'yo na talagang kailangan seryosohin moyung music. Alam mo, hanep ang kapartner mo. It's very rarely now that we hearMitch, and she is fantastic," added the director. "Pero very important, relaxon the gimmickry, because you've got the voice. So use the voice. That is youruppercut. That is your punch."
Fans ofBrazilian-Japanese model Akihiro Satowere equally supportive on the set, as they cheered for the hunky model whowent for a preppy look this week. Wearing similar preppy clothing, Akihiro andduet partner, singer Kris Lawrence, performed "My Girl" by The Tempations. GinaAlajar, Akihiro's fellow contender in the competition, revealed that the modelis never prompt on tapings and rehearsals, but is still "palaging naka-smileand laging charming."
ADVERTISEMENT - CONTINUE READING BELOW
Composerand judge Danny Tan said, of Akihiro's performance, "You look so tense today,unlike the previous weeks. Parang masyado kang conscious sa song." He told themodel, "Actually, nung nalaman ko na 'My Girl' ang kakantahin mo, sabi ko, bagaysa kanya yung choice kasi simple, and bagay sa personality. But na-feel ko langna hindi ka relaxed, na hindi ka na masyadong nage-enjoy."
He continued, "Hindika comfortable ngayong gabi sa song mo, so next time, huwag mong pahalata saamin na hindi ka comfortable, na nate-tense ka, kasi malaki na rin improvementmo."
Next wasfashion photographer Niccolo Cosme,who also had one side of the audience packed with fans and supporters. Inmatching dark-blue velvet outfits—Niccolo in a formal suit, and duet partner,R&B princess Kyla in a dress—the duo sang "With You I'm Born Again" byMotown recording artists Syreeta Wright and Billy Preston. Prior to the number,fellow contender Akihiro said that Niccolo is truly a nice person and is always"just laughing."
ADVERTISEMENT - CONTINUE READING BELOW
After hisperformance, Season 1 Grand Winner and celebrity judge Tessa Prieto-Valdes saidthat Niccolo's song did not go with this week's Motown theme. But despite this,the Sea Princess still complimented Niccolo by saying, "You're really the mostcreative when it comes to singing. I really can hear your voice. Among all thecontenders, you really have the passion to sing.
"But it's TV," she continued,"[and] it's hard for people to relate if they can't understand the song somuch." To this, Niccolo countered, "I consulted naman with production [and]they said it's Motown. Sorry," he laughed apologetically.
Award-winningactress and director Gina Alajarfollowed after Niccolo, singing The Temptations' "I Can't Help Myself (SugarPie, Honey Bunch)" with duet partner, veteran actor Christopher de Leon.Singing with back-up dancers and props, Gina wore a polka-dotted dress withmatching boots, net stockings and retro-styled hair. The loud cheers andapplause of the audience were led by her best friend, actress Mel Kimura.
ADVERTISEMENT - CONTINUE READING BELOW
Prior toher number, Joel Cruz said that Gina is really tough competitor, "talagang givena give [and] medyo nakaka-tense makalaban." True enough, the judges ravedabout Gina's performance, like in the past weeks.
"Numberone, memoryado yung lines," said Direk Freddie, noticing how Gina didn't needto look at the prompter for her lyrics. "Kaya nakakapag-face to face sila. Ireally appreciate that, na alam yung lyrics, alam yung pinag-uusapan, alam yungginagawa." He told the actress, "Ikaw siguro ang pinakamalaking revelation parasa akin buong season. Grabe."
Perfumeline owner Joel Cruz veered awayfrom his usual simple numbers the past weeks, as he appeared this week dressedas girl and styled in a baby pink ensemble, which the fans gleefully welcomedwith loud cheers. His duet partner, stand-up comedian Kim Idol, as well asback-up dancers all wore similar pink dresses, and grooved with Joel to the'70s hit, "We Are Family." Before his number, his co-contenders echoed how Joelloves to win in this competition so much, and that he is "always prim andproper."
ADVERTISEMENT - CONTINUE READING BELOW
It seemedthat Joel's gimmick for this week won the judges' seal of approval. "Nungnatanggal si Maxie Cinco last week, nalungkot kami. Sabi namin, wala, boringna," judge Danny Tan recalled. "Pero may pumalit na," he continued, as Joellaughed onstage. "Ako personally nag-enjoy ako," he said. "Yan ang matagal konang hinahanap na Joel kasi dati puro serious... naka-suit lagi. Yan angproduction value na hinahanap ko for you, kasi that's the mark of a trueperformer. Na para kang chameleon, you can change [and] adapt. For me,performance-wise, this is your best. Relaxed, nag-enjoy ka," he told theentrepreneur.
The finalperformance that night came from actor and concert producer Jomari Yllana. He went for a simplenumber this week, dressed in a black suit. For his performance, he sang MarvinGaye's "What's Going On" with Mojofly frontwoman and Eat Bulaga host Lougee, who was garbed in a black and white balloondress and a matching headband. While waiting for the director's call, thesinging partners stood on the stage, as they were cheered on by their fans.
ADVERTISEMENT - CONTINUE READING BELOW
Before thenumber, Gina revealed that Jomari is often "tahimik pero malalim [ang]tinatakbo" while Joel Cruz described him as a great actor.
JudgeTessa always has praises for Jomari. "Like I said in the very beginning, youhave the strongest voice quality," she told the actor, after the duet."Talagang I could see you in the finals. Ang galing-galing mo. You are reallyoozing with charm and personality." The Sea Princess also recalled how Jomariwasn't as strong as a performer before, "but now [he's] just cruising along."She told the actor, "I'll see you in the finals. You are just wonderful."

THE SONGWRITER AND THE SONGBIRD. Off-camera, Celebrity Duets 3 hosts Ogie Alcasid andRegine Velasquez happily joked with the audience. With Ogie in a suit andRegine in a mermaid-type black and silver dress, the real-life couple showed aquirky side to them, while they entertained the crowd with their spontaneouswisecracks.
As theyawaited the envelope revealing the eliminated contestant, Regine and Ogiecalmed the tense atmosphere and joked around with the chinky-eyedrepresentative from the accounting firm, who stood with them onstage. TheSongbird called the representative a Korean, which Ogie believed in an instant.In truth, the girl wasn't really a Korean, and as soon as Ogie found out, hetold Regine, "Alam mo naman, lahat ng sinsasabi mo, pinaniniwalaan ko." Tothis, the audience laughed heartily.

ADVERTISEMENT - CONTINUE READING BELOW
GOODBYE, NONITO. By the end of the night,Nonito had to leave the competition, after he was placed in the Bottom Groupalong with Gina and Niccolo.
Despitethe sad news, Nonito was still smiling onstage. "I had such a great time, hetold the audience. "Maraming salamat po sa oportunidad na binigay niyo sa akinto live my childhood dream, to be performing in front of everybody. Sa mgakaibigan ko, thank you so much, I've bonded with all of you. Judges, thank youfor all the judging and for helping me to be better. Thank you much."
PEP(Philippine Entertainment Portal) had the chance to chat with Nonito after theshow.
Accordingto the champion boxer, what he would miss most in Celebrity Duets 3 are the friendships he has made and the companyof his fellow contenders. When asked to name the person that he is closest to,Nonito answered, "Niccolo," but he was quick to point out that he has grownclose to all of them.
ADVERTISEMENT - CONTINUE READING BELOW

What are his plans now that he is out of the competition?
"Back totraining," he replied. His wife Rachel, who was flanking Nonito, interruptedthe boxer, saying that they are planning to go on a vacation. PEP asked the couplewhere they plan to go but Nonito answered with a smile, "I'll surprise her nalang."
Who willget to take home the one million peso cash prize? And who will leave afterNonito? Find out next week on CelebrityDuets 3, airing every Saturday on GMA-7 right after Pinoy Records.