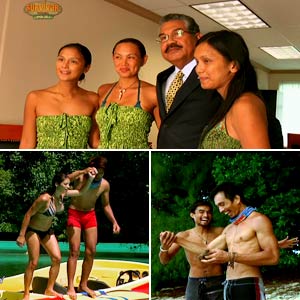 ---
In the October20 episode of Survivor Philippines Palau, Mika, Jef and Justine wereshown en route to meet Palau President Johnson Toribiong via a speedboat. Thegirls were seen rejoicing over their trip. Meanwhile, Amanda and Charles wereon a different speedboat headed to their Milky Way Spa and jetski adventure.The two raised their arms and screamed while enjoying the rush of the wind.
The three girls arrived at the dock and rode a van towards thecity. They were impressed by the cleanliness of the urban Palau. Mika wasreminded of Hawaii, her second home, and offered to tour Justine and Jef if everthey would want to go there. Justine said that she already missed civilization.
The girls then suddenly felt self-conscious about how they wouldlook like in meeting the president.
"Biglang na-realize namin, like, wait lang ang baho natin. Taposiyong hininga namin doesn`t smell that good either, tapos President pa yungimi-meet namin. Parang biglang na-self-conscious kaming lahat na, 'Oh my God! Ohmy God!'" Mika exclaimed.
Later, Amanda and Charles arrived at the Milky Way Beach, rejoicingover their ride in a speedboat.
Back at the Sonsorol Camp, Suzuki and Shaun kept themselves busylooking for the third clue.
After a short inspection at the beach, Suzuki found thebottle that contained the clue. They broke the bottle and Suzuki desperatelytried to read the message. Shaun continued reading the clue which said "Higaanang trosong nakita. Idilat nang mabuti ang mga mata. Batuhin, akyatin,sungkitin. Batuhin, akyatin, sungkutin. Nasa puno bagong buhay nakalambitin."The two guys then figured out that the clue could be hanging up on the tree.
THE PRESIDENT'S GUESTS. Jef, Justine and Mika arrived at thePalau's White House located at Melekeok. They were met by a staff of the Officeof the President. Pres. Johnson Toribiong welcomed the castaways whobrought a gift for him. After their greetings and introductions, the President invited the girls to take a seat beside him at the table filled withsnacks: coffee and pastries.
ADVERTISEMENT - CONTINUE READING BELOW
President : Pleasetake your seats beside me, I knew you`re coming to see me today, so I prepared some snacks for us,coffee..."
Girls : "Thankyou so much!"
Justine : "We consider this the ultimatereward that we can get. We`re very pleased. This is a chance of a lifetimeto meet a President."
Mika : "Wefeel very honored to meet you."
President: "I'vebeen a President since January 15 of this year. And most of my guests are diplomats, high-rankingofficials. But none of them are as beautiful as you are."
Girls: "Thankyou very much! Thank you for the compliment!"
President: "It's a very special treat for me towelcome Survivor from the Philippines."
Jef: "Youhave a very beautiful country."
President: "Please, have some coffee and you canask me questions that you may like."
Mika: "Ihave a question, how long has Palau been a sovereign country?"
President: "Palau is an ancient society. Peoplehave lived here thousands of years, then in 1994 we became an independent nation during the UnitedNations. So we're one of the smallest nations in the world but we are a memberof the United Nations."
While inthe middle of the conversation with the President, Mika couldn't take her eyesoff the muffins.
"I don't mean to be disrespectful or anything. Tinatanong ko siyapero sa haba ng explanation n'ya napapatingin ako sa pagkain na parang... Hala!May blueberry muffins, biscotti, coffee and sobrang gutom kami, so pagkain natalaga 'yung naiisip ko," Mika explained.
President: "If you decide to be a citizen, wecan try to at least bring you as close to citizenship as possible...perhaps bymarrying Palauan men, because Palauan relationship is restricted to bloodlinesand we people who have Palauan parents. Enjoy your coffee."
ADVERTISEMENT - CONTINUE READING BELOW
Mika then passedthe pastries to Jef and Justine.
"Bahala kayo, ayaw n'yong i-touch iyong pagkain, ako na lang yungkukuha. So kinuha ko na lang pinass ko and everything," Mika said.
Before leaving,the Filipina girls presented their gift to the President.
President: "What is this? Shall I open it?"
Mika : "Yes.We would love for you to open it."
President : "This is called Survivor Palau. Andthis summarizes the history of Palauan people. You will survive!"
Girls : "Thankyou so much!"
Mika : "We'resorry we smell really bad, we haven't taken a shower in a month."
Girls : "Thankyou for everything. It`s so nice meeting you. Paalam!"
"Proudest momentko 'to. Ito 'yung pinaka-proud moment ko na may nakausap kang President.Nakapag-coffee ka with him. Naka-spend time ka with him. Wala nang mas be-bestpa sa reward na `yon," Jef said.
The three girls and the President had a photo op.The President gladly offered the pastries to the girls to take home with them.The girls took all the pastries they could get and carried them with theirbare hands.
"Super funny moment na isipin mo, President iyong kaharap mo taposnaggaganyan ka lang ng muffins, na tara let's go na," Jef recalled.
Meanwhile, Amanda and Charles arrived at the Milky Way spa. Bothof them scrubbed their bodies with white sand in the pool. After their bodyscrub, a speedboat arrived to take the two to their jetski adventure at the SeaPassion resort.
FINDERS KEEPERS. The two guys back at the Sonsorol Campcontinued looking for the hidden immunity up the trees. Shaun eventuallyspotted the right log; hanging on the tree branches on top of it was theimmunity object. Shaun called Suzuki and they threw stones at it but it didn'tfall. Shaun asked Suzuki to get a bamboo pole. They used thebamboo to nudge the hidden object until it fell to the ground. The two guysrejoiced after finding the immunity bracelet.
ADVERTISEMENT - CONTINUE READING BELOW
FEAST WITH A CHIEF. Mika, Jef and Justine arrived at a Bai, ahouse reserved for meetings of Palauan chieftains. The girls were met by achief and a lavish feast of fruits, pork dishes, salad, taro, rice and walnutpie.
"Welcome to Melekeok...Thisis a pleasure and an honor meeting you. This place is called a Bai and thisbuilding is the meeting house for traditional chiefs and this place is only formen," said Reklan, the Paramount High Chief.
The girls enjoyed their feast as the chieftain told them storiesof the history and culture of Palau.
"Marami kaming natutunan sa kanya, na until now pina-practice parin pala nila iyong chief na `yun. Mayroon pa rin palang tribo-tribo dito kahitmodern na," Jef said.
Before leaving, Jef asked the chief if they could take somebananas back to the island. Justine used a bolo and got some bananas straightfrom the tree.
"Naisip ko sina Zuki and Shaun kaya nga nakapagdesisyon kami naiyong mga puwedeng iuwi sa camp ibigay na lang namin as gift sa kanila. Mostespecially si Zuki kasi siya iyong walang na take home tapos s'ya pa iyongpinakamabait parang awang-awa kami kay Zuki kaya naisipan namin s'yangpasalubungan," Jef said.
SPEED! Charles and Amanda wore their life vests.They rode the jetski like pros and chased one another.
"Exciting! Kasi I love speed, saka free ka, saka medyo nakalimutanko na nasa Survivor ako. Nakalimutan ko na lahat ng hirap, lahat ng gutom,lahat ng everything parang ang feeling ko totoong tao na naman ako," Amandarecalled.
After the adventure, the two enjoyed their snack of clubhousesandwich, fries and strawberry shake. Charles even talked to a Pinay who servedat their table.
BURNED! Back at the Sonsorol Camp, Shaun andSuzuki decided to burn all the evidence that they had already found theimmunity bracelet. Shaun said that it wouldn't matter if they didn't get anybig reward as long as they would stay longer in the game because of theimmunity they found.
ADVERTISEMENT - CONTINUE READING BELOW
Shaun : "Anong gugustuhin mo, kumain kasamaiyong Presidente at may limpak-limpak na pagkain o tumagal ka sa isla atumabot tayo sa final two?"
Suzuki: "Tumatagal-tagalsa isla."
While preparing their food, Suzuki accidentally got his foot scorched with hot water. He screamed and submerged his feet in the water.
Amanda and Charles arrived back in their camp. Amanda promisedSuzuki that she would give him and his girlfriend a treat once they go back toManila.
"Para medyo maalis 'yung guilt ko, kasi nga parang sumobra namaniyong reward namin, tapos s'ya wala. Ano kaya gagawin ko kay Zuki para you know,to make myself feel better and at the same time, para mai-share ko 'yungnangyari, sabi ko sa sarili ko," Amanda promised.
Later, Amanda asked the guys if they got a tree mail about thehidden immunity. Shaun and Suzuki denied it.
Amanda: "Nag-checkkayo ng tree mail? May dumating bang mail tungkol sa ano, immunity bracelet?"
Shaun : "Wala. Wala."
Amanda: "Walarin."
Suzuki : "Ewan kokung saan dito."
Charles: "Kahit nanaman mabigay ng–"
Suzuki : "Nakakapagod."
Amanda: "Sinobang hindi napagod? Susuyurin ko kaya 'yang ano na 'yan, hanap talaga ako nang hanap."
But Amanda didn't believe Shaun.
"Tapos tinanong ko na lang si Shaun, like may nakuha ba kayongtree mail? Like may binigay ba sa inyong clue tungkol sa immunity bracelet? Walanaman daw so okay, wala. Di ako naniwalang 100 percent. E, siyempre talo ka na ngawala ka pang anything na consolation? So, di ako naniwala sa kanya, pero gustoko lang marinig mula sa bibig niya na hindi," Amanda said.
It was already dark when Mika, Justine and Jef returned to theircamp and their tribemates were already sleeping. The three woke them up andasked them to cover their eyes first before getting their surprise.
ADVERTISEMENT - CONTINUE READING BELOW
The three girls then handed out the muffins to their tribemates.Suzuki got two blueberry muffins. Suzuki was surprised and happy to receivethem. The castaways thanked them for the pasalubong. Justine then presented thenext surprise: a bunch of bananas.
The tribe mates talked about their day before it ended.
"Sobrang masaya iyong atmosphere at hindinaman namin na feel na galit si Shaun or galit si Suzuki sa amin. Parang eagerdin sila na marinig iyong mga istorya namin," Mika said.
For most of the castaways, it was aperfect day.


Survivor Philippines Palau airs weeknights on GMA-7 right after Rosalinda.