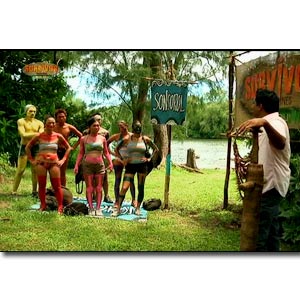 ---
Amanda gotthe tree mail in Survivor Philippines Palau that morning. It brought Jumbo's message, the dog that becameJustine's only companion in Isla Purgatoryo for fifteen days and eventuallyjoined the Sonsorol tribe.

Amanda: "Sabi ko sa inyo meron, e! Ayun ang kasagutan. Handana ba kayo?"
Justine: "Sige basahin mo."
Amanda: "Wala na si Jumbo. Kaya pala ilang araw na natinghinahanap si Jumbo. 'Yun iyong main trabaho ni Jumbo. Ikaw."

Then Justine took and read the message.

"Ako nalungkot ako personally kasi nakasama ko s'ya tapos sasabihin sa mail nanagpapaalam na s'ya so talagang malungkot," Justine said.

Suzuki shared Justine's sadness upon hearing Jumbo's leaving.

"Nalulungkot talaga ako. Kahit malungkot ako, kapag nasa tabi si Jumbo, parangna feel ko nang parang nawawala iyong stress," Suzuki recalled.

By the water source, Amanda, Jef and Charles talked about their votes for thenext tribal council.

Jef : "Teka lang, sinongboboto mo?"
Charles: "Justine."
Jef : "Justine?"

Mika then joined Jef and Charles. The "sexy chef" was still undecided about hervote.

Mika : "So basta, all the boys ba? Or ikawat si Suzuki lang? Or si Shaun din?"
Charles: "Si Shaun?"
Mika : "Si Shaun din nga no? Sinabi n'yasa'yo? Si Justine din?"
Jef : "Si Justine kasi hindi syamakasundo sa tribe?"

Meanwhile, Suzuki and Shaun walked in the forest and talked who should use theimmunity bracelet they found together.

Shaun: "'Pag nanalo ako ng immunity e di sayo na iyongbracelet."
Suzuki: "Oo."
Shaun: "'Pag nanalo ka e di akin iyong bracelet."
Suzuki: "Oo."
Shaun: "'Pag walang nanalo sa'tin sa immunity 'yun angproblema natin. Pagbubunutan natin iyong bracelet."
Suzuki: "Ano kaya iniisip nila 'no. Tatanggalin nila ako oikaw no?"
Shaun: "Paano kaya 'yun. Kung isa sa'tin tatanggalin nila edi... Hay naku! Kailangan magawan natin ng paraan. Pwede ihain natin si ano.Bigyan natin ng option si Charles."
Suzuki: "Oo."

"Kasi sa 'kin kaya gusto ko nang matanggal si Justine, una, kasi, deservings'yang manalo, maging Sole Survivor. Pero ang sa akin kasi, kung mayroon mans'yang gustong i-prove sa Survivor, nagawa na n'ya 'yon. Noong tinalo n'yaiyong anim, tapos na. Kung anuman iyong gusto nyang i-prove, nai-prove na nyayon," Shaun said.

Mika then asked Charles if Shaun and Suzuki had already found the immunityobject.

Mika : "Charles may tanong ako, walatalaga sa boys nakahanap nung immunity?"
Charles: "Wala. Promise."

Meanwhile, Jef was having second thoughts about the girls' alliance.

"Usually iyong decision kay Mika or Amanda nanggaling. Sad to say na wala akongmasyadong voice kung sino ang iboboto, mas more on nga kung ano sabihin nilasusunod lang ako. Pero nagagamit ko din s'ya na advantage sa'kin. Nakuha koiyong trust nila saka at least, mas gusto kong isipin nila na I just follow.Para in the end kapag lumaban ako hindi masyadong obvious. Ayoko nang makinigsa kanila kasi si Shaun talaga ang gusto ko, kahit na mag-Suzuki pa sila, Shaunang gusto ko," Jef said.


'TAKSIYAPO' CHALLENGE. Justine got and read the tree mail. The Castawayswere then asked to paint their bodies with the color they preferred.

Justine painted herself pink, green for Amanda, purple for Mika, black forShaun, brown for Charles, red for Jef, and finally, yellow for Suzuki.

Amanda described their individual designs.

"Kanya-kanyang design tapos tawa kami nang tawa sa isa't-isa. Si Jef prinsesang Africa. Tapos si Justine mukhang Teletubby kasi ewan ko kung ano pumasok sautak nya pero iyong pink n'ya 'yung tenga nya lang tsaka 'yung ilong n'ya, sosobrang comedy 'yung kanya. Tapos si Mika naman wala para s'yang AmericanIndian style. Iyong mukha ko pininturahan ko lang ng green, tapos yung katawanko dinrowing-drawingan ko lang. Si Shaun naman sabi n'ya Terminator.Tapos si Charles, lahat tinatadtad sarili n'ya ng mula ulo hanggang paa bronzes'ya wala s'yang iniwan na spot maliban sa mata nya, pati lips nya bronze. Thensi Zuki nagmuka naman s'ya ano aborigine, cannibal." Amanda said.

Paolo welcomed the castaways at the site of their challenge.

Before explaining the mechanics of the game, Paolo took away Justine's immunitynecklace first.

The mechanics: There were seven bamboo posts, wherein seven plates wereattached that correspond to the colors of the castaway's war paints. Thechallenge had three rounds where the players would be given ten chances tothrow rocks and break the plates of the other castaways. At the end of threerounds, the castaway with the most plates left, would take back the immunitynecklace. There would be a tie-breaker if necessary. Each castaway were given asmall sack where they could get the ten stones.

Shaun was seen talking to Mika before the start of the game. Mika, Amanda,Justine and Jef then whispered to one another.

"Bago kami nag-umpisa, gusto niya sana kasi gusto nila na hindi mapunta iyongimmunity kay Justine so ang sinabi niya sa akin na secret na unahin natin siJustine kasi ang alam ni Shaun, faithful pa rin ako sa kanya," Mika said.

But Justine also had Shaun as her target.

"Ako kasi talagang ang sabi ko, iyong black, si Shaun ang pupuntiryahin ko,"Justine said.

Shaun and Suzuki also talked about their main target.

"So nangyari noon, usapan lang namin ni Zuki kasi ang target nga na tanggalinnoon, si Justine, so usapan namin, unahin na lang iyong plate ni Justine, 'yungkulay pink," Shaun said.

However, Shaun was caught unaware that the girls already had their mind setagainst him.

"For immunity, Survivors ready, go!" Paolo signaled.

The throwing and breaking spree began. Charles hit the yellow (Suzuki's) plate.Jef hit her own red plate. Amanda meanwhile was targeting the black (Shaun's)plates. Shaun was obviously aiming for Justine's pink plates. Suzuki hitAmanda's green plate. Mika hit Charles' brown plate. Obviously, Shaun andJustine were going for each other's plates.

"Ang pinuntirya ko talaga na as in hindi ko na dapat itago ay si Shaun talaga,"Justine admitted.

"Halos nagtatamaan talaga ng plates na obvious na obvious is si Justine tsakaako, makikita mo na black ang pinupuntirya niya at ako iyong pink angpinupuntirya ko 'yung plates niya," Shaun said.

But Amanda's plates were also smashed one after the other.

"Initially na-disappoint ako noon, nagulat ako, 'whoa!' Ba't nawawala na iyongplato ko, wala naman akong kaaway dito a? Pero at the same time, okay lang.Hindi ko naman inaatim na makuha yung necklace, e, basta hindi si Shaun angmakakuha, masaya na ako," Amanda said.

After rounds of smashing plates, Amanda and Shaun only had one plate each andJustine had two plates. Paolo declared that there was a triple tie betweenMika, Charles and Suzuki.

At the tie-breaker round, there were five plates colored yellow, brown andpurple. The three players had ten stones again. Suzuki and Charles both aimedfor Mika's purple plates.

"Ready, aim, and throw!" Paolo signaled.

"Nagdecide ako na tumapat ako sa plato ko para hindi nila matamaang dalawa perokami ni Suzuki nag-ganunan lang kami, meaning kakampi ko si Suzuki that time,"Charles said.

The smashing continued. Mika missed a couple of shots, while her plates werehit one by one. With one stone left to use for each of the players, Paolocounted the remaining plates--three remaining plates for Suzuki, four forCharles and two for Mika.

When there were no more stones left to throw, Paolo declared that Charles wonthe immunity.

Charles said that it was his dream coming true. Suzuki and Charles then huggedone another before Paolo gave the immunity necklace to the "raketista."

Paolo then gave an important announcement regarding the hidden immunity object.

"Si Charles ay hindi pwedeng iboto sa tribal council bukas ligtas siya. Tatagalpa ng ilang araw pa sa isla and you're guaranteed one of 6 shots for 3 millionpesos. Okay, ilang reminder lamang, alam naman nating lahat na meron tayonghinahanap na hidden immunity object, meron na lang kayong hanggang final 5upang gamitin ito. Ibig sabihin tribal council tomorrow and the next tribalcouncil, pagkatapos nooon, wala nang bisa ang immunity object kung maymakahanap man sa inyo," Paolo said.

But Suzuki knew the repercussions of Charles winning the immunity necklace.

"Nararamdaman ko talaga iyong plano namin si Shaun, parang sira na," Suzukisaid.

For Justine, Charles getting the immunity gave her a sense of relief.

"Noong si Charles iyong nakakuha ng immunity masaya ako, kasi kumbaga para bangmedyo natutupad na iyong plano ko, naiisip ko na kung sino iyong matatanggalkahit papaano," Justine said.


THE SECRET IMMUNITY. After the challenge, the Sonsorol tribe went backto their camp and their first goal was to wash the paint off their bodies.Justine rubbed Amanda and Mika's face to get the paint off. Charles rubbedSuzuki's face and back. Suzuki even gave Charles a peak of his behind.

Later, while Suzuki was hanging his clothes, Jef approached him and asked abouthis plan for the tribal council.

Suzuki: "Madami kayo e, nahihirapan kami."
Jef : "Nahihirapan ka? Bakit wala bakayong usapan? Siyempre meron kayo ano? Lolokohin mo ba ko?
Suzuki: "Ha? Ha?"
Jef : "Siyempre may usapan din kayong mgaboys."
Suzuki: "Nahihirapan kami. Konti lang kasi kaming mgalalaki."
Jef : "So may usapan kayo?"
Suzuki: "Pero wala kaming usapan na parang... Iniisip langnamin na natatakot kami. Kailangan mananalo kami sa immunity. Ganoon."
Jef : "Hindi ko alam, naguguluhan akoZuks."

Jef admitted that she wanted to save Suzuki.

"Gusto ko kasi na masave si Suzuki so tina-try ko sabihin sa kanya na i-save nan'ya 'yung sarili nya," Jef said. "Honestly, sa tingin ko walang diskarte siSuzuki. Parang ang ano ng heart niya, e. Wala talaga s'yang alam sa laro. Sakamabait kasi siya, e. Walang masamang timpla sa kanya, e," she added.

Suzuki then told Charles and Shaun that Jef was already getting confused. Theytalked about their plan for the tribal council taking into consideration theblood pearl.

"Isusunod namin after Justine si Mika, if ever. Kasi ang kinakatakot ko naman'pag si Justine iyong natanggal, 'yung pula na bola ibibigay niya sa akin," Shaunsaid.

Elsewhere in the camp, Amanda and Mika were seen cooking up their votes for thetribal council. Mika had a feeling that Shaun already obtained the hiddenimmunity object.

"Talagang gusto namin si Shaun, pero sobrang gamble nga kung si Shaun ang unangi-vote-off namin kasi kung nasa kanya nga iyong bracelet, iyong pangalawang masmaraming votes 'yung ma-vo-vote-out. E, alam naming yung vote ng mga boys is, siJustine," Mika said.

Later Mika warned Charles that the immunity object could have been alreadyfound by either Suzuki or Shaun,

Mika : "Sinabi na sa'yo? Na nahanapnila?"
Charles: "Hindi."
Mika : "Hindi."
Charles: "Nasa kanila na?"
Mika : "Pero hindi ko alam kung na kayShaun or na kay Zuki."
Charles: "Paano mo nalaman?"

"Kasi I'm sure with Shaun, alam niya na close kami ni Charles so baka hindiniya nga sinasabi kay Charles," Mika said.

Later, Charles confronted Suzuki if they already found the hidden immunityobject. Suzuki insisted that they haven't found it yet.

Charles: "Hindi n'yo pa ba nahahanap iyong immunity ano?Mahirap talaga hanapin?"
Suzuki: "Mahirap. Naghanap kami kahapon ni Shaun?"
Charles: "Wala talaga kayong nakita?"
Suzuki: "Wala talaga."
ADVERTISEMENT - CONTINUE READING BELOW
Survivor Philippines Palau
airs weeknights on GMA-7 right after
Rosalinda.