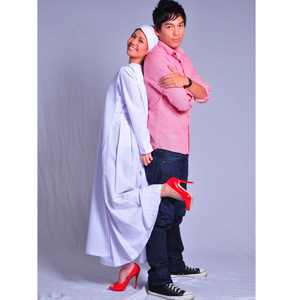 ---
After working together in Bud Brothers, Guji Lorenzana and Kaye Abad have become morecomfortable with each other--something that is evident in their latest ABS-CBN projectPrecious Hearts Romances Presents Somewhere in myHeart.

Guji recently shared that he is attractedto Kaye while Kaye admitted that she likes being with Guji. The love teampartners express their gratitude for their supporters. In fact, according toKaye, they even have a fans club who surprised them with a 'meet and greet'event complete with an online webcam for their fans abroad.

Even the program's directoradmits that the two have, without a doubt, great chemistry, on and off cam."Bagay kasi sila, physically tapos yung personalities din nila, swak." Whenasked whether Guji and Kaye are more than just friends, Direk Cathy answered with a smilebefore saying, "Hindi ko alam."

In the latest episodes of Somewhere in my Heart, thepaths of Aaron (Guji) and Femi (Kaye) cross again in a reunion. But Femi showsup at his door wearing a nun's habit. How will the heartthrob react uponlearning that his free spirited friend is a nun? What will happento the romance that Femi is longing for?

Under the direction ofCathy Garcia-Molina, don't miss Precious Hearts Romances Presents Somewhere in my Heart, which airs on ABS-CBN every weekday afternoonat 5:15 pm.