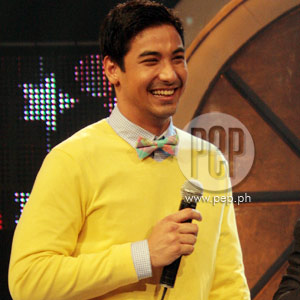 ---
Celebritysinging competition Celebrity Duets 3held its second non-elimination night last Saturday, October 24. After boxingchamp Nonito Donaire, Jr. was voted off last week, five celebrity contendersremained in the competition: perfume line owner Joel Cruz, actor and concertproducer Jomari Yllana, fashion photographer Niccolo Cosme, actress anddirector Gina Alajar, and Brazilian-Japanese model Akihiro Sato.
Thetheme for the night was OPM--homegrown music popularized by local artists andmusicians.
Businessmanand Aficionado owner Joel Cruz kickedthe night off with Pinoy novelty music, singing Joey de Leon's collaboration withSexbomb and one of Eat Bulaga's past staplesongs, "Itaktak Mo." Wearing blackcheerleader costumes and pigtails, Joel and duet partner, comedian John "Sweet"Lapus, incorporated Sexbomb's original choreography into their performance.
Afterhis number, the entrepreneur confessed that he had a difficult time synchronizinghis singing with the original dance steps.
Stagedirector and judge Freddie Santos liked his performance, nonetheless. "Pinupuriko yung poise ni Joel, intact, kahit yung boses labas pasok dito sa studio," hesaid. Composer and fellow judge Danny Tan was all praises, as well. "Yan angtinatawag sa performance na may presence of mind," he observed, noting thatJoel enjoyed his own performance. "Good energy," he continued. "It was a goodway to open this show. And nag-enjoy kami sa performance ni Joel."
ADVERTISEMENT - CONTINUE READING BELOW
Celebrityjudge and socialite Tessa Prieto-Valdez echoed the same opinion and even recalledJoel's pose for his finale, "Ang galing mo mag-split. This is what you calltotal performance. There's singing, dancing, and exposure ng flesh!" exclaimedTessa, referring to Joel's exposed belly. "I love it! You've begun thiscompetition na pareho ang form mo lagi, but ngayon, my god. Over naman!" shelaughed. "Pero okay lang, very entertaining. Keep it up!"
Actorand now concert producer Jomari Yllanawent for OPM Rock and chose the Eraserheads classic, "Ang Huling El Bimbo." Singingwith one of OPM's pillars, Rico J. Puno, Jomari appeared in a pair of blackflared pants matched with a black turtleneck with sparkling silverembellishments.
Tessalabeled Jomari "Mr. Cool." "Parang mas cool ka pa kay Rico J. Grabe, ang galingmo. All the contenders from the beginning 'til the end, ikaw lang yungpinaka-swabe. Super low tension, enjoying, flowing. You're gonna flow to thefinals," she predicted.
ADVERTISEMENT - CONTINUE READING BELOW
DannyTan agreed. "Napansin ko lang, ikaw yung one of the few na talagang mayconfidence on stage. 'Pag pasok pa lang, confident." Then the composer threw insome constructive advice. "Sa boses naman, may konting gigil. Sobrang gigil attimes," he noted, saying that the tune tends to be compromised sometimes. "Otherwise,kapag hindi pinupush ng husto, perfect ang pitch. Bantayan mo lang na huwag masyadong sobrang gigil."
JudgeFreddie added, "Linggo-linggo mas gumagaling na gumagaling siya. Which means, conscioussiya kung anong ginagawa niya the previous week. It's not about being the best,it's about being better," he said, after jokingly calling Jomari's costume"isang higanteng laser disc".
Itwas '80s disco for fashion photographer NiccoloCosme, who sang Regine Velasquez's "Urong Sulong" with Sugar Pop alumnaJulie Ann San Jose. This week, Niccolo appeared in a golden jacket and amulti-colored striped top that matched Julie Ann's equally vibrant '80s-inspiredskirt.
ADVERTISEMENT - CONTINUE READING BELOW
Whenhost Ogie Alcasid asked the photographer how he felt during the performance,knowing that the Songbird herself watched him perform that song, Niccoloreplied laughingly, "Nainis ata siya, 'e." To this, host Regine quipped, "Masmaganda [kasi] yung version [ni Niccolo].
JudgeDanny was impressed. "Si Niccolo is one of the very few na talagang born toperform on stage. Very comfortable siya," he threw in a compliment. "Sa lahatng performances niya, ito yung naiiba for me. Kasi very light ang aura niya ngayon,nakasmile siya. Hindi siya masyadong seryoso. Ang sarap panoorin. Nagenjoy ako."
"Forthe first time, lahat kami naka-smile," seconded Tessa. "It was so light. Thisis the first time na talagang enjoy! And this is what you're supposed to bedoing, enjoying the whole time. Wonderful performance."
"Ginawamo itong napaka-gaan, at napaka-bagay sa iyong kanta," added judge Freddie,after comparing Niccolo's look to Kuya Germs. "Sayang lang sumasablay ng kontiyung key. Pero okay lang kasi, for once we saw you smiling. You're getting toreally enjoy this, and we're very glad about it," he said.
ADVERTISEMENT - CONTINUE READING BELOW
Multi-awardedactress and director Gina Alajarchanneled the Manila Sound vibe this week with her performance of VST and Company's"Awitin Mo At Isasayaw Ko" with actor Ricky Davao. The singing duo relived thedisco era with their costumes - Gina in a printed dress, boots and frizzy ponytailedhair, and Ricky in a disco outfit ala Saturday Night Fever.
Despitethe judges giving credit to Ricky Davao's attempt at a disco costume, theyweren't as impressed with Gina's number. "I like your other performance betterthan last time," said Tessa, recalling last week's number. "Mas feel mo yun. Thisone you're catching your breath. But otherwise, it's a good performance." DannyTan agreed but still called Gina's performance "engrossing" and Gina, a "greatperformer."
JudgeFreddie appreciated the duo's swing dance, saying, "walang biro yung kumanta'tsumayaw ng sabay." The fact that Gina memorized her lyrics and didn't need tolook at the teleprompter also pleased the stage director.
ADVERTISEMENT - CONTINUE READING BELOW
Lastfor the night was Brazilian-Japanese model AkihiroSato who pursued an OPM classic, Labuyo's "Tuloy Pa Rin" with singer GinoPadilla. The duet partners wore black vests and danced along to the upbeatmelody, as Akihiro struggled with the song's Tagalog lyrics.
Afterhis performance, judge Tessa was pleasantly surprised. "Your Tagalog is betterthan mine," she laughed. "You have a disadvantage here, because you don't speakour language, but ang galing. It came out so cute," she said. "You're reallyenjoying, and your voice has gotten better. The timing, everything, masmagaling, grabe. So cute!"
DirekFreddie was speechless and just said, "The turning-turning," noting Akihiro'sdance step that involved a 180-degree turn. "It's not going out of my mind." Tothis, host Ogie Alcasid quipped and told Akihiro, "He couldn't say anything,because he thought it was great."
MaestroDanny found the performance funny "because the way [Akihiro] moves, iikot siya,parang de-susing Japanese doll," he laughed. He also said that he was surprisedat how Akihiro was able to pull off a Tagalog song. "Kasi the first time he performedhere, walang ka rhythm-rhythm. Walang ka-tiyempo-tiyempo. Tapos yung piniliniya, may tiyempo. Ang laki ng improvement! Kahit yung movements medyo saliwa,pero yung pagkanta niya nasa tiyempo. Huge improvement. And you're enjoyingyourself," he told Akihiro.


In a previous interview with PEP (Philippine Entertainment Portal), Akihiro said that this singing competition has helped him to show his true personality on air. (CLICK HERE to read related article)
ADVERTISEMENT - CONTINUE READING BELOW
Nextweek, the five contenders will have a costume party in celebration ofHalloween. What will each contender wear? And who will leave next week? Findout on Celebrity Duets 3, airingevery Saturday on GMA-7 after PinoyRecords.