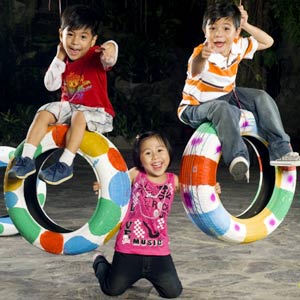 ---
Children have something to look forward to on Saturday mornings as ABS-CBN News and Current Affairs introduces its newest kiddie show Kulilits, featuring the brightest child stars in the nation today.

The "Kulilits" are Goin' Bulilit kid Cha-Cha Cañete, 2009 Star Circle Grand Kid Questor Bugoy Cariño and his runner-up, the five year-old Izzy Canillo.

The three will be hanging out in a playhouse where they will learn different lessons every week from basic reading and mathematics to new songs and dances. More importantly, they will also learn good values because a true "kulilit" does not only have a sharp mind but also a kind heart.

This Saturday (October 31), Cha-cha, Bugoy, and Izzy will appreciate the value of helping one another as they create a Halloween costume for Cha-cha. The "Kulilits" will also do the rounds for some trick or treat and will even learn a magic trick!

So mommy and daddy, join your kids as they count down the days to their first bonding with the Kulilits this Saturday (October 31), 9:45 a.m. before Showtime on ABS-CBN.