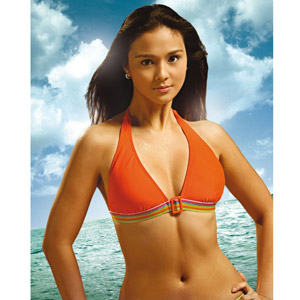 ---


For the past few days, there have been rumors that Jef Gaitan, dubbed The Girl Next Door, is the winner of the GMA-7 reality show Survivor Philippines: Palau. In the latest episode of the show hosted by Paolo Bediones, there are five remaining castaways: Mika Batchelor, Justine Ferrer, Amanda Coolley Van Cool, Jef Gaitan, and Charles de Vera Fernandez.

The former girlfriend of singer Nyoy Volante, Jef is a 22-year-old print and commercial model. She is currently being linked to fellow castaway Marvin Kiefer but the two have categorically stated that they are not yet a couple.

Here is the official statement of the Kapuso Network regarding rumors circulating on the Internet and picked up by tabloids and other publications:
"GMA Network's News and Public Affairs (N&PA) department and the management of Survivor Philippines: Palau assure the public that the succeeding episodes of the hit reality show remain confidential and leakage-proof.

Hearsays and rumors are currently being circulated pinpointing female castaway Jef Gaitan as the Sole Survivor of SP this season. Though picked up by the print media and published in several tabloids, these are mere predictions which are unofficial and devoid of truth.

However, should Gaitan be proclaimed as JC Tiuseco's successor and be the first Pinay Sole Survivor, she can rightly merit the title for her subtle, uncanny style of playing the game.

Still, up to this time until the show's final airing, no credible source can be quoted for the results of SP: Palau. The outcome is held in strictest confidentiality, and will only be disclosed at the appointed time.

The official tally of votes and announcement of winner shall be held on SP: Palau's finale episode which will go live on November 13, 2009."
ADVERTISEMENT - CONTINUE READING BELOW