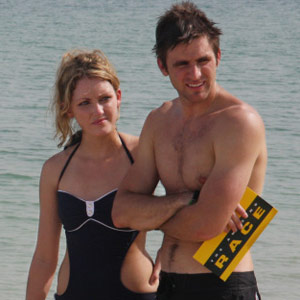 ---
FEAR OF HEIGHTS AND WATER LED TO ELIMINATION. They were not lagging behind the teams of The Amazing Race 15 in Dubai. In fact, Mika Combs and Canaan Smith were way ahead of the Harlem Globetrotters, until they reached the Atlantis Aquaventure Park, where they had a problem doing the Leap of Faith.
Each member had to take the 200-feet-high water slide, pass through a tunnel beneath a lagoon of sharks, and then find their next clue. Canaan tried to convince Mika to overcome her fear of water and heights, and at one point tried to force her to take the slide, but without success. The Globetrotters eventually caught up with them. The newly dating couple did not complete the task, went to the pit stop, and got eliminated.


Now, six remaining teams will leave Dubai and travel to the Netherlands. Find out what will make Ericka break down. Six teams continue the race around the world in hopes of winning the $1 million jackpot prize. Who will be eliminated next?


Find out in the next live telecast of The Amazing Race 15 on Monday (November 2) at 8 AM with primetime telecast every Thursday at 8 pm.
ADVERTISEMENT - CONTINUE READING BELOW