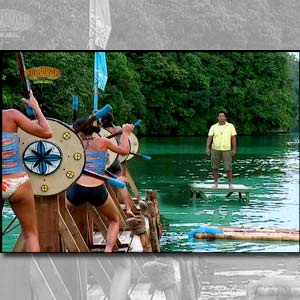 ---
Later on their 35th day on Palau, Survivor Philippines castaway Amanda noticed that Jef somehow changed and became more distant.
Amanda: "Naninibago ako kay Jef, nawi-weirduhan ako kay Jef."
Jef : "Bakit?"
Amanda: "Ewan ko, nakakatakot ka."
Justine : "Bakit?"
Jef : "Hindi daw ako sweet ."
Amanda: "Iba siya ngayon, sa 35 days kaming magkasama."
Justine : "Ako rin, kaya kita nilapitan kasi parang iba ka, sabi ko Charles sundan mo nga 'yun."
Jef : "Nagdasal lang ako, anong masama doon?"
Later Jef, talked to Charles. Charles confirmed that he was next to be voted off, followed by Jef then Justine according to the BFF's plan.
Charles: "Hindi nila naisip iyong apat sa 'min, galit sa kanila, tig -isa sa kanila."
Jef : "Lagi naman ganun iyong dalawang 'yan eh. Alam mo hindi ako badtrip sa jury. Hindi badtrip sa tribal. Sa kanila talaga ako bad trip, sinasabi ko na doon para hindi nila mahalata sa kanila ako naiinis."
Jef finally got upfront with Amanda and told her what she really felt.
Jef : "Masama 'yung loob ko sa inyo ni Mika."
Amanda: "Bakit?"
Jef : "I always knew naman na kung mayroon kayong ilalaglag and then na-confirm ko siya last night parang ang hirap pala noong feeling na malaman mo 'yung totoo. Parang sana na lang sana hindi mo na lang narinig pero okay lang, it's not naman nagalit ako. It's just nahirapan lang ako na narinig mo 'yung totoo."
Amanda: "Sorry Jef kasi..."
Jef : "'Wag ka magsorry desisyon mo yan e."
"Hindi ko sinasabing weak siya pero dahil sa pag-underestimate sa capability ni Jef so alam ko si Mika tatagal pa, hindi pupuntiryahin agad. Hindi siya sobrang strong hindi, siya sobrang weak kaya siya iyong pinili ko. Gugustuhin ko ba ang taong makasama ang taong gustong tanggalin ng lahat o 'yung taong hindi," Amanda said.
ADVERTISEMENT - CONTINUE READING BELOW
Amanda : "Lagi mong sinasabi basta pag tinanggal niyo na ako, lagi kang ganun so I didn't expect na you really really wanted at the top."
Jef : "No hindi 'yun."
Amanda: "At this point we're such a small group. Ayoko magka-hate-hate tayo, magkasama tayo ng loob gusto ko, we all play this game equally and fairly in this type of game."
Amanda was trying to keep the peace between them.
"Ayoko mawala iyong bonding maski si Justine kinausap ko, like ayoko mawala kasi feeling ko, biruin mo five na lang tayo magkakagalit pa tayo lahat ng plano natin mangyayari kapag uwi natin ng Manila," Amada said.
While they were at the shelter, eating before the reward challenge, Amanda asusured Justine that the jury could be most in favor of her.
"Buti pa si Justine isa lang ang nagagalit sa kanya, ikaw iyong pinakalike nila, walang negative vibe," Amanda told her.
Justine hoped that she would keep it that way.
"Kaya wala akong kinakatakutan kung mapasama man ako sa top 2 harinawa, kahit sino lang ang mapasama ko. May kumpiyansa ako sa sarili ko na yung itinanim ko, nagbunga na. Salamat sa Diyos na kahit papaano wala akong masyadong nasaktan at hindi nila ako nakitang talagang nakasakit sa kanila," Justine said.
The "Closer you and I" Challenge
Later on their 35th day on the island, Charles took the message from the tree mail. It said:
"Gusto niyo bang matutong magdrive, sweet lover ba ang iyong arrive, malayo kaya ang marating ng iyong manibela ,libre ang sakay hindi kailangan ng barya."
The castaways then left the camp and Paolo then welcomed them castaways to the site of their individual reward challenge.
But before Paolo explained the mechanics, he first introduced special individuals who would help out each of the castaways to perform the challenge.
ADVERTISEMENT - CONTINUE READING BELOW
First was Mika's father, Mike Batchelor who rushed towards her and hugged her.
For Amanda, Paolo introduced the person who took her to the airport, Jovell Abogador, the husband of Mika's cousin.
According to Amanda, Jovell's wife is her favorite cousin that's why they became really close as well.
Next to come in was Jef's bestfriend, Jolly Uy-Chua.
Jolly described Jef when she saw her that she looked like a "taong grasa" (a grimy vagrant).
Paolo then called on his bestfriend, Fiona, whom Charles rushed and jumped at.
"Para akong tanga, sobrang saya, para akong nakawalang aso," Charles recalled his reaction.
Fiona described their relationship as very close that people sometimes look at them as a couple.
The last to be called was Melody, Justine's aunt and they hugged each other tightly.
Paolo said that the reward would be an overnight stay on one of Palau's most popular five-star resorts, which include a luxury room, buffet, breakfast, lunch, dinner, a swim with the dolphins the next day and a visit to a "Rose Garden" where they would feed a school of huge fish. There is also an additional reward, which is an enchanted scroll.
The mechanics: At Paolo's signal, a castaway would be positioned on one raft while their partner would be on a raft on the other end of the course. The castaway would paddle his/her way using only his/her hands. They would untie the knot on each of the six steering wheels until they make it to their loved ones. When the loved ones reach the end, they would place the pieces of steering wheel and steer it. The castaway's partner would untie the knot on the raft. The first loved one to stand on the platform wins the reward challenge.
ADVERTISEMENT - CONTINUE READING BELOW
Paolo : "For reward, time to spend with the loved one, Survivors ready, loved ones ready, go!"
The loved ones started untying the ropes of their raft, at the same time that the castaways are paddling their way. The rafts of Jef and Charles wouldn't nudge.
Amanda reached the first wheel key and got it. Justine and Mika got to the first wooden post while Amanda reached her third.
Jovell and Mike untied their knots. Mika, Justine and Amanda were neck and neck.
Jef meanwhile remained stuck as Jolly cheered her on.
Amanda got to her fourth and fifth station. Melody untied her raft, while Justine swam along with hers. Jolly and Melody cheered on for their partner castaways. Charles got stuck as well.
As Amanda got closer, Jovell was still having difficulty untying the rope. Mika was at her third base. Amanda then placed the wheel pieces on her wheel.
Mika and Justine got to their fifth wheels. Charles and Jef remained stuck. Mika was screaming out of frustration.
Amanda jumped to the water when her wheel dropped. Jovell was nearing Amanda.
Justine was getting near her platform. Mika started steering her wheel. Mike and Melody were approaching their castaway partners. Charles already formed the pieces. Jef was still stuck.
"Amanda and Jovell win reward!" Paolo declared. Amanda and Mika hugged one another.
"Nakita ko iyong frustrations ni Mika, nakita ko sa mukha niya. Naisip ko nga iiyak na siya e. Sobra siyang upset sobra siyang nagagalit, naiinis siya," Amanda recalled.
Paolo then told Amanda to step forward. He commended her for winning the last individual immunity challenge, then the reward challenge. Paolo asked Amanda to bring a castaway and her/his loved one to the resort.
"The farthest that traveled I think is 'yung dad ni Mika. So I think I'll choose the dad of Mika," Amanda said.
ADVERTISEMENT - CONTINUE READING BELOW
Jef was visible jealous.
"Ang dami-dami niyang I love you sa 'kin, pero bakit noong nagpilian si Mika pa rin 'yung pinili niya? Parang it was her chance na love niya ko saka alam niya na kung gaano ko ka-miss si Jolly di ba so para bigyan ng chance to spend time with Jolly and her, pero hindi ko alam e. Sobrang ayoko nang maniwala sa kanya," Jef said.
Jolly also shared her disappointment.
"Noong nanalo si Amanda, I was hoping na kami iyong pipiliin niya like si Jef 'yung pipiliin niya. Kasi prior to that si Mika na 'yung pinili niya. Medyo na-feel bad din lang din ako for Jef kasi I know how she feels. Alam ko na-fefeel ni Jef siguro selos na bakit hindi siya," Jolly said.
Paolo then handed to her the "magic scroll." Amanda opened it. She read: "May pagkakataon kang ipalit ang oras mo sa loved one sa isang immunity bracelet. Magagamit mo lang ito sa susunod na tribal council."
But Amanda refused to exchange her reward for the immunity bracelet. She said that she would rather take the time to spend with Jovell.
"Mika and Amanda are off sa kanilang vacation. Babalik sila sa darating na immunity challenge. For the mean time, wala na kong mabibigay na reward sa inyo. Say goodbye to your loved ones, pwedeng magyakapan. You can say your goodbyes," Paolo announced.
The losing castaways contented themselves with hugging and saying goodbye to their loved ones.
"Noong dumating si Jolly tapos ang dami-dami niyang sinabi, doon ko na-feel na dapat nasa kanila 'yung motivation ko. Silang nag-aantay sa 'kin, silang totoong kaibigan ko na nandiyan for me," Jef said.


PEP PROMO. Two lucky PEPsters will have the chance to personally meet the Pinoy Sole Survivor. Registered users of PEP (Philippine Entertainment Portal) have until November 13, 2009 to enter their vote. CLICK HERE to join the online promo.
ADVERTISEMENT - CONTINUE READING BELOW