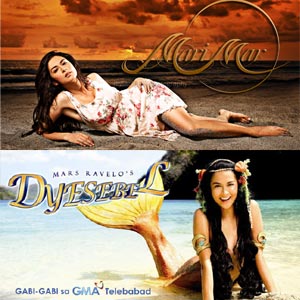 ---
A briefing for investors was held yesterday, November 5, led by GMA Network EVP and Chief Operating Officer Gilberto R. Duavit Jr., GMA Network Chairman, President and CEO Atty. Felipe L. Gozon, GMA Network Chief Financial Officer and SVP for Corporate Services Group Felipe S. Yalong.
Kapuso executives announced that the Network remains on track in reaching its year-end target. Based on a report furnished by the Corporate Communication department, GMA-7 reportedly finished the first nine months of 2009 with a 10-percent increase in net income versus last year.
The officials also disclosed that the company's net income jumped to P2.149 billion from the P1.961 billion netted in the same period in 2008.
The top executives detailed the figures as follows:
Gross revenues for the first nine months went up by 7% to P10.025 billion.
Airtime revenues from TV and radio contributed P9.243 billion
Subscription fees from International operations and other revenue-generating activities of subsidiaries made P782 million.
Total operating expenses were kept to a single-digit growth of 9% to P5.555 billion. Production costs increased by 2% year-on-year to P2.922 billion.
They noted that general and administrative expenses (GAEX) increased by 18% to P2.632 billion "primarily due to the growth in personnel costs" since the company inked a 3-year Collective Bargaining Agreement in the third quarter. The said CBA reportedly included a "hefty signing bonus."
Nine-month earnings before interests, taxes, depreciation, and amortization (EBITDA) settled at P3.713 billion.
GLOBAL OUTREACH. The report claims that subscription revenues for GMA International jumped 54% over last year. They credit the revenue upswing to steady growth in the subscriber count of GMA-7's two international channels: GMA Pinoy TV (GPTV) and GMA Life TV (GLTV). Both channels are now available in the U.S., Canada, Europe, Middle East, North Africa, Australia, New Zealand, Japan, Guam, Papua New Guinea, Singapore, and Hong Kong.
According to figures provided by GMA-7, GPTV subscribers totaled 225,000 by the end of the third quarter, representing a 17% increase year-on-year. The channel has an estimated 1.1 million viewers worldwide. GLTV subscribers are now at 109,000 or around 600,000 viewers worldwide. GLTV has reportedly grown by 142% in terms of subscriber count since last year.
ADVERTISEMENT - CONTINUE READING BELOW
GMA Worldwide, Inc. (GWI), according to this mid-year report, has syndicated locally made programs to as far as Africa, Middle East, and Europe. GWI had a positive revenue contribution with P28.3 million worth of syndication sales in the third quarter, equivalent to 90% of its total projected revenues for 2009.
Just recently, GWI sold the rights of the Philippine adaptation of Marimar and Dyesebel to Kenya, Uganda, Singapore, and Malaysia.
GMA Network Chairman, President, and CEO Atty. Felipe L. Gozon was optimistic about the performance of the station in the near future. He stated, "We remain ahead of competition in terms of sales. Barring any major event that will affect the company's performance for the remaining months, I think 2009 will be another breakthrough year for the Network."
GMA FILMS. In the GMA-7 press statement, there was special mention made about the two films that were produced by GMA Films in the second half of 2009: Spoiled Brat The Movie starring Ogie Alcasid and Michael V, and Patient X topbilled by Richard Gutierrez and Cristine Reyes. Directed by Yam Laranas, the horror film Patient X is still being screened in cinema houses.
This December, GMA Films is expected to premiere its official entry to the 2009 Metro Manila Film Festival, Panday The Movie, led by Bong Revilla Jr. However, there are concerns that this film might not be shown because of the Comelec's ban on candidates appearing in TV shows or movies. (CLICK HERE to read related article)


RADIO COVERAGE. Citing AGB Nielsen figures for the 3rd Quarter 2009, the Kapuso Network executives also said that GMA Radio's DZBB remained ahead of DZRH in Mega. In Cebu, both the FM and AM radio stations of GMA ranked second overall. Barangay LS' Talk To Papa won the Best Counseling Program in the recently concluded Catholic Mass Media Awards.
ADVERTISEMENT - CONTINUE READING BELOW
According to Kapuso executives, the Network will continue its regional expansion projects to strengthen signal coverage in key provinces. The new five-KW TV Relay in Mt. Amuyao, Mt. Province which airs on Channel 5 was activated last October 12. Transmitters and antenna systems for TV-10 Sto. Tomas, Benguet, TV-12 Cagayan de Oro, TV-7 Naga City, and TV-12 Mt. Banoy, Batangas were likewise upgraded.
AUDIENCE SHARE. Meanwhile, GMA Network further claims that it has "sustained its lead" in viewer-rich Mega Manila and Total Urban Luzon based on data from AGB Nielsen Philippines in September.
GMA Network is said to have posted an average audience share of 40.5%, 8.6 percentage points higher than competition's 31.9%. Mega Manila TV households account for 49.3% of the National Urban Television Audience Measurement (NUTAM).
Among the top 30 programs in Mega Manila during the third quarter, 16 shows were from the Kapuso Network. Darna took the number one spot in the roster with its average household rating of 36.5%.
In Total Urban Luzon, which accounts for 77% of NUTAM TV households, GMA-7 managed an average audience share of 39% in September. The report from the Network's Corporate Communication department highlighted that their audience share for that month is higher by 4 percentage points compared to ABS-CBN's 35%.
AD MINUTES. In the document that GMA-7 submitted to the Philippine Stock Exchange, the Network discloses that advertising minutes saw a decrease by 6.6% in Q3 versus the same period in 2008. It also indicated that total industry advertising minutes among free-to-air TV channels went down by 5.8%.
It should be noted that the total advertising minutes referred to in the report represents the combined loading of Nielsen monitored FTA channels (ABS-CBN, GMA, QTV, TV5, C/S 9, SBN ETC, RJTV 2nd Ave, Studio 23, IBC and NBN).

This report prepared by Ari P. Chio, Vice President of GMA-7's Investor Relations, also claimed that the Network had a 2.1% drop in competitive ad loading, which is the total airtime (in minutes) taken up by TV commercials, for the first nine months of the year. In comparison, ABS-CBN had a 14.8% decrease during the same period, claims the GMA-7 report.
ADVERTISEMENT - CONTINUE READING BELOW