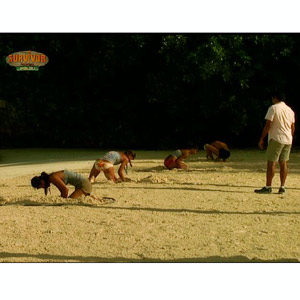 ---
On Day 37 of Survivor Philippines Palau, the five remaining castaways battled it out for immunity through the "Reach the Top" challenge. Each castaway had a tower assigned to them. The towers needed eight steps to form a ladder. At the signal of host Paolo Bediones, they would swim towards the color-coded markers in the sea. Below the markers are the ammo crates where they would open a padlock and get the planks from inside it. The planks would serve as the steps of the ladder. But to open the padlock, they must first look for the key buried in the sand. They must make sure that the planks would be placed on their right place through the tower. The castaway to reach the top first and let his/her flag rise up wins the individual immunity challenge.
They all scrambled to search for the key buried in the sand. Amanda Coolley Van Cooll was at the green station, Justine Ferrer at the blue, violet for Mika Batchelor, red for Jef Gaitan and yellow for Charles de Vera Fernandez.
Justine dug up a hole at her sand marker. But Amanda got her key only after a few seconds. She immediately swam her way towards the crate. Amanda got to her marker and dove to get to the crate. Justine was still digging around sand, looking for the key. Jef got her key next and ran towards the sea. Charles then found his key before Mika finally found her own key, which was just right under her nose. Justine was still digging.

Mika rushed towards the ammo crate marker while Amanda was diving and resurfacing several times. Amanda had difficulty untying her ladder steps from her crate.
While in the water, Amanda asked Jef if she was okay as the latter swam towards her marker.
ADVERTISEMENT - CONTINUE READING BELOW
Amanda: "Jef okay ka lang?"
Jef : "Hindi, help!"
Amanda: "Help daw si Jef, help daw si Jef!"
Paolo : "Jef! Kapitan mo 'yung marker na red, relax!"
Amanda: "Sige, calm down, calm down."
"Mikes, 'di ko na kaya!" Jef cried for help.
Mika swam towards Jef, reached out for her hand and took her to a safer spot.
"Naguilty at nakonsensya ako noong nirescue ako ni Mika kasi parang wala akong tiwala sa kanya. Plano ko s'yang i-betray so pero sa kanya pa ako humingi ng tulong," Jef recalled the incident.
Jef stayed on her red marker. Mika then swam towards her marker.
AMANDA'S THIRD STRAIGHT WIN. Amanda was first to get her ladder pieces stepped back to the shore. Mika followed using all her might to swim faster. While Mika was near the shore, Amanda was already trying to fit the ladder steps to the tower. Amanda got the first piece placed in the tower. Mika was untying her ladder pieces. Justine finally got her key and swam towards the marker.
Amanda already got two ladder steps and fitted their slots on the tower. Mika got her first.
Charles was diving from his yellow marker. Mika got her second ladder piece. Mika got frustrated fitting a ladder step on the second slot.
Amanda already got five pieces on the slot, Mika was on her fourth slot. It was a neck and neck battle for the BFFs.
Paolo : "Amanda on her way sa kanyang panghuling piyesa kung kasya yan, challenge could be over."
Amanda pulled the string and her flag rose up.
"Amanda wins immunity!" Paolo declared. Amanda was jubilant on top of the tower as she exclaimed, "Sinuwerte ako sa susi!"
Mika threw her ladder step out of disappointment. But the BFFs hugged each other after the challenge.
ADVERTISEMENT - CONTINUE READING BELOW
"Amanda, 3 challenges in a row and for the second time ang immunity ay nasa 'yo. Muli si Amanda ay hindi pwede tanggalin sa tribal council mamayang gabi. Hindi s'ya pwede tanggalin mula sa ating laro. Amanda mayroon kang 1-in-4 shot guarantee sa 3 million pesos," Paolo said.
Mika was emotional as she stressed that she was not blaming Jef for losing the challenge.
"Sore loser ako e. I have a hard time dealing with the fact of losing. Sa totoo lang gusto ko manalo, I wanted to do my best but timbangin mo buhay ng tao o challenge, so hindi ko ma-blame s'ya kung bakit ako natalo," Mika said.
JEF IN THE MIDDLE. The remaining Sonsorol tribe mates walked back to their camp. Jef thanked Mika for rescuing her.
Mika : "Girl, I'm sorry I can't bring you all the way to the buoy."
Jef : "It's okay, thank you, thank you, thank you."
Charles: "Ang importante walang nalunod sa atin. Tama si Mika, Jef, importante pa rin ang buhay."
Mika : "Like no matter sh*t, gusto ko I wanna do my best gusto ko pa rin manalo but dude if you're going to ask me for help, I'm not gonna tell you, 'no, I'm sorry. 'Di, mas importante 'yung game kaysa sa buhay mo."
Jef admitted that she felt Mika could use the rescue incident to be indebted to her.
"Feeling ko sasabihin n'ya 'yun dahil gusto nya ipamukha sa akin, ipamukha sa lahat na o 'I save your life so may utang na loob ka," Jef said.
Later, Amanda tried to straighten things out with Jef.
Jef : "Iyong about sa tayong tatlo?"
Amanda: "Like recently you're closer to Justine, it seems like were all moving apart. Hindi namin alam ni Mikes if you're still true to the three of us and I'd rather kasi, lima na lang tayo mas gusto ko na lang malaman, sabihin mo na lang straight up."
ADVERTISEMENT - CONTINUE READING BELOW
She also warned her against Justine.
Amanda: "Traydor si Justine. Magaling s'ya mag-manipulate, magaling talaga s'ya dahil nga mostly doon sa mga boyfriend, she can get anything she wants because she's the manipulator. She's dangerous. Manggagamit s'ya. Kaya take into consideration, isipin mo yun, like sa game ngayon lima na lang tayo we can't trust anybody in a sense but kami ni Mika... Mika and I totally trust you. Like at this point, ayoko na ng mga strategy."
Jef : "'Yun nga rin 'yung iniisip ko like last night yung pagbalik nyo, parang kahit gaano mo pa laruin ang larong ito in the end ang magma-matter 'yung mga naging kaibigan mo dito."
Amanda felt that Jef was not affected at all by her warning about Justine.
"Obviously, hindi siya masyadong concerned about it. 'Yun ang nararamdaman ko, parang wala lang," Amanda said.
For Amanda, honesty is her strategy at the present stage of the game.
"The whole time, I was like honest sa game na 'to. Mas madali maging honest, e, lalo na dito sa dulo. Sa una, mukhang okay pa magsinungaling mas madali pa pero dito sa dulo hindi na," Amanda.
But Jef got all the more confused.
"Hindi na ako sure anymore kung gusto ko pa magstay sa inyo kasi gusto ko ng alliance na pwede akong dalhin sa dulo na whether top 3 man 'to o top 2 madadala ako sa dulo at hindi ako 'yung planong ilaglag pag nagkaleche-leche na 'yung mga plano," Jef said.
Jef then asked in return, how far would the BFFs take her. Jef got the answer she always knew.
Jef : "Mands be honest, kung sa ating tatlo hanggang saan ako?"
Amanda: "You will be the third, and that's the truth."
JEF'S CALL. Finally, the original Airai girls got to talk and Jef was put on the spot. Mika was trying to convince Jef to stick with the original Airai alliance, like what she and Amanda had always done.
ADVERTISEMENT - CONTINUE READING BELOW
Jef : "After ng merge nag-iba lahat ng tingin ko e, nakasama ko si Echo [Caceres], nakasama ko si Marvin [Kiefer], nakasama ko si Suzuki [Sadatsugu], na hindi ko sinasabing naimpluwensyahan pero dun ko narealize na throughout this challenge. Itong Survivor na 'to, ang selfish ko, I wanted to be here para lang sa sarili ko. Tapos noong nakasama ko sila, sila iyong may pinaglalaban sila, 'yung may pinag-gaganyan. Unti-unti, narealize ko na nandito na 'ko, bakit hindi ko na gawin lahat to make it to the end. To make my family proud lalong-lalo na noong nakita ko pa si Jolly. Nakausap ko pa siya, parang noong cellphone pa lang, 'yun 'yung mga nakakapag-remind sa 'kin na there's people waiting for me also sa Manila."
Mika : "Pero take into consideration lang din the fact na si Amanda, like she stuck by you the whole way through, ako wala akong masabi kasi I was on the other side, you know. But as much as possible, Amanda stuck with you the whole way through and then 'yung sa kami, at least kami ni Kuya Cris sa kabila. We made it a point,that we didn't want you guys to go home kaya you know, kahit ayaw namin matalo or whatever, we did. You know like, pinatalo namin 'yung katribo namin, sila 'yung kailangan umuwi hindi kayo. So 'yun like especially, with the bat thing, niluwa niya 'yon, sadya. Kasi sa tingin namin kung mayroon nga pipiliin na uuwi, if kami mananalo ng immunity, it would have been you, or Amanda or Shaun. For me lang, sana through out this next two days, the three of us stick together kasi plano 'yun e."
Because of the conversation, Mika felt that she could no longer trust Jef. For Amanda, if Jef makes a wrong decision, it would certainly affect their friendship outside of the game.
ADVERTISEMENT - CONTINUE READING BELOW
"Mag-iiba na relationship natin. Mahihirapan ako na paghiwalayin ang nangyayari sa game at sa totoong buhay kung alam kong iyong kasama ko binetray ako," Amanda said.
Amanda just wanted Jef to just be straightforward about her decision.
Amanda: "All we need to know is 'Are you with us or are you out?'"
Jef : "I'm not sure. I don't know."
Amanda: "We need to know kasi it's either you're with the two of us or you're with the two of them. Mika and I, we're gonna stick to that plan na inumpisahan a long time ago noong Airai pa kami or tayo lahat actually. 'Yon, either you're with them or with us."
Jef : "Kaya lang ako mag-iiba because ayokong nasa top 3 lang kasi feeling ko may karapatan din ako to win the 3 million just like everyone else. 'Yun na nga e. So feeling ko, ako din na lalo na noong sinabing umaasa 'yung family ko sa akin, na sobrang nakalimutan ko sila all through out and feeling ko this time hindi na 'to 'yung para sa pride sa sarili ko lang, trabaho, hindi na to selfishness parang nagkaroon ng ibang point."
Mika : "But then, don't you feel like you're being kind of selfish sa amin na like we planned this all the way through tapos kami 'yung ilalaglag mo? Like if sinasabi mo na you wanna fight for it, e 'di fight for it na meron kang ipaglalaban talaga. And that you're doing it because you want to fight for it."
For Mika, Jef didn't even deserve to be in her current spot in the game in the first place.
"Para sa akin, it's unacceptable. It's like, 'Ang kapal ng mukha mo!' And at no point do I think that you're deserving at all," Mika pointed out.
ADVERTISEMENT - CONTINUE READING BELOW
"We'll give you time to think about it," Amanda said before walking away from the two.
"Si Jef, she needs time. Wala siyang sariling pag-iisip. Wala siyang sariling desisyon. Para siyang tupa na sumusunod lang sa shepherd," Amanda said.
Mika then told Jef what she felt about the situation.
Mika : "After nito sa totoo lang, if like lahat ng pinag-usapan natin everything, I don't know kung ano iyong magiging feeling ko after. Kahit papano, if 'yun nga, kung anong dinecide na you won't go along with me and Amanda, then honestly masasabi ko na masasaktan ako. And I'm not trying to say that to persuade you or anything, I'm just having a hard time."
The girls were already emotional after their conversation. After Mika left, Jef was left alone crying by the shore.
Mika felt that Jef was asking too much if she wanted to get to the top.
"Gusto niya lang makarating doon, it's like ibibigay lang sa kanya. Hindi pwede e. Magpakatotoo ka. She didn't do anything to make herself or somebody proud of anything," Mika stressed.
Jef then poured out her emotions through her confessional.
"Sobrang hirap. Parang feeling ko, tinatanggalan ako ng karapatan dito sa Survivor. Ngayon ko nakita na lahat sila nagrerely, parang feeling ko nasa akin. Nasa akin ang desisyon, tapos kung meron akong isang pagkakamali, lahat sila magagalit sa 'kin in the end," Jef said in tears.

Find out who will be voted off in the next Tribal Council that will be aired this Friday, November 6, 2009.

Survivor Philippines Palau airs weeknights on GMA-7 right after Rosalinda.

PEP PROMO. Two lucky PEPsters will have the chance to personally meet the Pinoy Sole Survivor. Registered users of PEP (Philippine Entertainment Portal) have until November 13, 2009 to enter their vote. CLICK HERE to join the online promo.
ADVERTISEMENT - CONTINUE READING BELOW