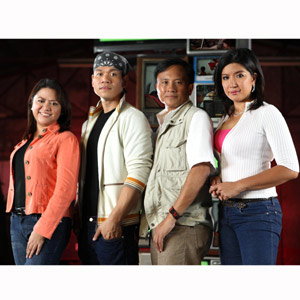 ---
During the 1990s, documentaries were an unheard of genre in the Philippine broadcast industry. The usual melodramas, talk shows and news magazine programs dominated the airwaves, raking in ratings and awards for TV networks.

Before the decade ended, GMA News and Public Affairs thought of producing a weekly documentary show. On January 18, 1999, I-Witness, aired on Philippine television.

However, before I-Witness even aired, its one-topic presentation and style of storytelling was deemed too slow and boring. Some even said that Filipino viewers were not yet ready for this kind of program. Despite these reactions, broadcast journalist Jessica Soho, who conceptualized I-Witness, fought for the program's airtime.

A decade later and after airing more than 500 documentaries, I-Witness is now considered the country's longest-running late night program. It has already received numerous recognitions from both local and international award-giving bodies, including the Philippines' first ever George Foster Peabody Award, Gold and Silver World Medals from the New York Festivals, the Asia-Pacific Child Rights Awards and the Asian TV Awards, among others.

I-Witness also prides itself for tapping award-winning journalists in the past such as Jessica Soho and Mike Enriquez. Following their footsteps today are GMA Network's most experienced senior journalists, namely Howie Severino, Kara David, Sandra Aguinaldo and Jay Taruc. Every Monday, these documentarists give viewers a new way of looking at and understanding the world we live in.

"I-Witness has made documentaries a part of mainstream television, and inspired similar formats for other shows. It has inspired many to aspire to make documentaries and tell their own stories, because our show has demonstrated what a powerful medium the documentary is," Howie points out.

For Howie, I-Witness is his "outlet and creative space for non-fiction stories that need time to be produced and air time to be told. It has made my career deeply satisfying. "

Howie added that compared to other public affairs shows, I-Witness gives them more creative freedom in producing stories. "Most of our episodes don't even have spiels by the hosts and go straight into the story, like most classically done documentaries. That alone makes I-Witness unique among public affairs shows where hosts introduce and end each show with on-camera spiels. We are not required to do that."


PUSHING BOUNDARIES. Because of its radical approach to documentary production, I-Witness has sometimes irked the censors board. It will be recalled that the documentary "Lukayo" got the show suspended for two weeks in June 2006 for depiciting a 200-year-old ritual performed in Laguna.


Howie describes the episode by saying, "Lukayo is a dance by old women dressed like clowns and wielding phallic symbols in Laguna. It got the program suspended by the Movie and Television Review and Classification Board. The censors deemed the age-old tradition practiced by grandmothers to be obscene, along with other fertility rituals from around the country."

Instances like these, however, did not stop the program from producing more eye-opening documentaries.

"I-Witness has become bolder and more ambitious in its subject matter, sometimes testing the limits set by government regulators. It aspires to lead in building a documentary movement in the Philippines by organizing documentary festivals with free screenings in popular theaters, sponsoring student documentary competitions, conducting annual seminars as well as more frequent talks and screenings on campuses, and by setting an example with its own work, often using small camera equipment similar to what ordinary, non-professional producers can use," adds Howie.


AGENDA-SETTING. Lives have changed and viewers have been compelled to act because of these documentaries. According to GMA-7, lawmakers were encouraged to pass laws on organ donation because of Jessica Soho's "Kidneys for Sale." This documentary shed light on the human organs trade in the depressed Baseco area of Tondo. It won for GMA-7 the prestigious George Foster Peabody Award in 2000.


Kara David's "Gamu-gamo sa Dilim" reportedly paved way to the installment of solar panels in Little Baguio, a small town devoid of electricity in Oriental Mindoro. The Kapuso Network also claims that many of the case studies featured in I-Witness were given financial aids and scholarships by viewers.


Kara David, widely known for her documentaries about children, attests to the privilege of giving service to the public that I-Witness carries. She states that working on the program has allowed her to find her "lifetime advocacy as a journalist--to use my medium as an instrument of empathy, an instrument to instill compassion to the powerless and voiceless."

In fact, because of her work on the show, she came up with the idea of developing her own advocacy. "I have started a small scholarship project for poor but deserving children, at plano kong palawakin pa ito in the future to become a legitimate foundation. I feel I became a better Filipino because of the program."

This November, I-Witness will celebrate its 10th anniversary with four special documentaries.

"As early as April of this year, we have been shooting for the anniversary episodes--something that we don't usually do, or any other late night television programs have done, for that matter. The more time you spend in producing your story, the closer you get to the truth, and with these documentaries, we hope to bring out the truth in our specific topics," reveals Jay Taruc, who starts the anniversary month on November 9 with his documentary "Kristo." This is a graphic feature about the Senakulo, or the dramatic presentation of the Passion of the Christ in Cutud, Pampanga. Jay discovers that the person who presently plays "Christ" is quitting his oath next year. However, residents and officers are opposing the move to pass on the title because the town's supposed successor is a self-admitted gambler and drunkard.

Sandra Aguinaldo's anniversary episode airs next on November 16. Her documentary "Bigatin" tackles the growing problem of obesity in the Philippines. Sandra follows the plight of two obese women and documents their struggle to bring their weight down through various ways of weight reduction. Sandra joins them in their fight as she subjects herself to arduous exercises and strict diets in order to prepare herself for pregnancy.

On November 23, Kara David delivers the third installment of the anniversary celebration with a follow-up documentary on pediatric tuberculosis. Kara revisits her case studies in "Hingalo ng Bunso," an I-Witness episode she produced a few months ago, and reveals whether or not their conditions improved after their stories were aired on the program.

Ending the anniversary month on November 30 is Howie Severino's documentary about a transsexual's journey to realizing her dreams of becoming a woman. Howie documents how Vincent Christar Ibardolaza, a.k.a. Plates, endures everything in order to become a "Trans-Pinay." However, Plates still needs to pass a battery of tests which will determine if she is mentally and emotionally prepared to undergo the sex reassignment operation.

Join Sandra, Kara, Jay and Howie as they celebrate ten fruitful years of ground-breaking documentaries on I-Witness, airing on four Mondays of November on GMA-7, after the late night newscast Saksi.
ADVERTISEMENT - CONTINUE READING BELOW