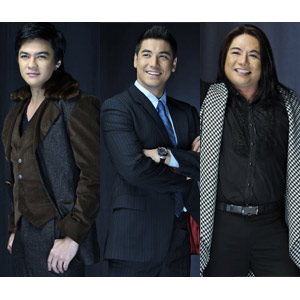 ---
The Halloween episode last week of celebrity singing competition Celebrity Duets 3 was a non-elimination night but it allowed the contenders to showcase their creativity through their costumes. (CLICK HERE to view photos taken during the event)



Last Saturday, November 7, eliminations ran at high speed and culminated with the much-awaited announcement of the Final Three: actor and concert producer Jomari Yllana, Brazilian-Japanese model Akihiro Sato, and perfume authority Joel Cruz. This week also saw actress-director Gina Alajar and fashion photographer Niccolo Cosme walk a graceful exit out of the competition.
The theme for that night was stage musicals. As host, Asia's Songbird Regine Velasquez graced the opening act with Evita's "Don't Cry For Me Argentina" that segued into a bouncy performance of The Band Wagon's "That's Entertainment!" Joining her in the latter were the Fab Five along with this week's duet partners, ex-Celebrity Duets contenders.
With the absence of co-host Ogie Alcasid, Celebrity Duets Season 2 contender Joey Marquez stepped into the songwriter's shoes and gamely played host for the night.
Fashion photographer Niccolo Cosme rendered a mellow performance of "Starlight Express" from the musical of the same title with socialite, male fashionista, and Celebrity Duets Season 1 contender Tim Yap.
Composer and judge Danny Tan complimented Niccolo's attempt to sing in second voice and hitting the high notes, but noticed that the photographer "overshoots" sometimes. Co-judge Tessa Prieto-Valdez, socialite who was Season 1 Grand Winner, called Niccolo's performance "wonderful" while stage director Freddie Santos thought the song was "too big and difficult" for Niccolo.
ADVERTISEMENT - CONTINUE READING BELOW
Aficionado owner Joel Cruz picked a track from Annie, the timeless song "Tomorrow." Known for his flamboyant costumes, Joel wore a collared dress with full prints, and sang with Celebrity Duets Season 2 contender, supermodel and beauty queen Melanie Marquez.
Despite the showy production number, the three judges were noticeably disappointed at his performance.
Brazilian-Japanese model Akihiro Sato went all sweet and preppy with Celebrity Duets Season 2 contender and beauty title holder Carlene Aguilar. Wearing costumes reminiscent of Grease, they sang Olivia Newton John and John Travolta's duet "Summer Nights."
All three judges raved about Akihiro's performance. Freddie thought it was much better than last week, Danny said the character was "pinakabagay" for Akihiro, and Tessa remarked that the model had the "biggest improvement and [is] still so cute."
Actor and concert producer Jomari Yllana carried on a soft note and sang "Memory" from the musical Cats with talent manager and Celebrity Duets Season 2 contender Wyngard Tracy.
Judge Danny Tan complimented Jomari's stage presence but commented, "masyadong binibilog ang placement so kulob ang tunog." Tessa liked his performance, as usual, and while Freddie gave credit to Jomari's stage presence and impact, the judge said he lacked "musicality" for this performance.
Award-winning actress and director Gina Alajar channeled the early days of the Roaring '20s with a ruby-red dress and a black feathered headpiece. She sang Sweet Charity's "Hey Big Spender" with Celebrity Duets Season 1 contender and fashion designer Frederick Peralta.
As in past weeks, all three judges liked Gina's performance and even arrived at a consensus that Gina's performance was indeed the "best performance of the night."
ADVERTISEMENT - CONTINUE READING BELOW
But it seemed like the judges' comments were not enough to secure a spot for Gina in the Final Three. She exited last night's show with Niccolo Cosme. Moving on to the finals were Jomari Yllana, Joel Cruz, and Akihiro Sato.
The Final Three has been announced. Who will end up as the winner of Celebrity Duets Season 3? This reality singing competition airs every Saturday on GMA-7 after Pinoy Records.