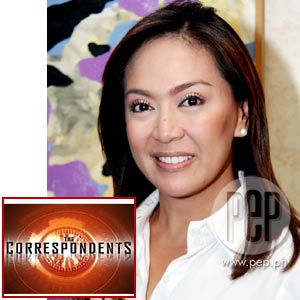 ---
For the 11th anniversary of The Correspondents, Karen Davila travels to China to visit the fast-rising mecca for cancer patients.

For the longest time, the killer cancer has been a death sentence, a nightmare for the victims and their families.

Correspondent Karen Davila traveled to Fuda Cancer Hospital in the city of Guangzhou, China to investigate the breakthrough treatment that is being implemented among cancer patients.

With its state-of-the-art technology and backed up by one of the most advanced researches done in the field of cancer—Fuda Cancer Hospital is proud to introduce the new cryo-surgery. The tumor is injected with cryoprobe that causes the tumor to harden. The hardened tumor is then melted. Meanwhile, remaining tumor particles then undergo the brachytherapy where radioactive iodine seeds are injected into the particles, completely ridding the body of these cancer cells.

The Correspondents will feature the case of Nestor Bonifacio, a 69-year-old man who is afflicted with prostate cancer. Because of the disease, he almost lost his ability to talk and walk. He has sought cancer treatments and medicine from America but then he found Fuda. Today, he is a stage-4 prostate cancer survivor.

Kathleen David, 41 years old, cancer started spreading from her breast to her brain, eyes, lungs and liver. She has undergone numerous chemotherapies to no avail, then she found Fuda. Today, she is a breast cancer survivor.

While others share stories of success in the treatment of cancer, Conchita, 66 years old, stricken with stage 4 lung cancer, is still in the process of writing her own cancer survival story as she continues her treatment at Fuda.

Watch The Correspondents' 11th anniversary presentation this Tuesday, November 17, right after Bandila on ABS-CBN.