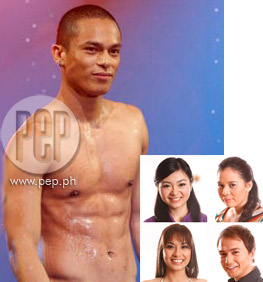 ---

Last night, November 14, the housemates inside the Pinoy Big Brother house were tense as host Toni Gonzaga announced the list of nominees for the 5th nomination night.


Carol Batay, Yuri Okawa, Riza Patria, and Rob Stumvoll are nominated for eviction this week on Pinoy Big Brother Double Up.


Tom Mott had left the house earlier as ordered by Big Brother. He was evicted from PBB Double Up for his violent outburst a few days ago.

Frustrated with another loss, Tom punched holes on a wall in the activity area right after the third face-off game between House A and House B. It is stated in the PBB manual that it is against the house rules to become violent inside the house.
The Romantic Stud of Samar apologized to Big Brother and said he just got carried away by his emotions that time. Tom also had not been feeling well after the second game of the battle, when he complained of a headache and even vomited. Soon after the wall incident, he was rushed to the hospital, where he was confined for 22 hours. Fortunately, he was able to get back the house to beat Kuya's 24 hour deadline.


In the confession room, Tom gave his tender farewell message to his friends in both houses. His good friend and ex-housemate Princess Manzon was there to fetch him and both of them returned to the outside world. Tom was teary eyed as fans waiting in front of the house cheered for him.


Since House A won in the weekly task, only one housemate who got the highest number of points was included in the list of nominees for eviction. It turned out that Carol got 9 points, placing her in danger of being evicted from PBB Double Up.


In the losing house, three housemates were included in the dreaded list: Patria with 5 points, Yuri with 3 points and Rob with 9 points.


Don't forget to tune in tomorrow for the latest twist on Pinoy Big Brother Double Up. Two new housemates are ready to face Kuya's challenges and join the remaining housemates.


Viewers will soon meet the Fab Fashionista of Parañaque and the Humble Hunk of Cavite as the newest housemates of Pinoy Big Brother Double Up.


UPDATE: Earlier tonight, November 15, 2008 Cosmo Bachelor centerfold Rocky Salumbides and a 19-year-old fashion design student named Sam Pinto entered House B as new housemates of PBB Double Up.


Rocky is a model who has graced the catwalk in Milan, London, Singapore, Hongkong, and China. But prior to his modeling career, he had experienced selling balot and working as a construction worker.


For their first challenge, the two had to wear as many clothes as they can in a span of 3 minutes. The clothes that they wore were then distributed to their fellow housemates.


Get daily updates on Uber with Mariel Rodriguez after Banana Split Daily Servings, PBB Double Up on primetime after Dahil May Isang Ikaw with Toni Gonzaga, and PBB Double Uplate midnights with Bianca Gonzalez. Catch the 24/7 live streaming on Skycable Ch. 150.
ADVERTISEMENT - CONTINUE READING BELOW