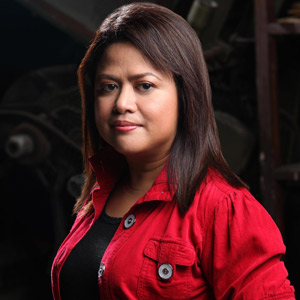 ---
Up to what extent will you go to achieve your desired weight and body shape?
For an obese woman like Weng Guttierez, she'll go all the way and do everything in the name of weight loss.
Weng has been overweight all her life, and now that she's 30, she wants to get rid of all the flab in her body. From her colossal 295-lbs. body weight, Weng now only weighs 160 lbs., and she still wants to lose 20 more pounds! With her painstaking gym workout and a daily diet of sweet potatoes and eggs, Weng may actually succeed in achieving her desired body weight. Should this happen, Weng would also like to achieve a life-long goal: to change her no-boyfriend-since-birth status.
Meanwhile, 35-year old Kathy Solis doesn't mind being fat. In fact, she has already used her obesity to her advantage. She has already won several beauty contests for fat people, including the runner-up award in the 2009 Bilbiling Mandaluyong. She has also appeared in numerous TV shows and commercials because of her enormous body shape. Kathy blames her love for fatty foods and poor eating habits for her obesity. However, she admits she also needs to think about her health. Kathy wants to have another child but she knows it would be difficult for her given her current body shape and state.
ADVERTISEMENT - CONTINUE READING BELOW
Even GMA-7 reporter Sandra Aguinaldo admits to struggling with her own weight. Because of work pressures and an unhealthy lifestyle, Sandra has already tipped the scale at 141 lbs. Now, Sandra wants to whittle down the fats not just for health reasons, but also to prepare herself for pregnancy.
Join Sandra, Kathy and Weng as they sweat, train, diet and talk about their struggles with obesity in the amusing documentary "Heavyweight!" the 2nd installment for the 10th anniversary celebration of I-Witness, airing this Monday midnight on GMA-7.