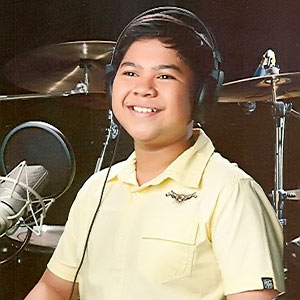 ---
A Filipino singer is once again featured on The Ellen DeGeneres Show. On November 17, Rhap Salazar appeared as a guest on the American TV show after Ellen saw a video of him on YouTube.

To introduce her guest, Ellen told the audience: "I'm so excited for you to meet our next guest. He comes all the way from the Philippines to make his U.S. television debut on this show. Please welcome 12-year-old singer Rhap Salazar."

Rhap wowed the audience with his rendition of "All By Myself" and after his performance, he was given a standing ovation by the audience and by Ellen herself. The host and the singer gave each other a big hug as the crowd cheered and clapped for the young boy.

Ellen interviewed him briefly and said: "I understand it was your birthday wish to be able to perform on this show." Rhap excitedly said, "And now I'm here! Thank you so much! I'll never forget this." The American host agreed by saying, "I'll never forget this either."
The host asked how long he has been a singer and Rhap narrated that he started singing when he was three years old. He started joining singing contests when he was seven years old.

Ellen praised Rhap by saying, "Your voice is incredible. There's so much power and emotion...we can just feel everything."

When asked to enumerate his favorite singers, Rhap mentioned that he likes Mariah Carey, Celine Dion, Whitney Houston, Josh Groban, Michael Jackson and Beyonce Knowles.

To end the segment, Ellen asked the 12-year-old singer to come back on her show whenever he likes.

GALING NG PINOY. Recently, Rhap was chosen to sing the theme song of the "Galing ng Pinoy" music video of Western Union.

Hailed as the Junior Grand Champion Performer of the World during the 2009 World Championships of Performing Arts (WCOPA), Rhap brought honor to the Philippines with his singing talent.

Besting thousands of contestants from 48 countries, he continued the Philippine's winning streak in the competition, which, in past years, had hailed Jed Madela, the Cercado Sisters, Reymond Sajor, Aria Clemente, and Catherine Loria, as top performers.

While living in the province of Mindoro, Rhap'parents, Aida and Emmanuel, noticed that their son knew how to hold a microphone. At town fiestas, they encouraged this interest by joining him in singing competitions. Though he didn't win a prize in his first competition, Rhap soon collected trophies in contests with his winning piece "I'll Be There" by The Jackson 5.

By 2005, Rhap gained even more exposure when he won the ABS-CBN singing tilt Little Big Star. In 2009, he became the third consecutive Filipino to capture the coveted title, Junior Grand Champion Performer of the World in the "Hollywood Olympics" held in Los Angeles. Apart from taking home top honors, Rhap swept the WCOPA's junior division, winning five gold medals in the vocal categories of Broadway, gospel, open, pop, and R&B.
ADVERTISEMENT - CONTINUE READING BELOW
CLICK HERE to watch Rhap's performance in Ellen.