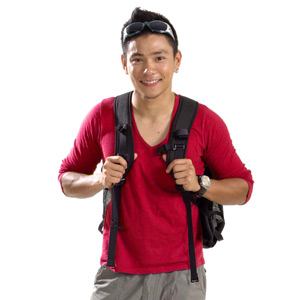 ---
Balik-Bayan, the celebrity-oriented travel show of Q Channel 11, concludes its 4th anniversary celebration with host Drew Arellano exploring the rest of Leyte on his own this Friday, November 20, 2009.
During Part 2 of Balik-Bayan's anniversary celebration, special guest Richard Gomez gave Drew a taste of his ultimate high: the sport motocross. This Friday, Drew once again gets an adrenalin rush as he tries other exhilarating sports such as scuba diving, jet skiing, surfing, wakeboarding, and skimboarding. He does all these while reminiscing on the many places he's been to and the different personalities he's been with on the show's four years on television.
And because a trip to Leyte is never complete without a sample of their favorite drink—the tuba—Drew joins the whole province and takes a shot of the drink in an attempt to make it to the Guinness World Records.
Drew then goes restaurant-hopping at "Calle Zaragoza," "Dahil sa Iyo" and "Rafael's Farm" to seal the celebration with several hearty meals.
Catch all these on the last part of Balik-Bayan's anniversary special, this Friday, 10:15 pm, only on Q Channel 11.