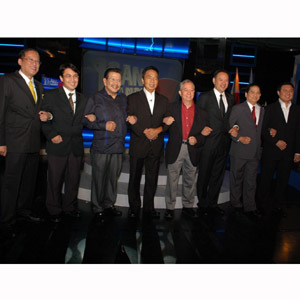 ---
From the twin tragedies brought on by Ondoy and Pepeng, annual maritime disasters, skyrocketing oil prices, reports of corruption, increasingly brazen criminal attacks and worsening poverty, it seems like the country is trapped in an endlessly spinning karmic wheel. With the presidential elections looming ahead, it surely feels like an extended déjà vu... here we go again.
Every election, these same issues, along with many others come under microscopic scrutiny. Every few years, we hear of platforms and programs that promise to better our lives if only we'd vote for this or that candidate. But then, inundated with all the information and misinformation around, don't they all start loking the same? How do they really differ from one another?
At last count, eleven have expressed interest to run for the presidency: Senators Noynoy Aquino, Chiz Escudero, Richard Gordon, Jamby Madrigal and Manny Villar, Secretaries Gilberto Teodoro and Hermogenes Ebdane, Jr., Councilor JC delos Reyes, Reverend Eddie Villanueva, Nick Perlas and even former president Joseph Estrada. With the problems the next chief executive stands to inherit, one wonders why so many are applying for the job.
Isang Tanong: The GMA News and Public Affairs Presidential Forum, a two-part special attempts to find out from the candidates themselves as they answer one question by a panel of experts that include Mel Tiangco, Jessica Soho, Arnold Clavio, Vicky Morales, Winnie Monsod and Howie Severino.
gmanews.tv, Philippine Daily Inquirer, Philippine Center for Investigative Journalism, Catholic Media Network, Philippine Bar Association, Institute for Political and Electoral Reform, select universities and colleges, as well as anyone who posted a question online will have a chance to field their one question.
Hosted by broadcast journalist Mike Enriquez, Isang Tanong airs on two consecutive Sundays, November 22 and 29, right after Show Me the Manny on GMA-7.
ADVERTISEMENT - CONTINUE READING BELOW